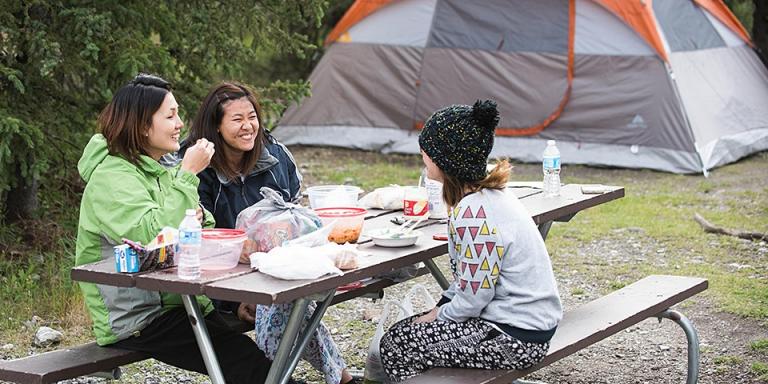 So we just got back from a brief vacation — because even though I'm not working at my old corporate job, we still have family things going on that prevented a larger trip.  We spent a day at a waterpark in the Dells, then two nights camping at a Wisconsin state park, and finished off at Old World Wisconsin.
And here's an observation:
The waterpark — not an inexpensive stay, though you can talk yourself into it being good value for the money depending on how many people you have and how much you make use of the waterparks — had a customer base that was surprisingly (to me, anyway) diverse.  Lots of black, Hispanic, and Asian families, seemingly in greater proportion than their overall share of the population, which seemed counter-intuitive considering the relative per-day cost of such a vacation.
The campground — or at least our camping neighbors to the extent that we saw them — was virtually all-white, except for a Mexican (mariachi-playing) group that left after the first day.
And the Old World Wisconsin visitors were even whiter.
So I tried to find some statistics to get a sense of whether what I was seeing was representative.  Perhaps the Dells attract all manner of Chicagoans, but Wisconsin state parks generally just attract less-diverse Wisconsinites, and most Chicagoland campers stay in-state.
Two easily accessible sources of statistics on who camps in the United States are a report by Coleman and by KOA.
The former report, which focuses, not surprisingly, on the consumer aspect of camping including camping equipment, reports on camping participation on an annual basis, that is, individuals who, in the past year, went on a camping trip of some sort.  In 2016, 13.7% of all Americans over age 6 did so, for a total of 40.5 million people.  By region, people from the Pacific and Mountain areas were most likely to camp.  Adults with children were nearly twice as likely to camp as those without children.    And the ethnicity breakdown consisted of 78% white, 10% Hispanic, 6% Asian, 5% black, and 3% other.
The KOA report used a more expansive definition of "camping participants," including as campers everyone who identified themselves as camping "at least occasionally," and is very bullish on the future prospects of camping, reporting that 61% of American households identified themselves as such.  Looking at ethnicity, with this broader definition, they report that only 72% of campers are white (and this figure decreased substantially from a 2012 rate of 88%), 10% are Hispanic (vs. only 2% in 2012), 8% were black (vs. 6%), and 7% Asian (vs. 1%).  For comparison, the census figures are:  white, 64%; Hispanic, 16%; black, 12%; Asian, 5%; and Other, 3%.
These numbers feel almost too good to be true, especially since there was a dramatic jump between 2012 and 2014 (the proportion of Hispanic campers jumped from 2% to 6%, and for Asians, from 1% to 6%), which suggests a change in methodology.  On the other hand, the report suggests that the advent of social media is increasing interest in camping, as noncampers view Facebook posts and consider camping whether they might not have otherwise.  Perhaps, too, the ability to go online to ReserveAmerica, select a site, and know what you'll get, has made camping more accessible to folks who don't have a family tradition of camping.
But in any case, black and Hispanic families are still underrepresented in camping, and overrepresented in waterpark-going.  I wonder if perhaps the latter is the result of not having particularly much vacation time, so that spending waterpark-hotel money on a trip that's less per day, but stretches out over more days ultimately doesn't offer any benefit.
With respect to the former, I suppose there's a question of whether it matters, particularly, if certain ethnic groups have preferences different than others in terms of how they spend their leisure time.  I've always thought of camping as a cheap way of taking a vacation — my aunt & uncle who tent-camped for vacations certainly had that motivation — but in a Facebook conversation, others told me that in their view camping was expensive, because of all of the equipment.  In reality, the amount of equipment that you really need is fairly small & relatively cheap and pays for itself quickly, especially if you hike at ordinary campsites rather than backwoods style, so you don't need pricey backpacks or hiking boots or special lightweight tents — but if your perception is that camping is for rich people, you may not even look further.
(Incidentally, my sense is also that in Europe camping is also generally of the "cheap vacation" variety rather than "get out in the backcountry and enjoy Mother Nature."  There's even a KOA-equivalent of resort-campgrounds, either with bungalows or tents provided or bring-your-own.)
One might say that individuals are better off if they have had at least some experiences camping, both because they then have that available to them as an option, and because of the benefits, however nebulous, of being outdoors.  And one might say that we, as a country, are better off if more people have camped, because they will have greater interest in preserving the environment.  Beyond that, there is a benefit in, as Americans, having more in common with each other, having more shared experiences across racial/ethnic lines.  And, as a very sporadic camper (I thought we would camp more often but now that the kids camp with scouts, there's not as much of a pull to family camping) I will also add that there is a benefit, odd as it sounds, in learning that pit toilets are not the end of the world.  But are these benefits worth some sort of national effort to get more people of ethnic minority classification to camp?  Or should we, in order to ensure that Americans participate in activities in proportion to their population, promote extended family reunions, with matching t-shirts, among white people?
Oh, and Old World Wisconsin?  That's a whole 'nother issue — as the country becomes more diverse in the racial/ethnic classification of its people, will the growing minority population visit heritage farms and similar historical sites, or will they see them as irrelevant to their lives?  Or will they be saved by intermarriage?
Image:  https://www.nps.gov/subjects/camping/frontcountry-camping.htm