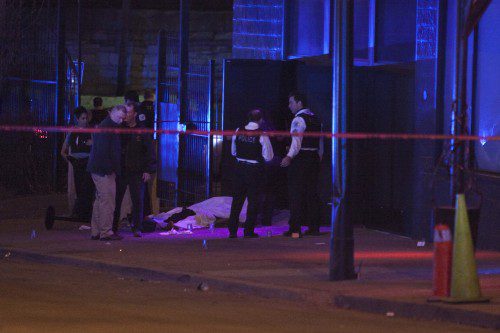 So in the past month-ish Chicago has had two high-profile protests: the first on the Dan Ryan Freeway (I-94 south of the Loop) and the second on Lake Shore Drive on the north side of the city. The first of these was organized by Rev. Michael Pfleger; his list of demands consisted of
resources for our communities, national common sense gun laws, jobs, excellent schools and economic development.
The second was, near as I can figure, less coherent in its aims:
Organizers wanted the demonstration to bring their message to the North Side in an effort to "redistribute the pain" that gun violence causes in other parts of Chicago. Organizers also were calling for the resignations of Mayor Rahm Emanuel and Police Superintendent Eddie Johnson. . . .
And, subsequent to these protests, the news that this past weekend, there were 74 shootings in the city, and that, as of Tuesday, there were no suspects for any of these shootings. A Tribune article with the headline, "Chicago police solve one in every 20 shootings. Here are some reasons why that's so low." reports two basic reasons: a mistrust of police and a fear of reprisals by the perpetrators and their gangs.
I look at this and I really don't see an answer. The "clearance rate" — that is, the rate at which the police department identifies a suspect (never mind actually getting as far as imprisoning a perpetrator) — is reported as 5% for shootings and 17% for homicides. This is so low that it's hard to imagine that there any meaningful deterrent exists – at least not with respect to fear of imprisonment; perhaps there remains the fear of reprisals within the community, from rival gangs, or, maybe, disapproval from whichever loved ones wield influence rather than being themselves cowed by fear of violence.
What of Pfleger's prescription? Does the city of Chicago need to — somehow — find the excess cash to boost spending on schools, job training programs, subsidies for businesses to open up in poor neighborhoods, etc., and will this decrease the number of shootings by, eventually, decreasing the number of children who join gangs when they grow to be teenagers? But where would this money come from? And what of the near term? Is there, within the community, any sort of moral suasion or shame to limit the carnage?
I have no answers. I admit I simply don't understand people well enough. Readers, what do you think?
Image: https://commons.wikimedia.org/wiki/File%3ACrimeScene.jpg; By Supaflyrobby (Own work) [CC BY-SA 4.0 (http://creativecommons.org/licenses/by-sa/4.0)], via Wikimedia Commons