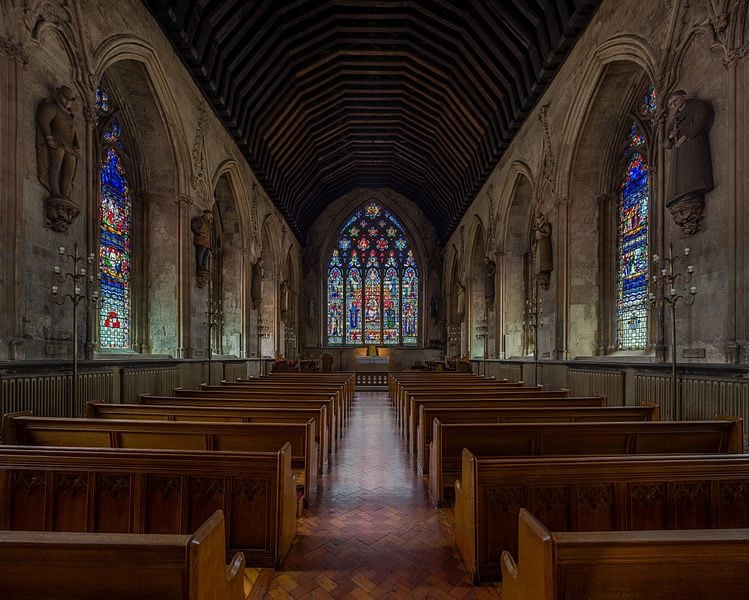 That's the question, isn't it?
In the wake of the McCarrick scandal comes the grand jury's report on sexual abuse in Pennsylvania, as summarized, for instance, by Bethany Mandel at Ricochet, and at the Catholic News Agency.  The report is devastating, with multiple instances of stomach-churning levels of abuse, and with bishops more interested in protecting the abusers than the abused.  Most notably, this is not all a matter of the past, and some long-dead bishop, but rather the current bishop of Washington, Cardinal Donald Wuerl is identified as one such complacent, indifferent bishop, during his time as bishop of Pittsburgh.  His twitter feed says at this point exactly nothing about the grand jury report.  He has put out a statement (which is not easy to find) claiming that he did everything he was supposed to do; the report itself (linked to by The Anchoress, Elizabeth Scalia) documents otherwise, that he, too, participated in the reassigning of molestor-priests.  (Wuerl is also engaged in some further CYA with a website specifically created to defend his actions.)
What to do?  At Word on Fire, Scalia outlines seven steps, though most of them seem most effective for those who are already "in the know" or hooked up into the larger Catholic world.  She also, on her own site, lists some bishops who have made specific statements that go beyond the bland promises of the USCCB.  Simcha Fisher rails at the silence of the (other) bishops.
On twitter, journalist Terry Teachout wrote:
This is the end of the Catholic Church in America. What is true in Pennsylvania is undoubtedly true elsewhere, and once that becomes known, no one in the hierarchy—NO ONE—will be worthy of trust.

— Terry Teachout (@terryteachout) August 14, 2018
National Review writer Michael Brendan Dougherty said this:
I actually feel sick reading this. I have read extensively about the "bad popes" in history, but I cannot think of any era in the Church that compares in moral corruption to this. The Pre-Reformation era was venal. This is demonic by comparison.

— Michael Brendan Dougherty (@michaelbd) August 14, 2018
Ed Preston (who as far as I can tell is a relative nobody) had this to say:
My 2 cents is this, the RC church has a very small window of opportunity to address this problem, and the only possible response is a savage, merciless purge of the guilty, including anyone who covered it up, and it must be done by the Pope himself. Otherwise they *are* dead.

— Ed Preston (@edpreston) August 15, 2018
But Power Girl dials back his anger to write:
2) We're not in the Church for the priests. We're in it because of God, and Jesus, and the Sacraments. The Priests are our means of getting there, but they're not the end of our beliefs.

Beliefs are not persons, except where that person is Jesus.

— (((Power Girl))) (@AdamEFreyWrites) August 15, 2018
From all appearances, our bishops are bureaucrats and brown-nosers who made it to their position by schmoozing with the right people and demonstrating the right sorts of politics.  They're trying to solve the problem with new layers of bureaucracy.  They're shrugging off any misdeeds of their own — whether it's direct wrongdoing such as actual molestation or refusal to act on reports of such, or a more widespread indifference to such behavior among their peers and in their seminaries — in favor of bland professions that, as a collective, they will do better.  I look at my own bishop's twitter account:  nothing.  In an interview earlier this month, Cardinal Cupich asserted that he was "shocked" at McCarrick's actions, but that, except maybe for a few oversights here and there, the system now in place is just fine and there's no systemic problem.   Each and every bishop, near as I can tell (and, readers, please let me know otherwise in the comments) is telling us the same thing:  "I knew nothing, and nothing of this sort goes on in my diocese or in my seminary, so I am personally blameless, though I am sadded that Bad Things happened elsewhere and I apologize on behalf of other people who actually did these things."
So which is it?  Cupich's "heck, I guess we can fine-tune our process a bit" (OK, fine, that's a paraphrase) or Teachout's "end of the church" assessment?  Or is
Ross Douthat's assessment
correct that the bishops have already lost their moral authority, ignored by liberal and conservative Catholics alike as spiritual leaders, functioning only as administrators and executives, so that the new wave of scandals is less of a surprise and will have less of an impact?  I mean, we are, after all, becoming accustomed to the idea that our nation's president is no particular role model; perhaps, likewise, the same is true of our bishops and we need to look elsewhere for models of holiness.  (
Elizabeth Scalia proposes
that bishops return to a focus on pastoral care with laypeople taking up management duties, and that they leave if they're unwilling to do so — it seems like wishful thinking that a bishop would agree to this, if it also means giving up control, and, cynically, if it means giving up the ability to hobnob with the rich and powerful, but, on the other hand, even in such a case bishops would probably declare that politics and schmoozing count as pastoral care.)
But at the same time, those same bishops are asking us, every year (taking up two or even three Sundays' worth of homilies) to donate to their annual appeals, not to mention periodic larger fund drives.  Those funds, we're told, go to less fortunate parishes, and to diocese-wide ministries like NFP and marriage prep, and incidentally also to the bishop's pet causes (around here, that means immigration and anti-violence initiatives).
And so back to the question of this post's title.
Rod Dreher responded to the prior scandals, about which he knew painfully much as a reporter, by becoming Orthodox — which was, incidentally, the destination of the Bible Answer Man as well.  To be honest, many years ago, I concluded that the Orthodox Church wasn't for me because (a) there was too much danged fasting and (b) it wasn't small-c catholic enough, that is, one might find an English-speaking Orthodox parish nearby, then relocate and end up with none near enough to really be much of a parish home — that, and the fact that it just didn't have a sense of familiarity as did a Catholic church.
But absent that, how do you avoid throwing the baby out with the bathwater?  How do you decide which bishops to trust when they make their denials?  And if you decide that your particular bishop has failed his flock, how do you punish him without punishing the Catholic Church?  — because at this point, what I'm seeing a lot of are statements that we should "petition the Pope" and, quite honestly, I don't think that'll go anywhere, but what might have an impact, an "uprising" of the faithful, daily protests in front of cathedrals, withholding of donations, etc., would also be very destructive.
Image: https://en.wikipedia.org/wiki/File:St_Etheldreda%27s_Church_Interior,_London,_UK_-_Diliff.jpg; Photo by DAVID ILIFF. License: CC-BY-SA 3.0