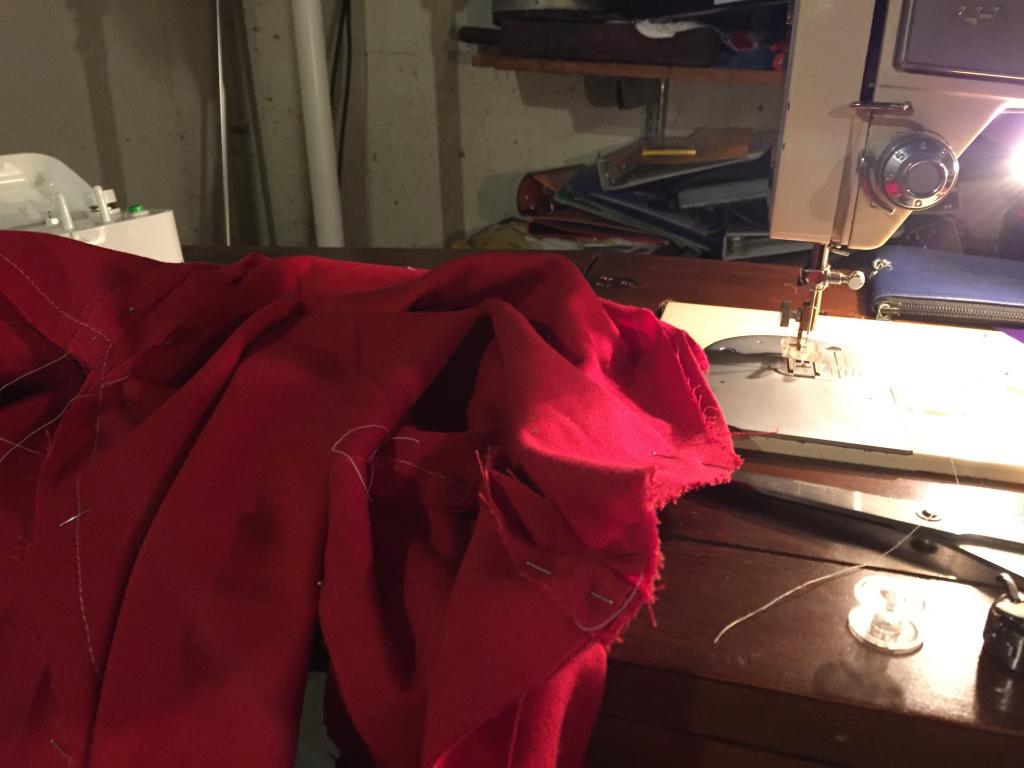 Yup.
My youngest is now in 6th grade.  Inspired by youtube videos he'd been watching, he wanted to experiment with craft foam to make armor for a Roman soldier, though after some more investigation, and learning that the Romans had strips of armor but the Greeks had more of a breastplate look, he settled on the latter.  Conveniently enough, I had a pattern for a tunic (I had used it to make Roman soldiers for the school's Living Stations of the Cross), and the robe/undertunic was a sort of DIY job based on a costume I had sewn last year for All Saints' Day.  The cape was a tablecloth cut to a reasonable size and the armor was, in fact, painted craft foam — my son made this part, we picked out the materials together, and I did the rest of the sewing.
This is the outcome: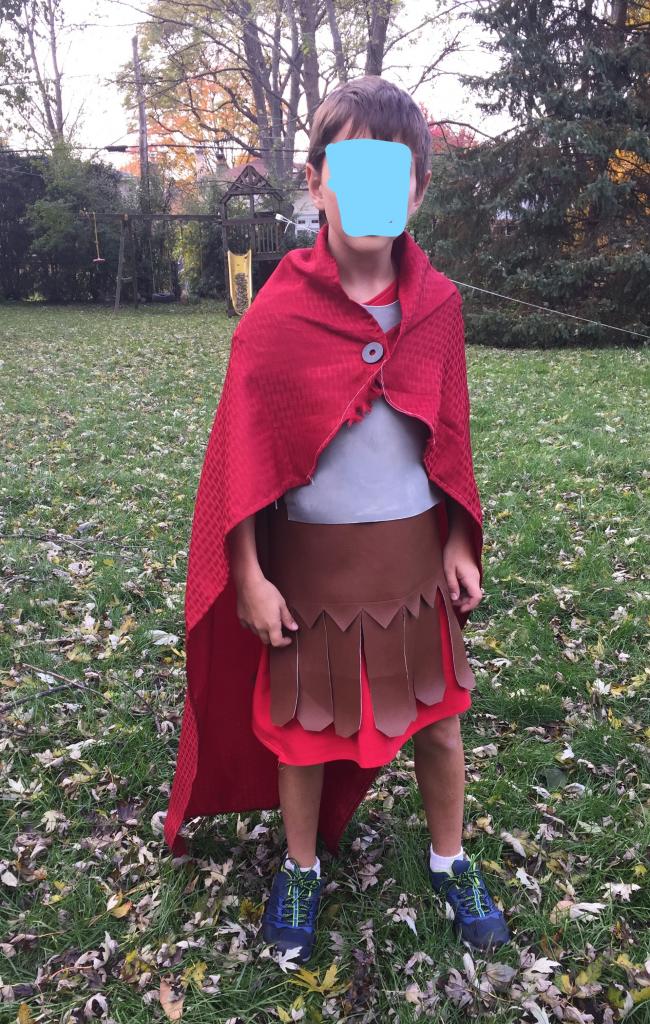 Yes, I've still got a bit of that paranoia about kids' faces.
I thought it came out pretty well, and I had a fun time making it, and the sewing machine didn't give me any trouble, either.  But when he came home from school, he was disappointed.  Not because he was accused of wearing a dress, or anything like that.  Instead, it was because, as he said, "No one wears costumes anymore in 6th grade — nothing elaborate and homemade, anyway.  They wear jerseys or so-and-so was Jake From State Farm, and things like that."
So it looks like my costume making days are over, and I'm left with being sentimental over past years, like this one from so many years ago that I'm not going to hesitate to show you the face, since the boy in this picture is now a surly teenager.
He said he wanted to be a "flying lion" so I made a lion costume and added on a cape that I'd made before.  And the further story behind this costume is that I had intended to put together something quick with the sewing machine, by taking a hoodie and attaching fake fur, but then I picked up a pattern, and then I discovered that the sewing machine didn't work.  (It was the first time in a number of years I'd tried to use it, and I tried oiling at all the appropriate spots but it wouldn't budge.  Later on, I tried again and it worked just fine, as if the oil just needed days or weeks to seep in and do its magic.)  So I started hand-sewing, and even though it took night after night of staying up late after the baby went to bed, I kept adding more touches, like the fringe-mane and a lining.  And the end product was one happy child — two, actually, because when that baby was older he enjoyed it, too.
Or this one, also modeled by the now-surly teen: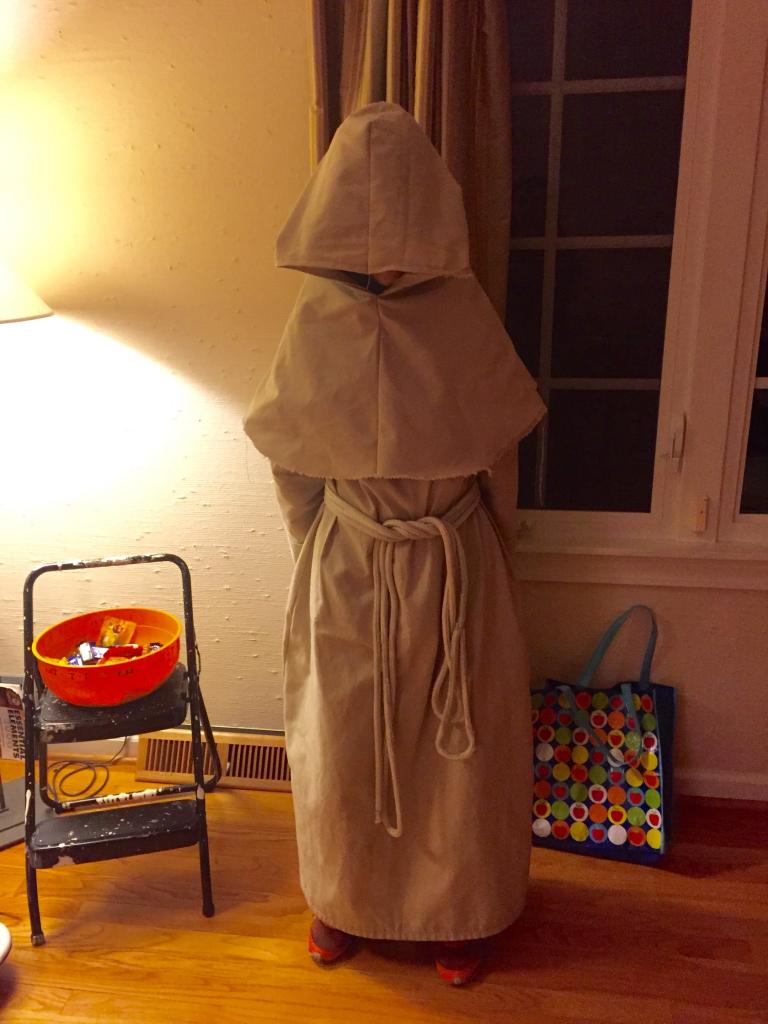 with apologies for the poor lighting.  Like the soldier's cape, this is also a transformed tablecloth, and I was particularly pleased with this one because I made it just by estimating size, and by referencing instructions for a hood online.
But now I'm back to wishing I had other ideas of things to make.  At the moment I am engaged in another one of my attempts to lose weight, which are always moderately successful but never quite to the point that I can wear the sort of clothes I'd like to wear or that would be fun to sew.  And I'd love to make a cosplay-type costume, but it would be silly to do so without an actual interest in comics or conventions.  And I tell myself that it would be perfectly fine to make something without any use, if I enjoy the process of making it, but that just doesn't feel right.
So I suppose I'll troll etsy to look for ideas for a bit, then go back to getting dinner ready.
Oh, and if you want to read a Halloween (or Day of the Dead)-flavored retirement article, check out my latest at Forbes:  "Aging, Dying And The 'Day Of The Dead'"
Happy Halloween!