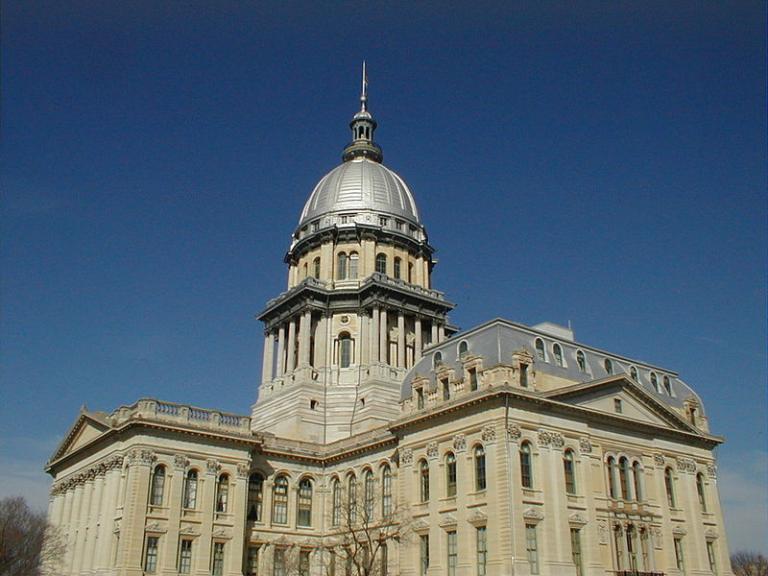 Two items in the news today:
first, a report that, whaddayaknow, Rauner's ad about Pritzker's toilet-removing tax-cheating scheme was not just fake news:  "Cook County watchdog says 'scheme to defraud' saved Pritzker $330,000 in property taxes"
Billionaire Democratic governor candidate J.B. Pritzker improperly received $330,000 in property tax breaks on one of his Gold Coast mansions as part of a "scheme to defraud" taxpayers, Cook County's top watchdog concluded.

Inspector General Patrick Blanchard's finding came in a report issued after his office looked into whether Pritzker's relationship with Assessor Joe Berrios played a role in Pritzker's property taxes being lowered.

During the investigation, Blanchard found that Pritzker's wife, M.K. Pritzker, asked a contractor in 2015 to remove the mansion's five toilets to make the home uninhabitable so it could be reassessed at a lower value. M.K. Pritzker's brother and her personal assistant later made "false representations" in sworn affidavits to the assessor about the mansion's condition and when the toilets were removed, Blanchard found.
Separately, an op-ed:  "If Pritzker won't share his tax plan, we Democrats shouldn't support him," authored by James K. Genden of the Evanston Democratic Party.  Citing the fact that Pritzker refuses to provide any details whatsoever about his tax plan, other than vague claims that it's solely intended to soak the rich, and referencing Pritzker's tremendous inherited wealth, and the fact that he has never held public office nor even run a company which required compromise, always only being the absolute owner able to dictate the decisions, he calls for fellow Democrats to demand of Pritzker that he reveal the details of his tax plan.
A strong statement from progressive Democrats that we expect more transparency and forthrightness from our leadership — made now in the final weeks of the campaign — will make headlines and resonate loud and clear. Pritzker should know that we are not to be taken for granted, and that in future years he will need our support. He should recognize that his large lead in the polls reveals more about public rejection of Rauner than any enthusiasm for Pritzker. Indeed, it is astonishing that — given such a weak opponent, and after such extraordinary expenditures on advertising — the polls still show that substantially less than a majority of voters have decided to support him.

Strong action is required and there is little time. We need to do something now if we want to ensure that Pritzker takes office as a governor who respects the democratic process, who is honest and forthright and is open to dialogue with the public.
But the reality is that this is wishful thinking.  Pritzker is so far ahead of Rauner (the latest polling, from the Illinois Broadcasters Association, shows Pritzker far ahead, at 44% to 27%, with 14% undecided, 10% choosing a minor party candidate, and 4% saying "none of the above," and Wikipedia's list of polls shows that this is consistent with past polling as well) that he faces no real risk of losing this election; or, at any rate, I myself have a hard time imagining him losing so many votes on account of the toilet-seat tax-cheat scandal or his refusal to provide details on his tax plan, that Rauner can make up this massive gap.
But consider this:  Rauner has been making the pitch pretty much ever since he was elected that he can't be held accountable for things that have gone wrong in Springfield because of the barriers Mike Madigan has put up and the control that he and Cullerton exercise over the state House and Senate.  And he's not entirely wrong.
After all, do you know who's running for State Representative and State Senator in your district?  Here in my Senate district, the incumbent is a Republican, and I suppose I must live in a competitive district because his Democratic opponent is sending us mailers on a regular basis, telling me that she'll "clean up Springfield" and claiming that her opponent supports easy availability of guns.  (The State House race must not be as competitive, judging by the mail.)
Will the Representative and Senator you vote for push for reform?  If you vote Democrat, will your candidate return Madigan and Cullerton to their leadership roles?  Will he or she vote for legislation on party lines?  When bills come up promising to spend money the state doesn't have, will you protest?  If you vote Republican, will your candidate attempt to persuade others to support reform, or just sit on the sidelines proclaiming that powerlessness justifies inaction? Will you support a constitutional amendment enabling the state to reform pensions?  Will you circulate petitions?
This matters, and is all the more important with a man like Pritzker headed for the governor's office.
After all, consider Gov. Rauner's slogan, on the yard signs which admittedly I haven't seen in any yards but only in the campaign office I drove by the other day:
"Rauner — Home is Worth Fighting For"
Regardless of who is elected governor in November (ha! Who am I kidding?), Illinoisians of all stripes are not consigned to a fate of unchecked power by Madigan and Pritzker.  It may take a lot more work to fight against spending sprees and tax hikes, or to demand pension reform, but it's still possible, and, in fact, necessary to fight for our home — for those of us who stick around in the state, anyway.
Image:  Illinois state capitol; https://commons.wikimedia.org/wiki/File:Illinoiscapitol2.jpg
We want to know what you think about the upcoming midterm elections. Vote in our poll below!