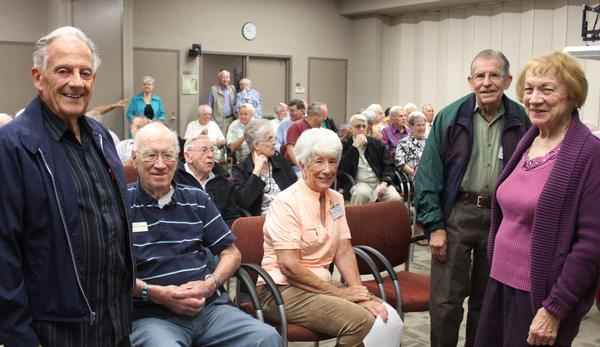 You know, I go back and forth on whether I write about my parents and aging, what with wanting to be respectful of their privacy.  But I am learning some things by experience that I think are useful to share, and maybe readers have had similar experiences that they likewise might wish to talk about in the comments.
The background is that Dad has had declining memory for a fair while.  He just turned 80, so he's not young to begin with, but in addition, round about five years ago, he had a head injury which worsened things considerably.  Sometimes he's very engaged, and actively participating in the decision-making or activity, other times much less so.  At a recent visit, he struggled to say how old he was.  We played euchre and he did just fine, but played hearts and he seemed to forget that you want to avoid taking tricks/hearts, and seemed to be pleased with himself when he played a jack, as if we were playing euchre.
But back in November my sister, who lives near them (we are about a 5-hour drive away), toured a retirement community with them and, after years of saying he'd never leave his house, he decided it would be a good idea to move — in part because his older brother had done likewise not long ago, in part because the particular community is expanding and had a two-bedroom unit with a patio available and the price tag was lower than elsewhere (because the services are less all-inclusive).  So we made several trips to help with the arrangements, both financial and logistical, and this past weekend was a further trip to start the process of ultimately clearing out the house to prepare to sell it.
In some respects, Mom and Dad are doing well.  The community (a CCRC, or continuing care retirement community, that is, the sort with an entrance fee and multiple levels of care, in which they are at the "independent living" level) has a monthly fee which includes one meal per day at the restaurant, and the seating is not simply couple-by-couple, but instead, they seat several couples or individuals together, among those who arrive at the same time and don't otherwise have people they want to be seated with.  And Dad especially enjoys that — someone new to talk to, without obligation.  They also have a housekeeping service and a home care aide comes to help Dad with showering and to make sure he takes his daily pills.  He also goes to a "memory care"-type program several mornings a week.
But we have been struggling to get Mom to participate in the activities the community offers, and this weekend we learned more concretely why that hasn't worked out as we expected — without our entirely being aware of it, Mom has also had cognitive decline.  Everyone always speaks of "memory loss" but it isn't that, really — it's a decline in the ability to think, to decision-make, to make plans.  It's a lack of executive functioning.  There's a booklet full of activities and nothing looks interesting to her, and the idea of "try something out" is lost on her.  Plus, her hands are shaky in a way that wasn't really the case before, so I guess her lack of interest in the quilting and needlepoint groups makes sense, and she's overweight and in poor shape, besides.
She had a doctor's appointment which was timed for while we were there, and the doctor did a basic diagnostic memory/cognitive test and, well, she really struggled.  Name as many things as begin with the letter F in one minute.  Repeat a sentence.  Remember 5 objects.  Recite 742 backward.  etc.  I'm not saying that all the sudden she's got Alzheimer's, but she clearly needs help and can't be expected to take the initiative to plan her days or find clubs to join, or even to make sure all the bills get paid, and we have to figure out how to make these things happen from a distance.
So I'll be honest — in my mind, I would have expected basically a sort of black-and-white, a bright line.  Competent or not competent.  But it's not so easy.  I spent some time this morning looking through the Calendar of Events and trying to put together a sort of "planner" that she might use to keep track of what's going on each day that's more detailed than a regular calendar, something she could put on the wall (there's a metal access panel for the air filter at a visible spot, that you can hang things on with magnets like a fridge).  But whether she'd use it or not is another question.
So that was my weekend.  And now here's the part of the blog post where I invite you to share your stories.
Image:  no, these are not my parents.