So this past weekend — well, not really a weekend, actually, but from Thursday through Saturday, I was in DC, and while what brought me there was a meeting that's one small step forward in Jane The Actuary's (delusional) Plan To Fix Retirement, I tacked on a day before and after; I had hoped to add to this some additional meetings or events broadly speaking (speakers, panels, etc., of the sort that the big think tanky people sponsor), and did connect up with someone for dinner, but mostly played tourist and wanted to share my photos and experiences.
Thursday
Yup, up bright and early, for a 7 AM flight, which got me into Reagan National Airport.
Honestly, here's something I don't understand: Reagan is much, much closer than Dulles. It's super-convenient to take the subway into the city, and I would have assumed that one would pay a premium to fly this airline, but that really wasn't the case, at least near as I could tell. (Sure, Baltimore-Washington/BWI would have been much cheaper but I didn't want to fuss with the substantial added travel time.) Are there a limited number of cities which have service to Reagan and But in any case, I had picked a hotel in Arlington, in the Rosslyn area, a short walk from the metro stop, that seemed to be affordably priced relative to others, and by 10:45, I was checked into my room, oriented myself a bit, and headed into DC, planning to spend the afternoon bopping from one Smithsonian museum to the next before returning, changing into something more professional, and heading back into the city for my dinner.
This didn't quite work as planned.
Quick photo break!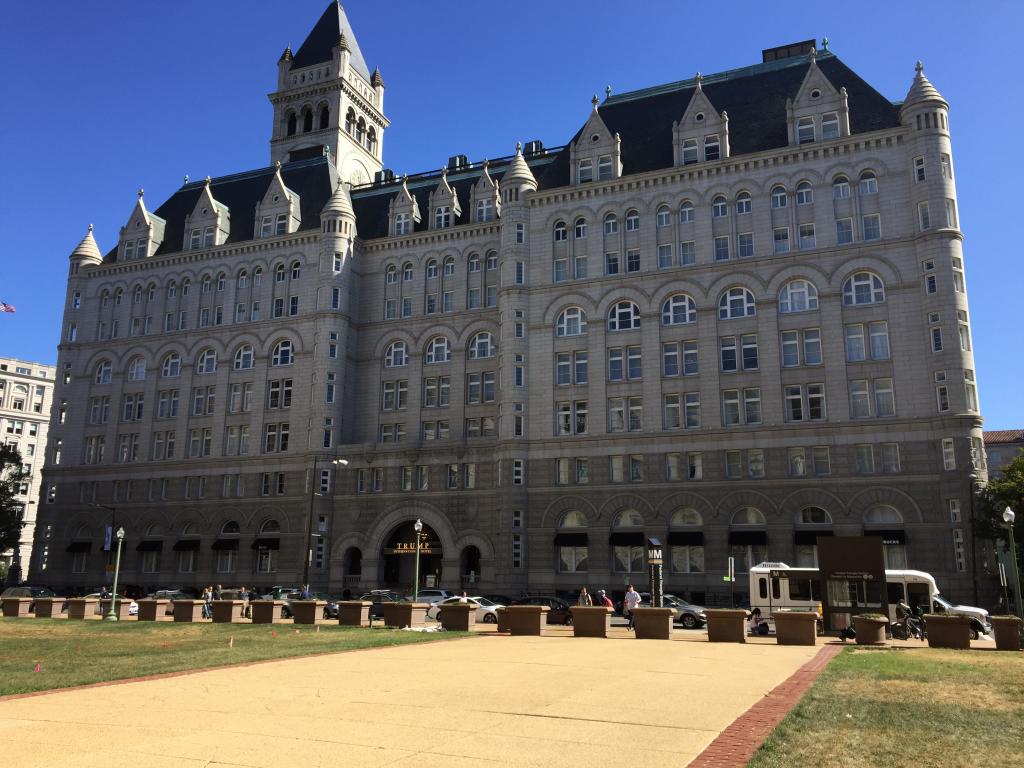 Yes, that was my view as I stepped out of the Federal Triangle Metro station: the Trump International Hotel.
But anyway, I headed south, ate a hot dog from a food truck, then got in security-check line for the museum of American history, which I had had a favorable impression of from a prior visit.
In front of me were two German tourists. I wish I'd taken their picture. Instead, I texted my husband:
Her backpack is Reisenthel.

His t-shirt has a S Olivier logo.

He has Adidas shoes, a Fossil watch, and a Jack Wolfskin hat.

She does not have Swabian-red hair, though.
And by Swabian-red I meant the fact that, at least a decade ago, women of a certain age in that area tended to dye their hair a dark reddish-brown.
Anyway, it amused me.
The museum? Not so much.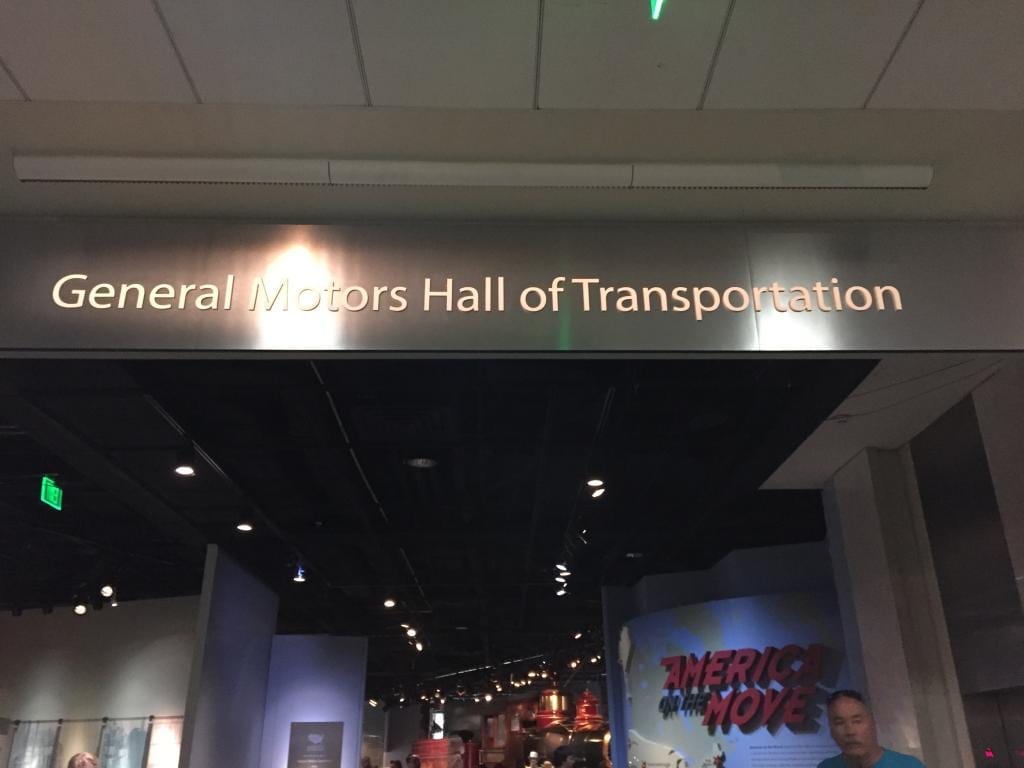 The General Motors Hall of Transportation was fine enough, I guess.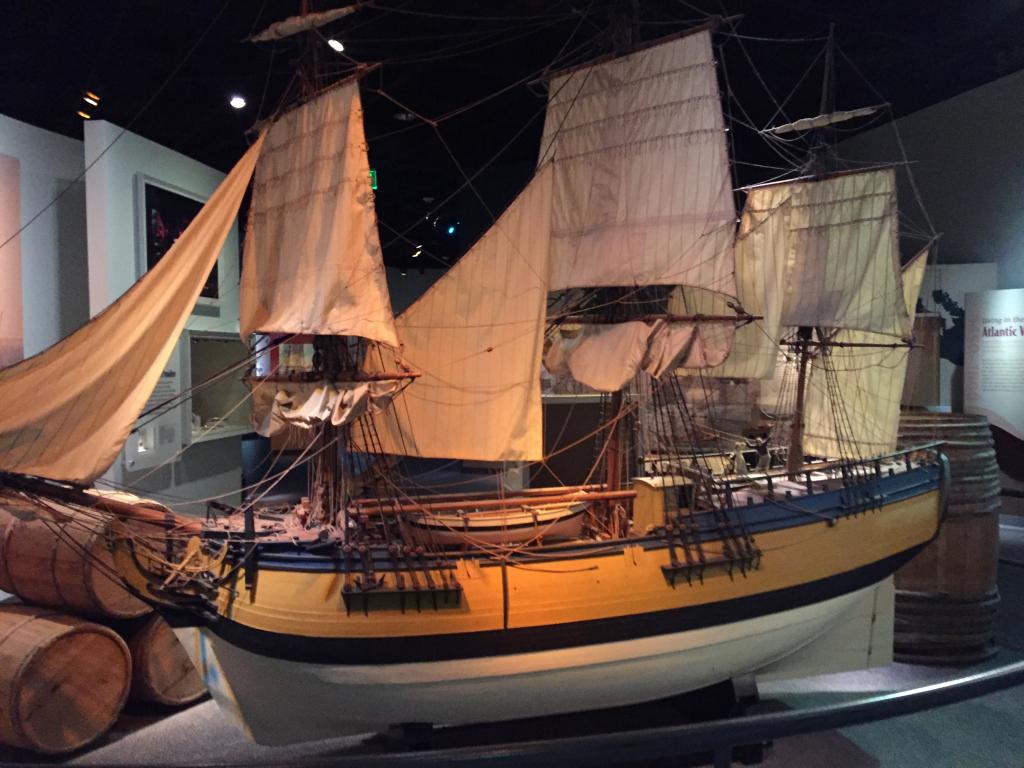 as was the adjacent display "On The Water," though its effort to include every way in which Americans used bodies of water for transportation, fishing, industry, etc., meant that the entire exhibit was simply a sum of individual bays, which were entertaining enough but never more than that.
But then there was this: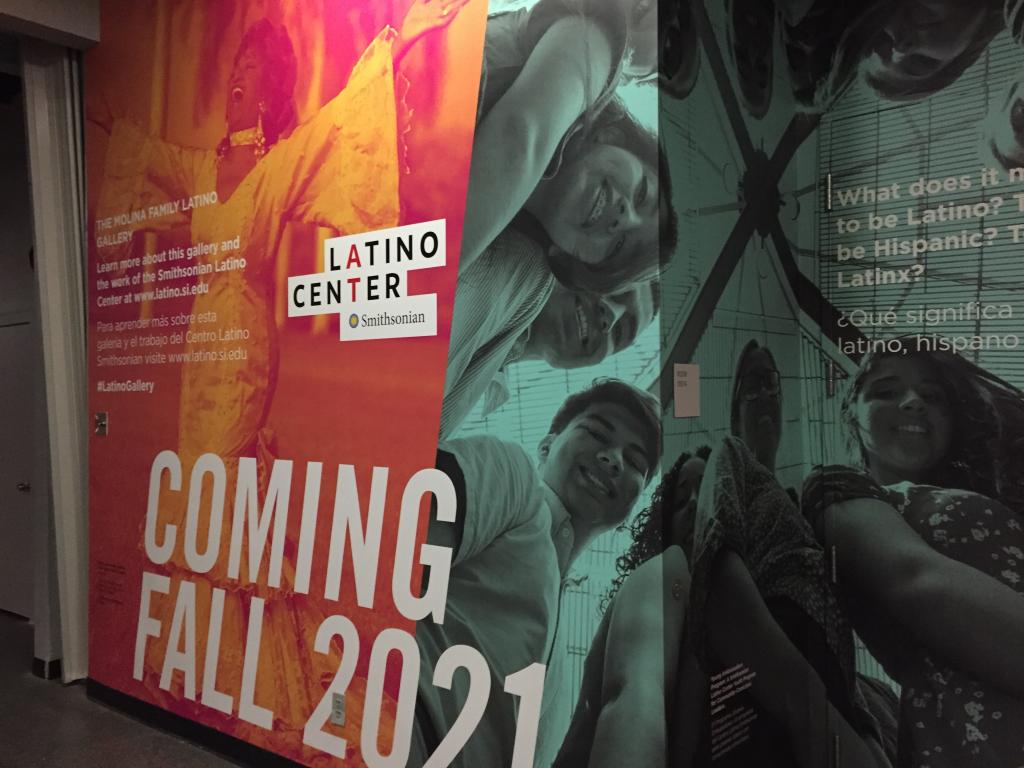 According to the website, this is not a special exhibit but a new gallery space, and one of substantial size and, studying the map, I am trying to visualize exactly where this was relative to what I saw of the exhibits and where I was when I took this photo, because the museum map just shows greyed out areas without distinguishing between staff or private areas and what's under construction and, to be honest, the largest inaccessible area was on the 3rd floor and I am quite convinced that this was on the first or 2nd floors, and fairly prominent, as if it was swapped out for some other exhibit which I had also missed.
I toured the exhibit on American military history and it was fine enough, though not as good as the Civil War Museum in Kenosha and the First Division Museum at Cantigny in Wheaton, IL. And I walked through the exhibit "Many Voices, One Nation," but it really seemed to be more about "e pluribus, pluria" (or maybe plures) — that is, emphasizing all the many identity groups retaining their identities. I had the feeling that in the effort to tell everyone's stories, they told no particular story well. And strangest of all was the Ruby Slippers exhibit — an exhibit space that I peeked into that had the Ruby Slippers in the center of what seemed to be a mostly empty room, designed as if Americans would pilgrimage here and crowd around as if they were looking at the Mona Lisa or the Rosetta Stone.
So I was annoyed. And maybe I missed parts of the museum that I might have enjoyed — beyond the children's museum area is apparently an exhibit on American Enterprise but I had written off that corner of the museum — but I made my way over to the Air & Space Museum instead — where, yes, again, over half the museum was closed for renovations. So I said "hi" to the V1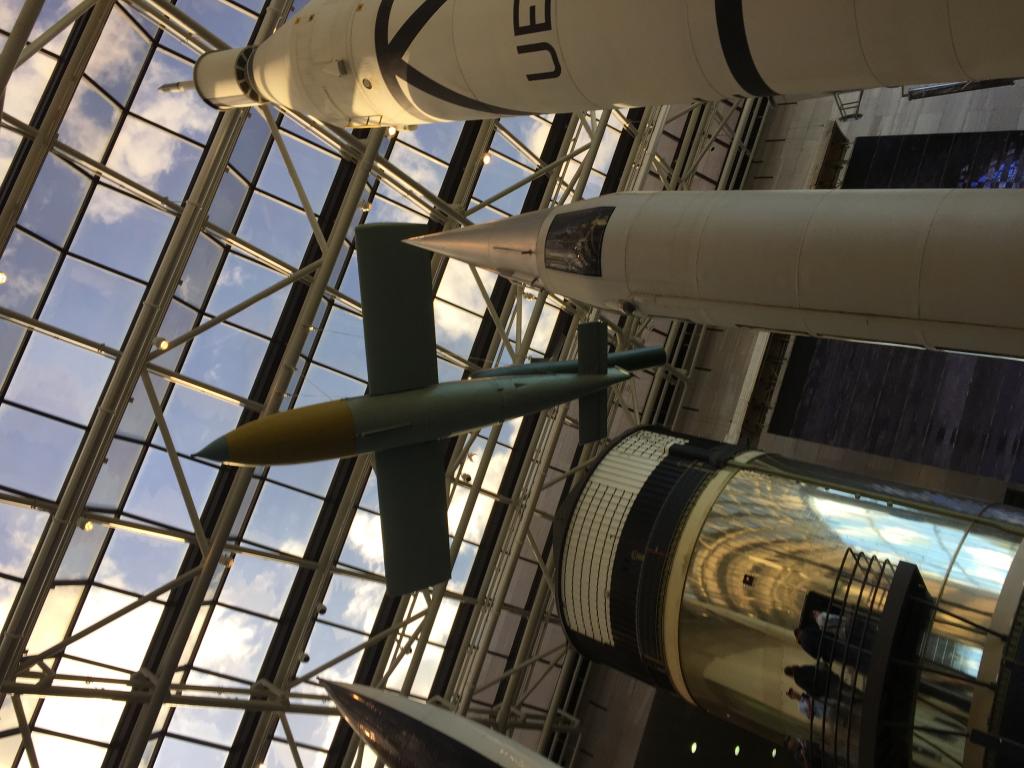 and V2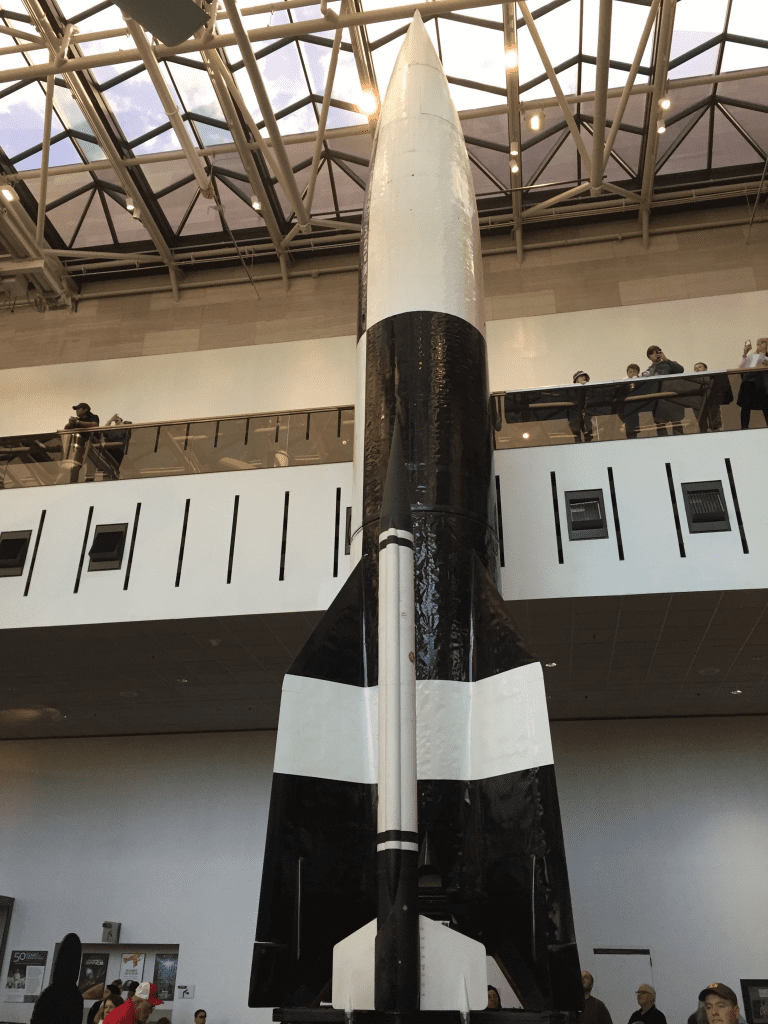 and a few assorted missiles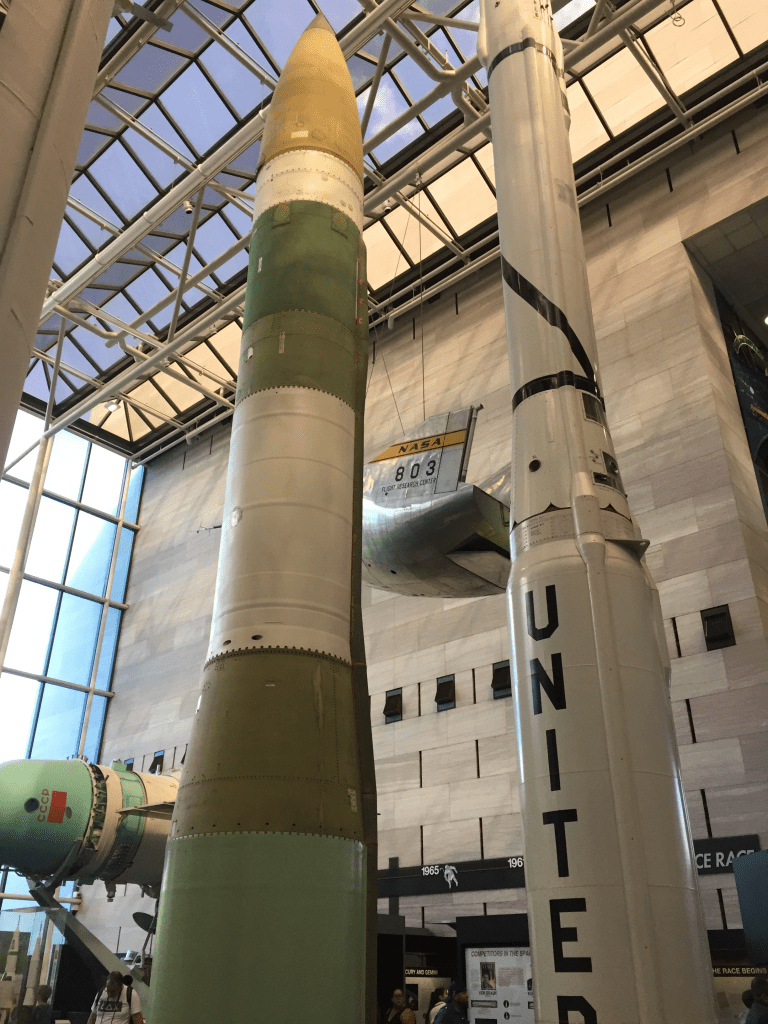 but a "greatest hits of the Air and Space Museum" visit is not what I was looking for.
And by then I was irritated, and getting tired, and not up for a try at a 3rd museum, so I took that Metro back to the hotel and napped briefly before my dinner.
Friday
So most of Friday was taken up by my meeting, and when I got back to the hotel, I wanted to go over to the Arlington National Cemetery but first I knew I wanted to put together a quick article about the latest news on Illinois pensions, and I figured I had plenty of time to do both.
But I didn't plan on this: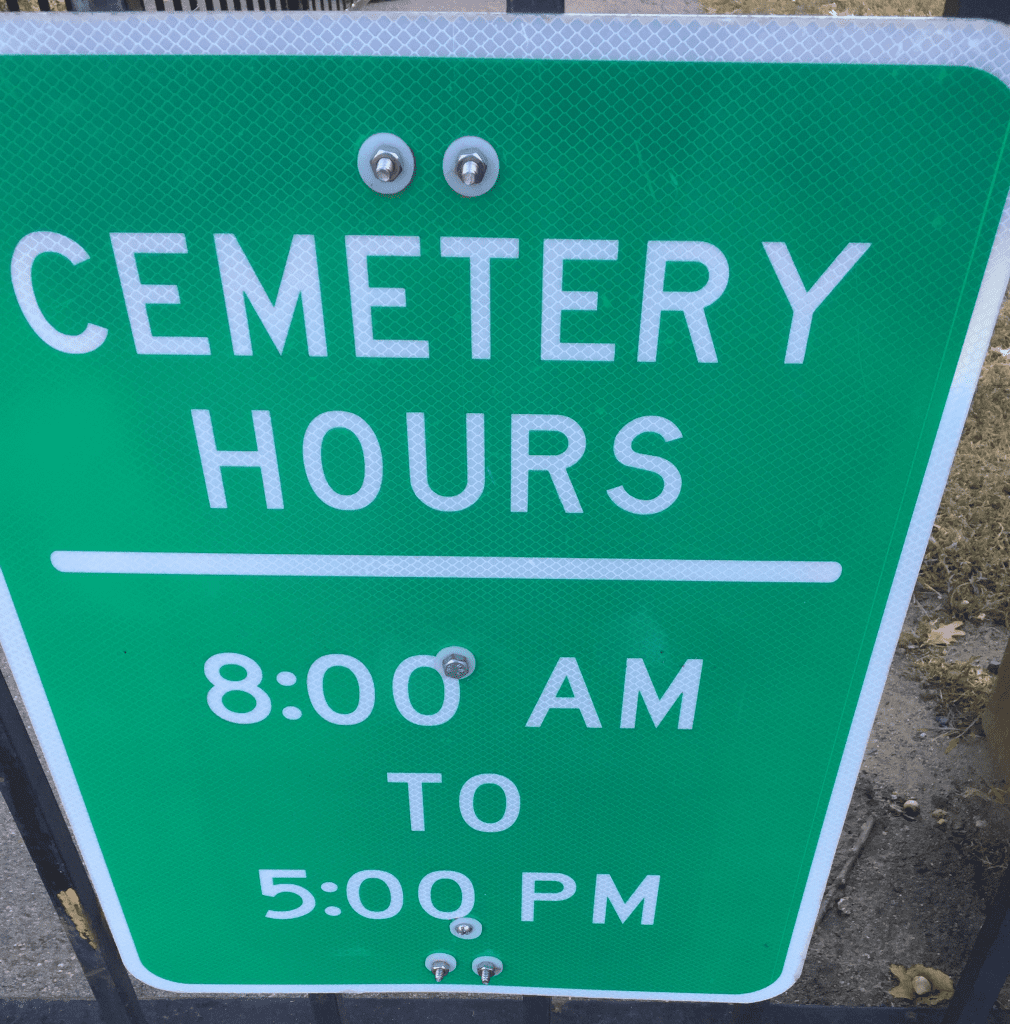 So this was as close as I came to paying my respects: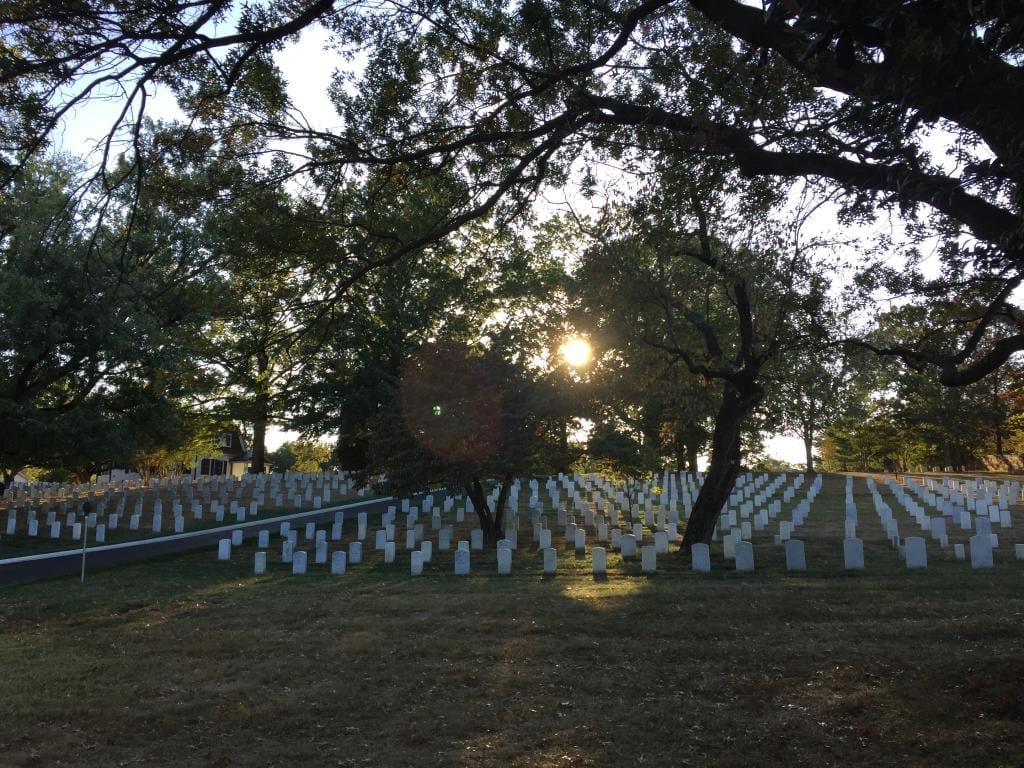 and happily the Marine Corps memorial was not fenced off: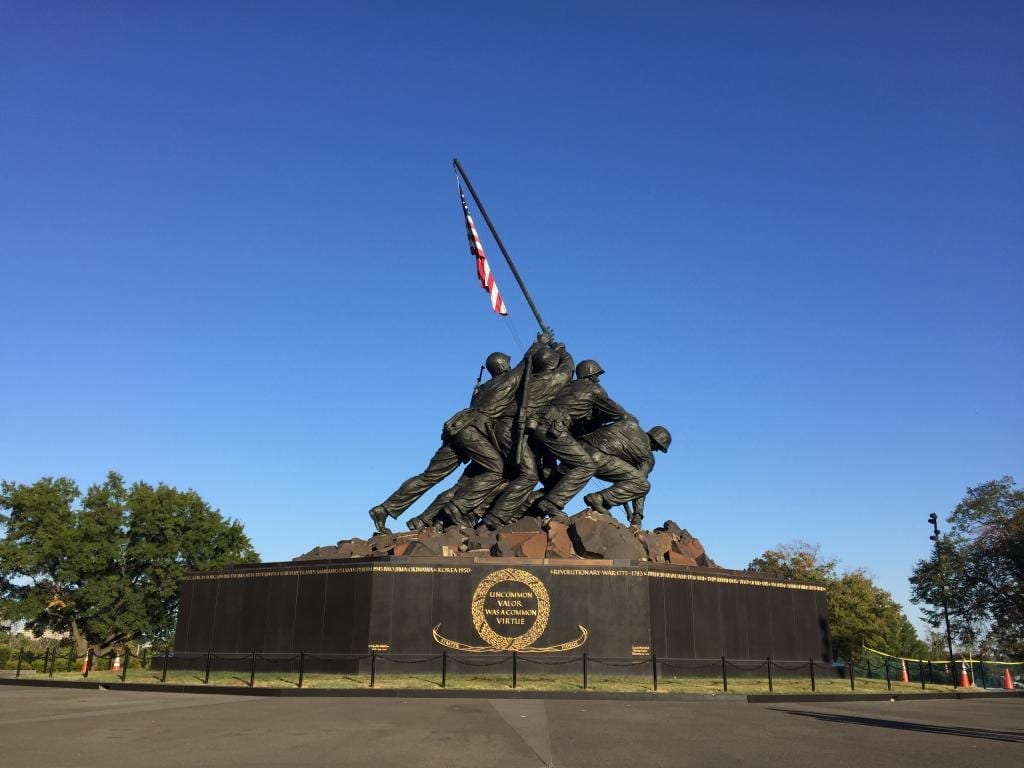 with its accompanying sign also surprising me: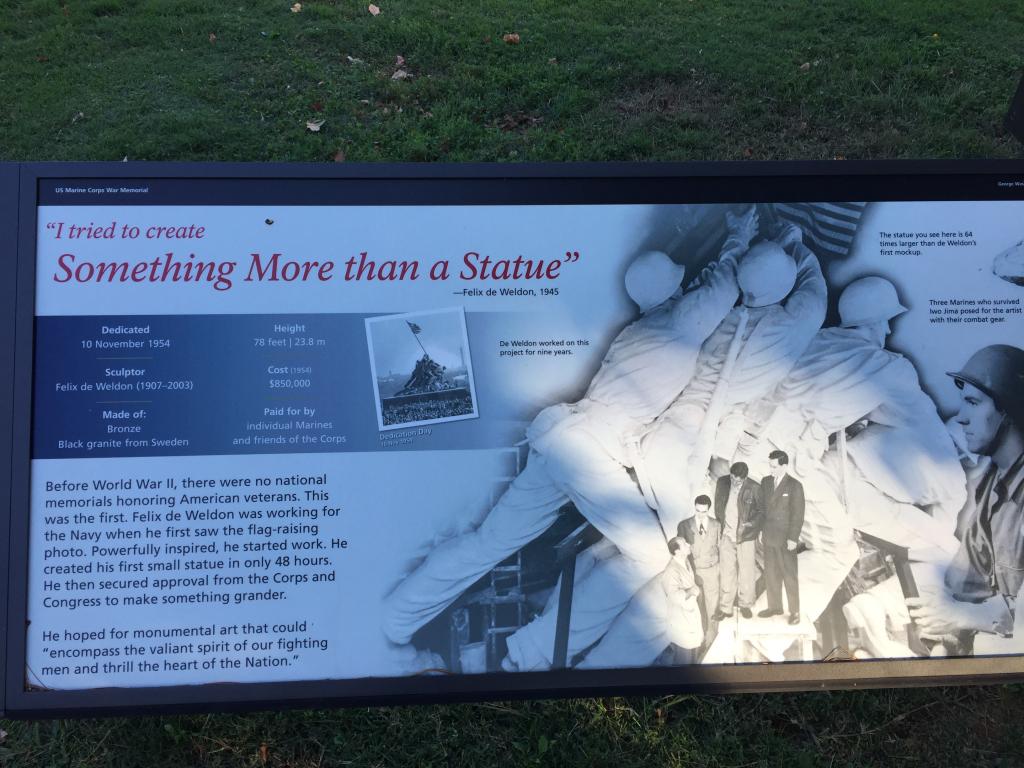 because we have such an endless profusion of memorials now — for every war, and honoring all manner of identity groups fighting in those wars.
Saturday
What with the hotel being in Arlington, but very close to the river itself, I started off the day with a walking tour, crossing Key Bridge into the Georgetown area.
Cute as a button.
Dripping with money, both from wealthy residents and from college students from wealthy families, but cute as a button.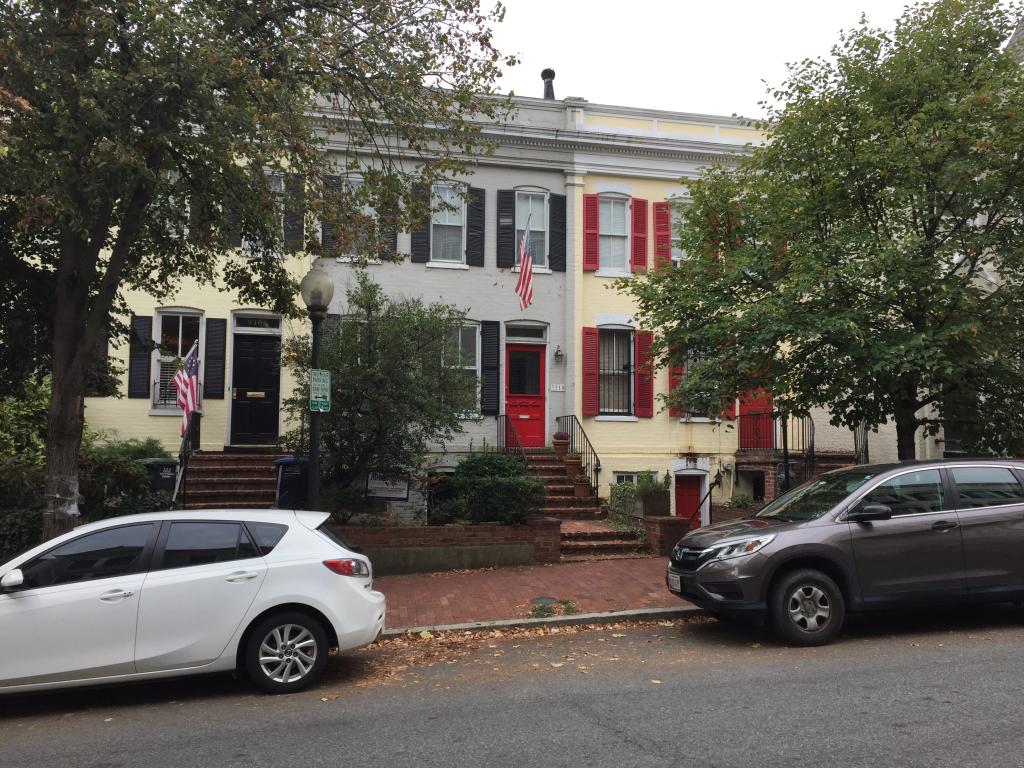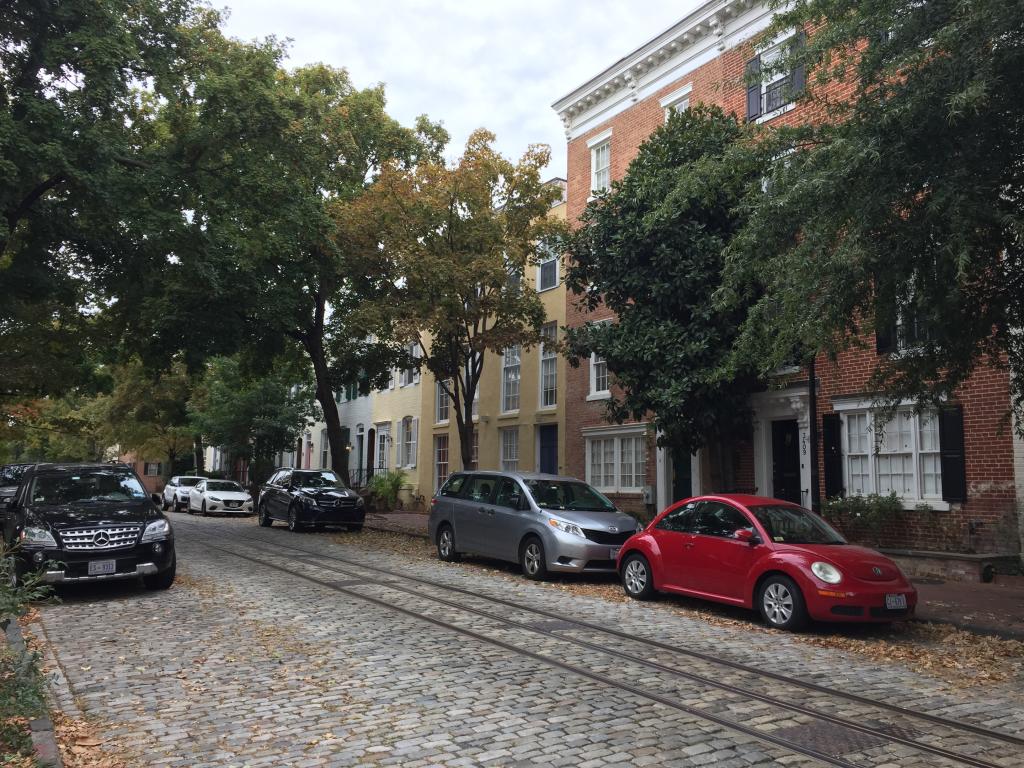 The neighborhood was a bit too tree-lined to take particularly good pictures.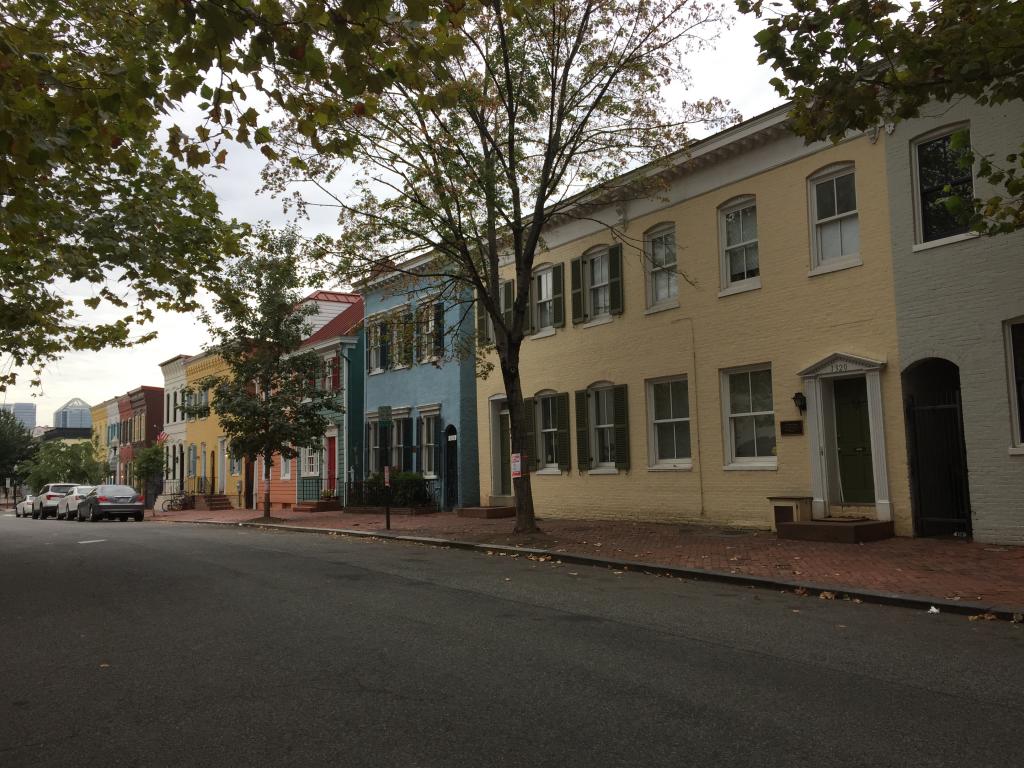 Though I did find myself annoyed as I realized, the more I walked through the neighborhood, that the cars in these streets were one foreign brand after the next: BMW, Mercedes, Lexus, Toyota, Subaru, etc. The only American brands I saw were one Suburban and two Jeeps, plus American-branded vehicles for the tradesmen working.
Anyway, I started to get less charmed and more irritated by the foreign cars and the oozing money (I wanted to get a donut to supplement my light breakfast and was surprised that they were priced at $4), and then discovered that I was two blocks away from a path along a canal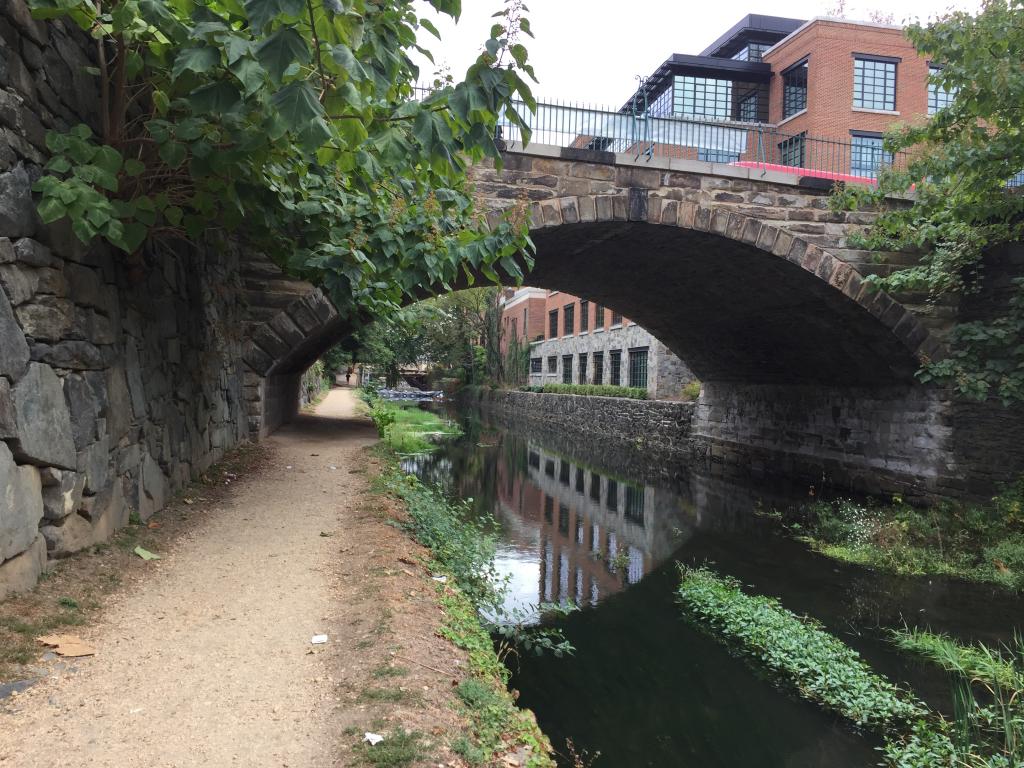 which itself led to a pedestrian/bike path to the Lincoln Memorial.
Now, I mentioned that on Thursday, I was amused by the German couple in front of me at the security line, and I continued to notice German tourists. But this took the cake:
ahead of me, as I'm walking to the Lincoln Memorial, I see a group of soldiers, and am reminded of our days in Rome this past summer and the substantial military/police presence. But then I get closer: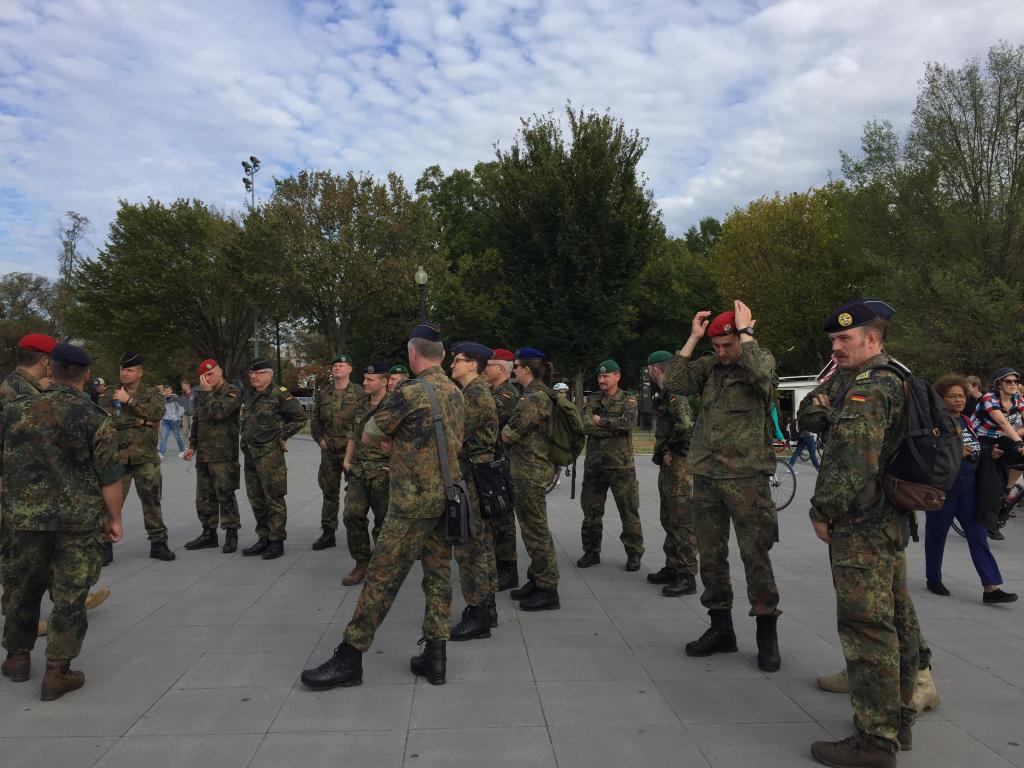 and these are indeed more Germans!
What they were doing there, I have no idea, but I found it very funny.
Afterwards, I continued on through to the World War II memorial (not a fan; it just seems so generic and bland), then north towards the White House, though you really can't see much. I decided I was done walking and it was time for museum-ing, so I decided to try the National Museum of African American History & Culture, but was surprised to learn that I needed a timed pass. What's more, they could only be gotten online, but the helpful man at the doorway told me there were time slots available starting at 1:30, so, since it was about noon and my phone was losing its charge very quickly that day, I decided to go to the Natural History Museum, hoping that I could find some not-too-expensive thing to eat in the museum cafe and an outlet near a table, charge my phone, then get a ticket. Turned out, I should have just gotten the ticket right away, as by the time I found the outlet I was looking for (turned out, in a corner of an exhibit where they had a movie cycling through, since I felt I'd stand out too much in the main hall and outlets were hard to find), there were no tickets at all left for the day — but I didn't anticipate that, and at the same time, didn't want to use the phone until I could be sure I'd be able to charge it.
So I ended up touring the Natural History Museum, which was adequate, but I was again disappointed, because I wanted to be more "wowed" by a museum that calls itself "National" than I was. I also realized what was missing: even though I get that it's not "politically correct" to combine natural history and ethnology, the latter is the sort of museum exhibit I like a lot and it was largely missing here. Even the mummies — the Field Museum exhibit includes a lot of detail on life in ancient Egypt, and the mummy corner of this museum was, well, in addition to being a lot smaller, was more focused on, "hey, guys, mummies are really creepy."
And I admit, I'm spoiled by such places as the National Museum of Ethnology in the Netherlands and the British Museum and the Deutsches Museum, but I really wanted to be more impressed by these museums than I was. I suppose next time, if there is a next time in the near future, I'll get that online ticket, and maybe try the art museums, and do more advance research to find the off-the-beaten-path spots.
So that was my weekend. How was yours?