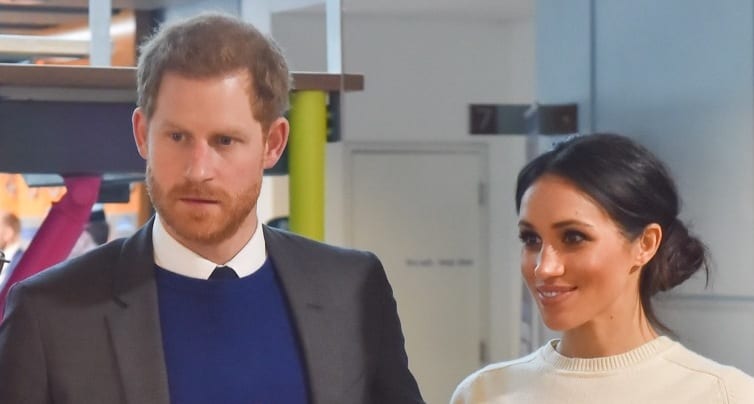 So who's following the Harry-and-Meghan drama?
Are you waiting with bated breath to see if they get to keep their royal titles?  The Duchy of Sussex?  Their income from Dad?
Are you on Team Meghan convinced that the royal family's mistreatment of her, and the racism of the British people, in general, forced her into this decision?
Are you on Team Royal Family believing that Meghan and Harry are narcissists who want to enjoy all the trappings of royalty without being held to the obligations it entails?
Are you on Team Harry, that is, believing that Meghan has manipulated Harry into abandoning his family?
Yeah, turns out I don't have a strong opinion on this, nor enough interest to form a conclusion about who's right and who's wrong.
But what does infuriate me are the reports of the money they can earn by stepping away from being "working royals" (which, to my understanding means walking away from the ribbon-cuttings and other sorts of official engagements that are how the "working royals" work), and becoming "independent."
And here's an article on MarketWatch:  "'The atmosphere soured hard and early.' Meghan and Harry's #Megxit will make them rich beyond their wildest dreams."
And how will they get their money?
Harry is friends with former U.S. president Barack Obama, and will consider adopting the Obamas' post-White House career model, some royal observers say. Barack and Michelle Obama reportedly signed an eight-figure deal with Netflix NFLX, +0.57% to produce high-brow historical, biographical and social-justice programming with their company, Higher Ground Productions. . . .

They have already built a strong royal/celebrity personal brand, breaking the traditional mold of the royal family. Their 2018 wedding was an unusual mixture of Hollywood and English aristocracy.

"Much like Gwyneth Paltrow's Goop, and as Markle previously did with TIG, their personal brand could be worth billions and they know it" [according to royal commentator Ashley Pearson].
Is there something wrong in this?
To start with, would Harry and Meghan be doing something wrong, if they cash in with an eight-figure book deal, or a Netflix deal the size of the Obamas, or happily accept invites to give speeches?  What if they put their brand on products which promised that "a portion of the proceeds go to charity" (while retaining a portion as income)?  What if Meghan becomes an Instagram influencer by accepting payment for endorsements for the clothing she wears or the makeup she uses in her pictures?  Or if they put their name on children's toys, or if Meghan even resumes her acting career with guest spots here and there?  What if they accept board positions, with charities or public companies?
With respect to the pair's decision-making, they themselves are not doing anything wrong.
With respect to those who are paying them, well, for the most part, they are simply taking a look at the market and seeking profits.  Maybe in some instances they are swooning over their celebrity/royal status, for instance, if they "overpay" relative to a reasonable judgement of how much value their status brings, for instance, how much more people are willing to pay for a benefit dinner where they are speaking than someone else on the speaker circuit, or how much of a benefit a board position can bring to the organization due to their fame.
But my objection is to this state of affairs, in general, that our society has such an obsession with celebrity and royalty (or American-style royalty — the children of celebrities or politicians), that would mean this earnings potential exists in the first place.  Why should the SussexRoyal imprimatur make a product more attractive than otherwise?  Why should someone who's been groomed to shake hands and who served a tour of duty in the military, and another someone who's an actress, have particular skill sets that would help them solve problems such as poverty in Africa, rather than merely drawing attention to the issue via their fame?
This elevation of celebrity is, after all, what got us Trump.  This notion of political dynasties, and the handing down of political offices from husband to wife or parent to child is what got us Hilary Clinton's candidacy, and, of course, prior to him, George W. Bush.  Locally, we had Lisa Madigan as an Attorney General who looked the other way on corruption because, after all, her Dad was the Speaker of the House.
So, bottom line: the Harry-and-Meghan drama matters because of what it shows us about ourselves.
Image:  https://commons.wikimedia.org/wiki/File:Prince_Harry_and_Ms._Markle_visit_Catalyst_Inc_(41014635231)_(cropped).jpg; Northern Ireland Office [CC BY (https://creativecommons.org/licenses/by/2.0)]. "During their first visit to Northern Ireland on 23 March 2018, Prince Harry and Ms. Markle visited Catalyst Inc. An independent, non-profit organisation which works to build a community of innovators in Northern Ireland, providing the home, support and networks to nurture innovators and entrepreneurs to aim higher and succeed faster."