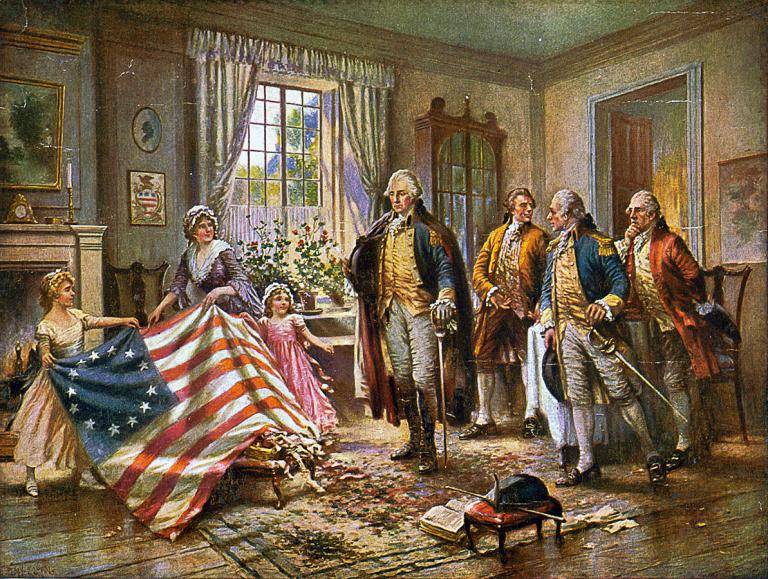 In the news last night: "Chicago-Area Leaders Call for Illinois to Abolish History Classes."
Here are the first few paragraphs:
Leaders in education, politics and other areas gathered in suburban Evanston Sunday to ask that the Illinois State Board of Education change the history curriculum at schools statewide, and temporarily halt instruction until an alternative is decided upon.

At a news conference, State Rep. LaShawn K. Ford said current history teachings lead to a racist society and overlook the contributions of women and minorities.
This press conference was paired with a press release which is noteworthy for what is apparently the most recent consequence of the hand-wringing over capitalization of colors when used to denote race/ethnic identity:
Attendees at Sunday's press conference will discuss how current history teaching practices overlook the contributions by Women and members of the Black, Jewish, LGBTQ communities and other groups. These individuals are pushing for an immediate change in history changing practice starting this school year. . . .

Evanston Mayor Steve Hagerty notes "As Mayor, I am not comfortable speaking on education, curriculum, and whether history lessons should be suspended. This is not my area. Personally, I support House Bill 4954 because I am interested in learning more and believe the history of Black people should be taught to all children and include all groups, Women, LatinX, and Native Indians who helped to build America."
Yes, you read that right — apparently "women" is deemed in need of a capital letter as well.
And this press conference is indeed about legislation, not just a loopy demand. The Evanston Round Table provides more details on the press conference, and, yes, "abolish history classes" is an easy way to ensure your event will get press coverage, but even absent that demand, the platform of this group, which calls itself Women Empowering Women in Local Legislation, or "We Will," raises plenty of grounds for concerns. Their objective is not merely to promote the history of women and minorities: it goes much further.
The legislation in question is Illinois House Bill 4954, which intends to amend the Illinois School Code. At present that code already requires a long list of ethnic groups whose contributions must be taught:
the role and contributions of African Americans and other ethnic groups, including, but not restricted to, Polish, Lithuanian, German, Hungarian, Irish, Bohemian, Russian, Albanian, Italian, Czech, Slovak, French, Scots, Hispanics, Asian Americans, etc.
And when this was added I quite likely griped (though I can't find the gripe at the moment) that this laundry list of groups whose history must be taught made no sense if the idea was somehow that each such group must be given special individualized attention.
But the Ford's bill, which he introduced back in February and has a small handful of sponsors, goes further: first, it requires that instruction on African Americans include the period from 1954 to 1965, that is not merely slavery. This is reasonably unobjectionable, especially given the context that Illinois already requires that each student be taught specifically about "the forceful removal and illegal deportation of Mexican-American U.S. citizens during the Great Depression."
And, second, it adds three commemoration days to the Illinois school calendar.
As an interesting side note: I had no idea that the state of Illinois specified these "commemorative holidays" and requires that schools "shall include instruction relative to commemorated persons, activities, or events." Here are the existing days:
January 28 – Christa McAuliffe Day, a commemoration of space exploration (really? we talk about space exploration not by celebrating successes but by mourning the Teacher In Space?)
February 15 – the birthday of Susan B. Anthony
March 29 – Viet Nam War Veterans' Day (yes, in addition to Nov. 11 being a day off school for "regular" Veterans' Day)
September 11 – for September 11th
The School Day immediately preceding Veterans' Day – for Korean War Veterans' Day (I guess because no commemoration happens on Veterans' Day itself?, again, really?)
October 1 – Recycling Day
October 7 – Iraq and Afghanistan Veterans Remembrance Day
December 7 – Pearl Harbor Veterans' Day
Which means that nearly every sort of veteran gets their own special day – except that you'd think D-Day would be on there, and there's no Cold War Veterans' Day for all the veterans whose military service consisted of spending their days on military bases in Germany and their nights in the Biergartens.
But in any event, Ford wants to add three more days in his bill:
January 15 – Martin Luther King's actual birthday (never mind that there is already a day off school on his "observed" birthday)
April 4 – the date of Martin Luther King's assassination
August 28 – the date of his "I have a dream" speech.
The dates are to be named Humanitarian Day, "observed as a day of respect for the principles of human and civil rights and to involve the use of the color white as a visual affirmation to practice these principles"; Victims of Violence Wholly Day, "observed as a day of respect for the principles of nonviolence and to involve the use of the color black as a visual affirmation to practice these principles"; and Dream Day, "observed as a day of respect for the spiritual and moral principles of peoplehood and to involve the use of the colors black and white as a visual affirmation to practice these principles."
(Funny, I thought it was a bad thing to associate white with goodness, and black with death. And what are the "spiritual and moral principles of peoplehood" that are distinct from "the principles of human and civil rights"?)
But let's move on — because I haven't even gotten to the amendment, and I haven't even tackled any of the things on my to-do list for the day yet.
The bill was filed on February 13. And on February 28, Amendment 1 was added.
Here's the key text from that amendment:
In addition, the teaching of Black History must also include all of the following areas:

(1) The study of the American civil rights renaissance, that period of time from 1954 to 1965 called the Movement.

(2) The study of the pre-enslavement history of Black people from 3,000 BCE to AD 1619, including instruction about ancient civilizations, kingdoms, kings, queens, and warriors; their contributions to medicine, literature, technology, architecture, and economics; and their achievements.

(3) The study of the reasons why Black people came to be enslaved.

(4) The promotion of a commonality of identity for all people to help with conflict resolution and to increase self-worth.
Yes, indeed, Ford and his supporters want to teach "Afrocentric" history in which, alternatingly, either Egyptian history is deemed "Black" history so that its early civilization is a "Black" civilization, North African Islamic civilization is likewise deemed "Black," or the technological advancements of sub-Saharan kingdoms are exaggerated. And note that the state of Illinois has, in general, nothing to say about whether, or to what degree, students are instructed in the history of places outside the United States — there is no mandate to study European history, for instance, or even "World History" generically stated, even though students customarily do. All that's required is two years of "social science," of which one must be U.S. history.
Finally, Ford wants Black History instruction to include "The promotion of a commonality of identity for all people to help with conflict resolution and to increase self-worth." What does that mean, exactly? In particular, who are "all people"? In principle, that could mean some variation of "we are all, regardless of skin color or ancestry, good and worthy people, and you should care about everyone regardless of whether they share your skin color or ancestry or not."
But let's look at some of what the speakers in Evanston said:
"Black people did not begin with slavery. We built civilizations. We built kingdoms. We contributed to medicine, technology, literature. And these are things that children need to know – all children, not just Black children. If this bill passes, it will create a sense of self-identity, self-worth, self-knowledge, race identity. And it will help with race relations as well, because we will be starting it from kindergarten to twelfth grade," said Ms. [Meleika] Gardner. . . .

Dr. Logan spoke about his experiences as an educator of students in elementary school through college. "At every single level, I've had students, Black students in particular, who had no idea who we are as a people. I've had white students, Latinx students, Asian students who had no idea who we are as Black people. … Carter G. Woodson, almost 100 years ago, talked about the miseducation of the Negro. …That does not only impact the Negro, or the Black person or African American – it impacts us all. … We have all been miseducated by the system we are living in. This bill needs to be passed for the benefit of everyone," said Dr. [Gilo Kwesi] Logan. . . .

At Evanston Township High School, some changes are being made to the elective Advanced Placement U.S. History course. "We are expanding it with a lens that allows students to explore their identity. Nicole Parker, the History Department Chair, is working with Shorefront [Legacy Center]. … We are making it so that students can see themselves in history," Assistant Superintendent for Curriculum and Instruction Pete Bavis told the RoundTable.
In other words, "the promotion of a commonality of identity for all people" does not mean that students should believe that we are all a part of the human race" or that "we have more in common that unites us than what divides us." The only "commonality" is that "we all have an identity" — and, it would appear, the "commonality of identity" must mean that "just as white students' ancestry can be traced back to civilizations with achievements in literature, the arts, and technology, so, too, can black students be equally proud of the achievement of their ancestors."
Finally, the RoundTable reporting also provided more context for the bill:
HB4954 passed 14-7 when it went before the Illinois House Committee in early March. The state legislative session was suspended in response to COVID-19 in mid-March, when the bill was scheduled to go before the full Illinois House of Representatives for a vote. Supporters are now looking toward the fall legislative session for passage of the bill.
And the bills' supporters claimed that they had gained many new supporters who recognized the importance of their bill. Was that claimed support genuine, or the result of no one being willing to say what should be said, that this is nonsense? It would be dangerous indeed for this bill to become law, but the risk is greater than I'd like, if politicians feel obliged to vote for it lest they be deemed insufficiently anti-racist. After all, how do you build a curriculum in which black children are explicitly taught about "race identity" without teaching white children exactly the sort of "race identity" lesson you don't want them to learn?