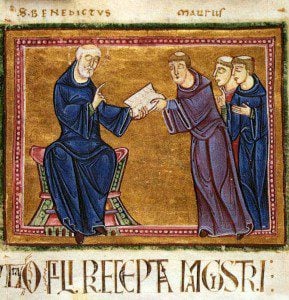 "Léonce Crenier was as righteous and sincere, as forthright and generous during his youth with the anarchist utopians as he was in later years in his fervor as a monk." – Monsignor Varin de la Brunellière, the Bishop of Martinique
I only consider it half-a-good-thing, but I am undeniably a contrarian. George Grant, a little-known Canadian moral philosopher helped me to see my Christianity as something critical of the normal order; Piers Plowman and "Wulf and Eadwacer" are my two favorite poems, and I've never read any of the Harry Potter books.
The same goes for the saints and holy people in my life. Despite the extremes of my contrarian tendencies, I think there's much to learn from what's been forgotten, and so you can imagine I was quite fascinated when I chanced upon the Wikipedia page for Léonce Crenier, a 20th-century Benedictine prior, monastic reformer, and Christian anarchist. Born in France, he converted to Catholicism (from what seems a secular apathy united to anarchist politics) after a period of illness, during which a nun cared for him. Wanting to be like her, she told him that he should instead be like the one who gave her strength: Christ.
The rest of his life was dedicated to reforming monastic communities, specifically in light of what he called "precarity," which essentially means "living precariously." To this end, he once wrote: "Because of the immense number of Christians who are gently slipping in the direction of paganism and damnation, through the appeal of comfort, of well-being and of 'legitimate' pleasures, certain priests have begun to reject this state of affairs, and have begun to preach the Sermon on the Mount once more." His monks were to live rigorously; they were to recognize the fragility of existence, that is to see all as radically given by a loving God.
After reforming a monastery in Europe and acting as an abbot in Canada, he retired to the U.S., to the still-functioning Portsmouth Abbey. Here, he seems to have been involved with an attempt to create an integrated (i.e. not racially segregated) monastery. Instead, he moved to Martinique, founded another community and passed away.
I wish I could say more about the man; the details with which I am familiar paint a fascinating picture. Dorothy Day seems to have respected him. His interest in simple living, the monastic vocation, and racial harmony should speak to our 21st-century souls, inundated by ever more stimuli and ever more division.
Unfortunately, I can't find out much more about him. A couple websites make limited mention of his life and work (examples here and here), but none in an extensive way. Amazon lists one work by him, De l'anarchisme au cloitre, which, along with seemingly anything else he wrote, remains untranslated (I searched on French Amazon and a couple of other books are listed under his name. Examples here and here). Most websites with any extensive information regarding his life and works are in French. In other words, unless I've missed some glaring source, his wisdom remains mostly hidden from us Anglophones.
In a sense, this post is an entreaty. I'd love if some kind soul out there would translate these works or find some way to get them published in English: a priest beloved by Dorothy Day and considered holy in his own time ought to available to us. In the age of "simple living," I can imagine the Dom has much to teach us. So, if you know of pre-existing translations or know how to get new ones off the ground, do let me know (my Twitter and Facebook are on the side of the page. My Princeton e-mail is readily available if you just google my name).
As I prepare to go on retreat later today, I ask that Dom Léonce Crenier and you, my brothers and sisters, might pray for me, that I may even approximate his commitment, truly Christ's commitment, to the simple and the outcast, that I might recognize the preacarity of my own life during the fullness of this Lenten season.