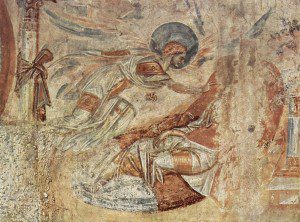 Would that my prayer life were not so tumultuous. All too often I oscillate between regulated piety and spiritual sloth, an inability to do more than utter a "thank you" to God as the day begins and ends. Of late, however, I've been blessed to have looked back into my Pocket Prayer Book for Orthodox Christians, popular among Byzantine Catholics ("Orthodox in communion with Rome") as well as Eastern Orthodox believers. Therein, I found a lovely little prayer with which to (try to) start my day: the "Morning Prayer of Metropolitan Philaret":
Grant, O Lord, that I may face all that this new day is to bring with peace of mind. Grant that I may dedicate myself completely to Your holy will. For every hour of this day, instruct and support me in all things. Whatsoever I may receive during the day, teach me to accept them tranquilly, with the firm conviction that everything comes by Your holy will. Govern my thoughts and feeling in all I do and say. When unforeseen things occur, do not let me forget that everything comes from You. Teach me to behave sincerely and wisely toward every member of my family, not embittering or embarrassing others. Grant me strength, my Lord, to bear the fatigue of the coming day and all that it shall bring. Guide my will and teach me to pray, to believe, to hope, to suffer, to forgive, and to love, and pray Yourself in me. Amen.
"Your will." "Your will," or some derivative ("that everything comes from You"), is repeated throughout this short prayer. In these words is contained a plethora of reminders. Every day is a creation of God; His holy will keeps the world turning (and so we give thanks). His love sustains each and every one of us, both materially (we owe our existence to Him) and spiritually (we turn to Him for succor, for the fulfillment of who we most truly are). His power surrounds our lives and teaches us that "everything comes from" His holy will. God's love envelops our lives and eases our burdens, helping us to suffer, to forgive, to hope, even in the face of challenges sent for our edification. In a beautiful bit of happenstance, this echoes the Roman Church's reading from yesterday:
Blessed be the God and Father of our Lord Jesus Christ, the Father of compassion and the God of all encouragement, who encourages us in our every affliction, so that we may be able to encourage those who are in any affliction with the encouragement with which we ourselves are encouraged by God. For as Christ's sufferings overflow to us, so through Christ does our encouragement also overflow. If we are afflicted, it is for your encouragement and salvation; if we are encouraged, it is for your encouragement, which enables you to endure the same sufferings that we suffer. Our hope for you is firm, for we know that as you share in the sufferings, you also share in the encouragement. (2 Corinthians 1:3-7)
His will produces what seems like sorcery: encouragement from suffering, compassion from affliction, hope from trial.
What is this, then, but openness to the divine? Both Metropolitan Philaret and St. Paul exhort us to be open to the ways of the Lord, to greet every new day not with expectancy, and not merely with thanks, but with faith. "Govern me" so that I might love my "family" (which I take to mean both my relatives and all of God's creatures). The prayer says "today may not be easy. Today may tempt me to unkindness, to afflict others in my trials, to respond with bitterness to the shadow of sin. But, I, I will place my faith in the one Who wills goodness, who is Himself greater than goodness, He Who Is." This counsel is beautiful because it looks backward and forward. It preaches an implicit thanks to the divine even as it begs to be receptive of grace throughout the unknown in the day that comes. It calls us to stillness, to silence, that is, to love.
And is this not what God holy people have always preached in the face of all manner of sin—of failing to pray, of staggering home after a jejune day, of spewing gall in the face of mortification? I know that the great mystic Hadewijch says the same:
If anyone allowed Love to conquer him,
He would then conquer Love completely.
I hope this will be your experience.