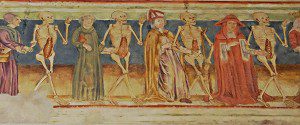 Memento Mori, the Ars Moriendi, the Danse Macabre, even Fish Fridays—the Church has developed many ways of reminding us that, well, we are supposed to die before we die so that we don't die eternally when we do die. Put more simply, we're supposed to die to the world so that we may have eternal life, mirroring Christ's own death for the salvation of all. Angelus Silesius captures the point well:
Saints do not die. It is their lot,
To die while on this earth to all that God is not.
This is undeniably an important point. But there's a dimension that I know I miss (and thus, perhaps wrongly, suspect others do to)—that that death happens over and over again. Too often we think of this process of dying before death as singular, as a simple road of progress toward increased love of God. Of course, from experience, most of us know that isn't the case. We sin. We avoid Confession. We miss liturgy. The list goes on and on. That falling, however, is, for most of us anyhow, part of the greater process of dying to death.
It's easy to fall into spiritual sloth—depression, a lack of desire to repent because of how horrid one is. This is, in its own odd way, a "death in life." But such death recurs over and over again before the final end. Every time we confess our sins and rise up again, we die to the world, at least a little bit—we accept more of God's love and demonstrate our love for Him. As the old adage goes, Christ fell three times, so ought we expect we'll never fall? In falling, as long as we get back up, we learn. O Felix culpa!
That all may sound very simple; in a sense, it is. That said, as I deal with my own sins (and spend a good part of the summer reading medieval poetry—a lot of which deals with these themes), it has become clearer and clearer to me that it's easy to get our wires crossed. We aspire to death in this life, but we fall. That falling becomes an excuse to be dead to life in a totally distinct way—sloth, depression, loneliness, anxiety, etc. We forget that every time we seek God's mercy we die more to the world; we entrust ourselves somewhat more to Him and His love, and, in doing so, accept that this life is, in the most ultimate of senses, without true meaning. Perhaps only I need this reminder, but if it be salutary for someone else, that would gladden my heart. I leave you with a bit more Silesius on this very topic:
If neither love nor pain
Will ever touch thy heart,
Then only God's in thee,
And then in God thou art.
And why not—a little John Lydgate:
Death spares neither low nor high rank,
neither popes, kings nor worthy emperors.
When they shine most in their prosperity
he can abate the freshness of their flowers
darken their bright sun with his showers
[and] make them plunge low from their seats.
In spite of the might of all these conquerors,
Fortune has thrown them from her wheel.
It's best for us to remember that, in truth, the Church has developed so many reminders precisely because it's all too common that we forget how often we'll fall—and that dying to the world requires repentance, not nigh impossible ascetism.