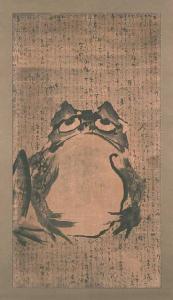 The Bad Sleep Well is my favorite film by Akira Kurosawa. As with many of his films, it finds its basis in a Shakespearean play—in this case, Hamlet. For my purpose here, its most interesting element is its dissection of Japanese corporate culture: the board members, the salarymen, the suppression of conflict such that it must operate in the shadows, manifesting primarily in decorous putsches. Where Wall Street and The Wolf of Wall Street offer depictions of greed, most typically 80s-style absolute, Yuppie self-service, Kurosawa's movie digs more overtly into a cultural context. Japanese corporations are successful, but at what cost? How does a mannered, cultured version of capitalism operate? Is it better or worse than our openly-selfish, transparent version?
This is, in a way, a question that has long haunted analyses of modern Japan. People don't much report specific religious identities, but home altars and temple visits remain popular. Strict social codes are enforced by cultural norms. These are the sorts of things one expects to disappear as a result of the great levelling power of capitalism. In many other parts of the world, religion and traditional cultural values have been weakened or destroyed by modern economies of scale. The corporation is about making money; it has no time for your customs.
This odd co-existence of worldviews at the edge (or the center) of modernity should be interesting to Christians who are trying to navigate this hyper-dynamic world in which change has devastated Christian cultural cachet and moral authority. Perhaps this seemingly-acceptable truce should scare us; perhaps it represents a way forward for faith. Regardless, it has taken a particularly odd form recently: the case of Carlos Ghosn.
Ghosn was born in Brazil to Lebanese parents and has made his career as a cost saver who can turn companies around. That reputation earned him a job as the chairman of Nissan's board. Now Nissan exists in a sort of mutual stake-holding alliance with French car manufacturer Renault and Japanese automobile company Mitsubishi. He turned Nissan around. Ghosn laid lots and lots of people off, but, in the capitalist world, better Nissan sell more cars than people earn a living.
Ghosn is the arch-corporate leader. He is one of extremely few non-Japanese leaders of a Japanese company (the country itself is home to very, very few foreigners). He is paid exceedingly well by Japanese standards, has lived lavishly and flamboyantly, and generally seems at odds with the nation's culture, which values humility and self-abnegation rather than obvious pride. But, given Japan's wholesale investment in modern capitalist economic forms, Ghosn has been allowed to stick around for a long time now. If you turn Nissan around, you get to be a little flashy, for a while anyway.
He's now awaiting trial. Why?
In Japan, salarymen slave away at the kaisha (or company) with a sense of communal pride almost as important as the salary. Last year, Mr. Ghosn made $16.9 million ($8.4 million from Renault, $6.5 million from Nissan and $2 million from Mitsubishi). That's nearly 11 times what the chairman of Toyota, the world's largest carmaker, earns but well below the $21.96 million paid to Mary Barra, the chief executive of General Motors.

In 2008, the same year that Japanese law began requiring companies to disclose directors' pay in their annual reports, Nissan's shareholders voted to set an annual cap of about $27 million on compensation for all board directors combined.

After that, Mr. Ghosn made the case to the public that he was underpaid — instructing Nissan to hand out background materials reminding investors and the news media that he made significantly less than his counterparts at other global automakers.

[…]

In October, a whistle-blower inside Nissan said he had evidence that Mr. Ghosn had been instructing Greg Kelly, a top aide and a board member, and a small group of confidants at Nissan to effectively create two salary pots for Mr. Ghosn's compensation.

One pot would be paid in the current year and reported in the company's annual report and securities filings. Another amount would be designated to be paid out after Mr. Ghosn left Nissan, according to a person familiar with Nissan's internal investigation. The whistle-blower's findings were sent to Hiroto Saikawa, the company's chief executive, and an internal auditor.

Nissan went to prosecutors with allegations that Mr. Ghosn, working directly with Mr. Kelly, who was once the head of human resources at Nissan, had underreported his income from 2009 to 2017, according to a person with knowledge of the internal investigation. Nissan's investigation found that the underreporting had occurred when some of the compensation, though committed, was deferred and not reported in securities filings.

Nissan also told prosecutors that it had evidence Mr. Ghosn and Mr. Kelly developed plans to pay Mr. Ghosn a further $124 million in cash and other financial instruments, some as compensation for a future advisory position for Mr. Ghosn. (The New York Times)
Months later, he now faces charges of embezzlement.