This is a shorter post on the recent working vacation with the commission at Pigeon Forge.  The media may just speak for itself.
I am not a world traveler
However, I am thankful for the 3D experience on iMaps, so I can at least virtually explore large metros around the globe.
That being said, it naturally follows that I have neither explored ancient Near Eastern sites nor the Holy Land, unless . . . you're among the segment of the American population that views a trip to places such as Branson or Pigeon Forge as a pilgrimage.
<VIDEO> SU-18 Pigeon Forge: The Commission and Family

I have met Christians who seem to have become better Christians, simply because they have undertaken pilgrimages to these locations.  I'm not sure why.
I do know that some of the food I've eaten in Branson and Pigeon Forge just might make the menu at the Marriage Supper of the Lamb (if I can say so without being sacrilegious).
However, there is something else that draws people to these places that I don't quite understand, perhaps a vivid connection with our roots.
Is Pigeon Forge a holy site?
That may be laughable, but it did become the headquarters for the Pentecostal-Charismatic Curriculum Commission (P.C.C.C.) for five days in the spring of 2018.
The P.C.C.C. is a cooperative of four publishing houses representing five denominations: Assemblies of God, Church of God (Cleveland), Church of God of Prophecy, International Pentecostal Holiness Church, and the Pentecostal Church of God (P.C.G.).
I serve as a discipleship writer and a Representative of the P.C.G. to the Commission.  We meet twice a year, developing outlines for up to ten years in advance.  We develop topical outlines, and also outlines that cover the entire Bible over the course of a few years.
It's truly an honor to minister alongside of these leaders who have given their lives to studying the Word.  They are literally influencing hundreds of thousands of Christians in the Kingdom of God.
We planned this particular work week in Pigeon Forge, so we could invite our families as well
Some of the families represented were the Blacks, Ingles, Marriners, McMillans, and Palmers.
The video is a highlight reel from family and the retirement dinner we held for Paul Smith.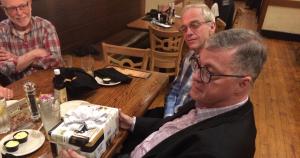 Keith Marriner, Paul Smith Retirement Dinner | 05.15.18
Paul Smith has primarily served in leadership at Gospel Publishing House with the Assemblies of God.  He has been the Secretary for P.C.C.C.  This video will never capture the essence of the moment, as we all fought back the tears, when Paul opened his Star Trek gifts.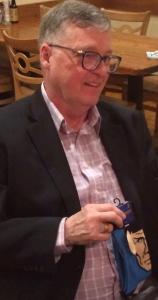 Keith Marriner, Paul Smith's Spock Socks | 05.15.18
As you may guess, this media presentation may have the most (spiritual?) significance for those of us involved.  However, you're more than welcome to come along for the ride on this pilgrimage to Pigeon Forge . . .