i. Forward
For quite some time, I've been considering what topics or themes to chase on this blog.  This is a paper on the concept of personality that seems to be pressing its way forward from the back burner, probably for no apparent reason.
As someone who has  been a preacher, teacher, and writer for many years, I've learned to yield to such unctions.  Most often, the more I try to seek another option, the more I realize I'm fighting a losing battle.  So, I decided to start this study once we finished Rev. Vernell Ingle's research on C.S. Lewis.
This is not a complete study
This is a preliminary round of research.  I looked to Genesis for answers to personality development in my first master's degree, and barely scratched the surface.  In fact, I still have many pages of unused notes for this paper.
I engaged in some parallel research in my second master's.  If the Lord grants me efficiency with this, then perhaps I will press forward with other writings.
This is not an apologetic for Creationism versus Darwinism
There are many others who are more qualified to speak to those issues.  Although I have grown to appreciate the more artistic elements of the Creation accounts, I still do not consider them to be strictly metaphors or allegories.  I err on the side of some type of literal account.  Once again, that debate is outside the scope of this paper.
This is not a comprehensive meta-narrative
This is not a compilation of all research on human personality with regard to the first family.  Similarly, it's not even a complete literature review within the time frame that I wrote it.  That was simply too much of an undertaking.
This is a preliminary look at the narrative of the first humans as a basis for universal characteristics or personality descriptions.
This is neither a meta-narrative, nor a proposed theory
I wrote this for a helping relationships course, so you can broaden the implications to include ministers, mentors, counselors, etc.
As a result, there is somewhat of a narrowed focus.  However, I would thoroughly enjoy researching these types of issues in the future.  I pressed forward with these studies in my second master's as well.
Method of integration
We have various academic ways to use the term integration.  One may integrate between various fields of study or disciplines.  We also call this inter-disciplinary study.
Because I was a counseling student at the Assemblies of God Theological Seminary (AGTS), I was required to integrate my studies with a Christian worldview.  Generally speaking, I could integrate Theology and psychological theory.  I could also integrate Theological praxis and psychological practice.
For some of my recent thoughts on integration, see a couple of posts:
On the Spirit's Gifts, Strengths-Based, and Integrative Approaches
On Integration, Psychology, Theology, and Clam Chowder
In this writing, I remain at the Theology and theory level, with implications for helping relationships.
One note about writing style: this is a social scientific piece.  Therefore, there is little personal interaction with the research.  Our professors trained us to allow the research to speak for itself.  Later, in my Theological writings, I learned to engage with the research.
The original title is Nine Factors of Personality, Abnormality, and Change in the Creation Account.[1]  For the sake of simplicity, I'll shorten the title to Personality Factors, with a subtitle for each post.
ii. Rationale for Integration
Theory affects practice.  Although the counselor does not try to impose his values on the client, the counselor must operate from some organizational framework.
The Christian counselor has a unique Biblical view of man to integrate with his theory of psychology
There are many arguments for and against an integrative approach to counseling.
First of all, one practical reason that integration has not occurred on a broader scale has to do with the requirements placed on graduate programs.
In graduate level training there has been a tendency for Christian programs to kowtow too much to secular psychology because of accreditation standards or because of a fear that we would be perceived as weirdos who might be cut off from the guild.[2]
This trend is changing because psychologists are seeing religion as a vital part of the person's orientation.[3]
The time is right for Christian counselors to begin to articulate their Biblical views of their concept of personality, and the counseling process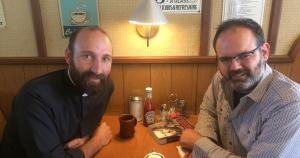 Father Jarvis & Pastor Jared | Rounders, Traverse City | 09.07.18
Secondly, the process of integration is time-consuming.  Although the Bible is true, there are truths within psychology, which we must review and consider.  "In some instances the data of psychology fit well with our current theological understanding.  In other cases they raise questions that theology has yet to face."[4]
"All true Christian counseling needs to be done in the Spirit, by the Spirit's power, truth, and love, under the lordship of Christ, and to the glory of God."[5]
Thirdly, whether or not the client is saved, the Christian counselor is responsible to do the work of integrating his spiritual life with his therapeutic role.  It seems like one can do this in a way that protects the client's values.
Siang-Yang Tan develops a model of explicit and implicit integration
Explicit integration is done between the counselor and a client who is open to spiritual intervention.  Implicit integration is counseling that prefers the client's desire to shut out spirituality, but still maintains the counselor's Biblical framework as a guide in the process.[6]
iii. Method of Integration
First, we will examine five main concepts of personality: wholeness, body, spirit, soul, and will.  These concepts will be linked internally to the self and to God.
Second, we will review four external personality factors: environment, position, relationship, and power.  Although we tie these to man's image as well, we will note their connections between man's personality and his world.
We also discuss each of the nine factors in terms of personality, abnormality, and change.
To clarify, we will regard personality in terms of Adam's original state.
Abnormality is discussed in terms of Adam's fall.
Change is considered in light of the redemptive work of Jesus Christ, the Second Adam.
Although the old (first Adamic) aspect of the self is co-crucified and co-buried with Christ, the self survives and is co-resurrected with Christ to participate in the new (second Adamic) aspect of the self.[7]
With each concept, considerations for counseling are offered.
---
Footnotes:
[1] Jared V. Ingle, "
Nine Biblical Factors of Personality, Abnormality, and Change in the Creation Account
," (paper presented in
Interpersonal Techniques in Helping Relationships
, Assemblies of God Theological Seminary, Springfield, MO, December 9, 2003). [2] Siang-Yang Tan, "The Holy Spirit and Counseling Ministries," 
The Christian Journal of Psychology and Counseling
 7, no. 3 (1992), 9. [3] Brian Eck and Gary Moon, "An Exploration of the Therapeutic use of Spiritual Disciplines in Clinical Practice," 
Journal of Psychology and Christianity
21, no. 3 (2002), 266-280. [4] John Carter and Bruce Narramore, 
The Integration of Psychology and Theology: An Introduction
(Grand Rapids, MI: Zondervan, 1979), 19.
Amazon:
Integration of Psychology and Theology
[5] S-Y Tan, "Holy Spirit: Role in Counseling," 
Encyclopedia of Psychology and Counseling
, 2nd ed., ed. David Benner and Peter Hill Baker (Grand Rapids, MI: Baker Books, 1999), 569.
Amazon:
Encyclopedia of Psychology and Counseling
[6] Ibid. [7] John A. Ingram, "Psychological Aspects of the Filling of the Holy Spirit: A Preliminary Model of Post-Redemptive Personality Functioning," 
Journal of Psychology and Theology
24, no. 2 (1996), 106.