The first year after seminary, I decided to slow down my readings. I research for other professional publications, so I do a lot of reading for those projects, too much to share here. Personally though, instead of reading for information, I've been reading more for formation.
Reading for formation
Let me offer a brief explanation of what that can look like. In 2017 I took a Basic Christian Doctrine course at Asbury Theological Seminary. However, the readings were far from basic. Our main textbook was compiled by Thomas C. Oden.
Classic Christianity: A Systematic Theology
Call to Action (C.T.A.): By the way, if you click any of these links and purchase any of the books, Amazon will somehow track it back to me, since I'm an Affiliate.
I can't say how wonderful this class was for me, and how much the book Classic Christianity has influenced both me and my ministry. I love studying the Early Church Fathers.
Before this course, I found their writings in the Christian Classic Ethereal Library (C.C.E.L.) from Calvin College. You can join for free, highlight, and add your own notes. I also have access to Logos and the Ancient Christian Commentary on Scripture (A.C.C.S.). Instead of housing the comprehensive works of the Fathers, A.C.C.S. uses Scripture as an outline, verse by verse, with quotes from the Fathers about each Passage. It is a very unique commentary set.
In the course, we all had many conversations exchanging information like the previous paragraph. One of the other students, Pastor Jemmie Reynolds signed up for C.C.E.L. at that moment. I was impressed with our book Classic Christianity because the concept is similar to A.C.C.S. However, instead of organizing the thoughts of the Fathers by Scripture reference, they are organized by Theological constructs.
In the middle of the course, our teacher Pastor Kevin Kinghorn thoughtfully asked, "Does anyone else ever read Theology devotionally?"
I suddenly realized that this was a rhetorical question . . . about the same time that I realized that I was the only one in the class with my hand raised high.
That was a little awkward, but this single question served to clarify my attraction to Theology. I revel in Theology. It speaks to me, and there are certain strands of it where I absolutely feel at home. So for me, I have come to conclude that reading deeply is a spiritual discipline.
C.T.A.: For a related article, highlighting three of the books I read to my youngest son Eliseo, see:
Winnie-the-Pooh: Classic Gift Edition
The Chronicles of Narnia:
The Magician's Nephew
The Lion, The Witch and the Wardrobe
Links to various forms of the books (i.e. paperback, Kindle, etc.) are available in the article. I've also included notes about the movies.
If you've done the math already, you may have realized that I only read three books for personal enjoyment last year. In light of the conversation above, in Basic Christian Doctrine, these books were all read with the slower cadence of devotional reads.
To be honest, I read about as much last year as any year in seminary, with all of the research and writing that I have done. I also started other books at the end of the year, which will probably have to wait until next year's review.
There is usually nothing more important to me, when choosing books, than someone's recommendation. I don't have time to pick up a random book at the local bookstore/coffee shop. I need to know that it will be worth my time, from someone I trust to speak to the issue.
So rather than three reviews, these are the stories of how the books were recommended to me. I won't offer my own view on each, but I will say that any of the three are worth your time.
JVI | Great Recommendations | 01.25.19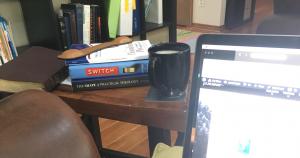 Switch: How to Change Things When Change Is Hard
Rhonda Davis is the Vice President of Enrollment and Student Development at The King's University. She holds two master's degrees and is pursuing a doctorate in organizational leadership. She's also a Certified Strengths Coach with Gallup.
Rhonda, her husband Daniel, and their family visited a church I was pastoring in 2015. He spoke on Sunday, but she offered leadership training to our team over the course of the weekend. At one point, in a conversation with her on the side, she basically said that you're never going to see the change you want to make, unless you read this book.
Rhonda is not a bookseller and is not getting royalties from those statements. However, she is highly qualified to endorse a book like this, and she is also a lifelong friend. She not only knows good material, but she knows the way I think and the way I operate as a leader. She was also in the mix with the leadership core of our congregation at that moment, so she also knew what would speak to them.
Switch hardcover
Switch Kindle
The Shape of Practical Theology: Empowering Ministry with Theological Praxis
I came upon this treatise because I'm an Adjunct Instructor for Messenger College. My Dad, Rev. Vernell Ingle, is the Faculty Chair. We've had a few good discussions about the book, since it has been in the rotation for awhile. We're using it for an upper level Theology course, just to give the students a taste of seminary reading.
Dad and I have talked about the fact that Ray S. Anderson, like many Theologians in the modern/postmodern era, tends to be a little verbose. If you like a good book with Pentecostal-Charismatic Theology, a touch of Reformed Theology, and a generous helping of Karl Barth . . . then this is the book for you. We've been in discussion about other similar works as well, that are not quite in the same niche.
Shape of Practical Theology paperback
The Homiletical Plot: The Sermon as Narrative Art Form
In the summer of 2017, I was sitting in a class on Postmodernism and the Church at Asbury Seminary. It was a week-long intensive, from 8 am – 5 pm for 5 days. Professor James Hampton is the Director of Catechesis at Asbury where he has served for more than fifteen years now. The course originally started as a youth ministry course, and still maintains a cutting edge approach. Dr. Hampton is the former director of youth ministry for the Nazarene Church. He and my dad met years ago at a Josh McDowell meeting, when my Dad was the youth director for the Pentecostal Church of God.
At times in the course, we discussed the importance of the narrative. Local stories are becoming paramount in our age, local heroes, local businesses, local festivities, etc. Micro-communities have stories to tell. We were piecing together ideas in the class, about how we can connect the story of our local community of faith to the larger redemptive history of the church. Someone began talking about narrative preaching.
I had heard enough! I found myself asking out loud, "Narrative preaching?! I've heard a lot of talk about narrative preaching but can anyone define it? I'm in the Theology track so I won't be taking Homiletics. Can anyone recommend one good book on narrative preaching?"
Without a moment's hesitation, Professor Hampton recommended The Homiletical Plot. This is not a book that he uses in Asbury's preaching course, this is the book.
The Homiletical Plot paperback
The Homiletical Plot Kindle
Call to Action (C.T.A.)
1) Try it! Just try setting aside a period of time, maybe not a whole year, but a season of your time. In our information-soaked techno world where anything is at your fingertips, try reading for formation instead of information.
Professor Hampton reports that in 24 hours today, a person processes more information than a typical medieval peasant did in his whole lifetime.
Were we made for this barrage of information?
2) Don't buy these books if you're just going to skim them, rush out, and try to save your world. You may do more harm than good. First and foremost, all of these books could potentially affect your interior life.
If you do decide to buy, of course I wouldn't mind if you follow one of my Amazon Affiliate links.