There are few times since my opening blog posts with Patheos when I have shared a personal narrative essay. This is one I have been wanting to share for awhile now, Christmas reflections on a few points of interest along the way this Advent season.
The Christian year
I start with the question posed to me by Pastor Kent Anderson, a good acquaintance of mine in town. "Why not the Christian year?" We were discussing sermon selections at the time, but the question began to work on me at a deeper and more personal level. Why not devote my devotional year to the Christian calendar?
Then I started the selection process of a reading plan. I took some considerable effort to narrow the choices. I've taken congregations through Sunday Psalm readings from the Book of Common Prayer, which also has a daily reading schedule. There's the United States Conference of Catholic Bishops, which has daily readings as well. Then there's the Protestant version, the Revised Common Lectionary. Lastly, I reviewed the Daily Prayer app, which is connected with the Church of England. All of these prayer guides have online options. I chose the Daily Prayer app for a variety of reasons, but would highly recommend all of them.
After making the selection, my hope was to begin reading before Advent, because it's the beginning of the liturgical calendar.
What do you do in your private prayer time? There have been years I've followed my own plan. Then there are times I have followed a plan laid out by the congregation. For many years, I followed plans developed by the National Association of Evangelicals and the one by Dr. Daniel McNaughton. I have to say that there is something encouraging about knowing that you are praying in line with your church, or some larger portion of the worldwide Body of Christ. Many church organizations call for fasting and prayer at the beginning of each year. My own Michigan District has presented a Home Missions Prayer Strategy for the month of January.
The family tradition of an Advent Calendar
My wife and I have always appreciated the greater meaning of Christmas. A few years ago in Kentucky, we took our kids through Advent each night. We didn't use an Advent wreath or Advent candles, but Crystal found a kid's devotional for each day from Focus on the Family.
I found a unique Advent Calendar. Starbucks always has Christmas goodies for sale. I bought a magnetic board with 25 numbered magnetic containers on it for each day of Advent, and each with a delectable goodie inside. We shared a devotion each night as a family, opened the container for that day, and shared the treat. Since then, we've reused the Advent Calendar a couple times, adding our own treats to the containers.
This year, I had some readings to draw from that a friend sent to me, and the Daily Prayer app. Each night before our vacation, we took about 5-10 minutes as a family at the end of the day. We shared one of the Scriptures from the day, sometimes with a responsorial reading. How does your family celebrate the greater meaning of Christmas?
The unheard of roots of Epiphany
Dad's personal Advent readings
When we arrived in Missouri for Christmas, I found out that my Dad (Vernell Ingle) had been following Advent readings that he had selected, especially on the four traditional Sundays. On Sunday, December 23rd, he selected Luke 2.1-20 and Matthew 2.1-12.
When our whole extended family gathered at Joplin Family Worship Center for service, Pastor Daniel Wermuth preached out of the Matthew passage as well. Dad later read to the whole family from these texts on Christmas morning. He didn't tell me until later that his reading from Matthew had matched the sermon Pastor Daniel preached.
Crystal Ingle ("G.L.") | Ingle cousins at J.F.W.C. | 12.23.18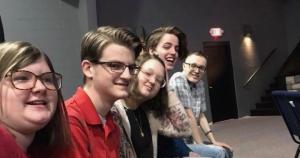 The sermon would actually be more about Epiphany, the Sunday when we commemorate the visit of the wise men to the Holy Child. It's also called Three Kings Day, although there is no proof there were only three kings. I thought I would share a couple points that spoke to me from the sermon, but I include the link if you would like to hear this fascinating podcast.
The story you may not have heard
Pastor Daniel Wermuth tells the story of the wise men or Magi, using historical sources and Scripture. Although there are many more historical details that in the message, I'll offer a couple here.
The Magi are the wise men who visit Jesus, but they are also in ancient Babylon. The prophet Daniel is part of this group up to 600 years before Jesus.[1] After the plot to kill him, he is given the title Rad-Mag or chief of the Magi. This is unheard of because to become a wise man, one must be born into the family. There was no way that Daniel, a Hebrew, could become part of the Magi. However, in an unprecedented move, some wise men who are foreigners are adopted into this group.
What if we are not of royal descent? What if we're not wealthy enough? What if we don't have any contacts in the government or even know anything about politics? What if we don't have the best education? The story of Daniel shows that God can raise His people up and lead them into new circles. This is a very timely Word for my family in this season as we are discerning.
After the lion's den, Daniel is exalted to the Rad-Mag, or chief of the Magi. His counsel changes the empire, but his writings set the stage for later Magi, those who will visit the Holy Child.
What does God know about your future? What is He setting you up for? The message is really about us not missing the signs of Christ's kingship, His pre-eminence. Can we, like the Magi, perceive what God is doing or about to do among us?
If you have the time, you won't regret your time listening to Pastor Daniel's podcast.
The expectation of a friend
"Expecta Dominum, Viriliter age. Confortetur cor tuum, et sustine Dominum." Psalm 26
This Scripture was sent to me in Latin from my friend, Father Christopher Jarvis.[2] He's rigorously studying in Rome right now, writing a thesis on the spiritual gifts or virtues, using the biography of a church leader. Say a prayer for him as he studies Pneumatology in a unique way.
First, I tried my best to understand the Latin, using Google Translate
I am especially interested in the terms Expecta and sustine, both being variant versions of the word "wait." I'm also interested in the phrase Viriliter age, which can mean to act or take action. The Latin seems to use stronger language than our English versions.
Next, I attempted to find a good English translation
At first, I couldn't find the verse at all. Then I remembered the Douay-Rheims is different at times, so I found the verse in Psalm 26.17:
Expect the Lord, do manfully, and let thy heart take courage, and wait thou for the Lord.
Like the Latin, the Douay-Rheims seems a little strong as well. Expecting and doing manfully both seem true to the Latin. Most English versions just use the term wait at the beginning. However, there is clearly a distinction. I found an English version that seems to capture the essence of Expecta Dominum.
Wait on the Lord;
Be of good courage,
And He shall strengthen your heart;
Wait, I say, on the Lord!
This verse is Psalm 27.14 in the New King James Version. At first glance, it has the same problem than most English translations have, using "Wait" twice. However, there is a footnote, an alternate translation for the beginning of the verse:
Wait in faith on the Lord
This is expectation
The words of a friend, the shared Scripture, and the adventure in translation all set an expectation before me. There is something that God is going to do. Waiting does not mean inactivity either. Waiting means expecting and remaining in a constant state of active faith. Viriliter age may mean to act or "do manfully." In the meantime . . . in the expectant waiting . . . act in courage!
What do you do in your downtime? How do you respond to the promises of God as You seek direction? Do you wait in silence, in inactivity? Or does your activity show that you are expecting Him to meet you along The Way?
---
notes:
[1] There is also archaeological and recorded evidence that one of the Magi who visit Christ could have been from China as well. These leaders could have come from all over the East. See
Back to Jerusalem
for a glimpse of this story. This is mainly a book tracking the development of the underground church in China from before communism until now:
Paul Hattaway, Brother Yun, Peter Xu Yongze, and Enoch Wang, Back to Jerusalem: Three House Church Leaders Share Their Vision to Complete the Great Commission (Waynesboro, GA: Gabriel Resources, 2003).
Amazon: Back to Jerusalem
[2] Rev. Mr. Christopher Jarvis, email message to author, December 1, 2018.