These are simply a couple themes that I am chasing related to the Second or Third Person of the Trinity.  Material related to our Lord Jesus may be from the fields of Christology, Soteriology, views on the Atonement, etc.  Material related to the Holy Spirit may include Pneumatology, Classic Pentecostalism, Spirit-led Christian living, etc.  When we further our understanding of the Son of God and the Spirit, we strengthen our knowledge of the Trinity.
As Google+ prepares to shut down, I am gleaning some of my posts since 2014 in this series.
---
2014
"So simple the act: 'she took . . . and she ate.'  So drastic the results.  Humanity lost its state of innocence forever.  So hard the undoing.  God himself will taste poverty and death before 'take and eat' become words of salvation." – Wm S Lasor (Gen 3.6, Mat 26.26) (G+ 03.03.14)
"How could He have called us if He had not been crucified, for it is only on the cross that a man dies with arms outstretched? Here, again, we see the fitness of His death and those of outstretched arms: it was that He might draw His ancient people with the one and the Gentiles with the other, and join both together in Himself." – Athanasius on Ephesians 2.14 (G+ 04.02.14)
This interview of U2 lead singer Bono includes a video interview.  Bono explains why Jesus wasn't crazy.  Article – Bono: Jesus 'Was the Son of God or He Was Nuts' (G+ 04.13.14)
"Death has become like a tyrant who has been completely conquered by the legitimate monarch; bound hand and foot as he now is, the passers-by jeer at him, hitting him and abusing him, no longer afraid of his cruelty and rage, because of the king who has conquered him." – Athanasius (G+ 04.20.14)
"The best of men need Christ as their Priest, their Atonement, their Advocate with the Father; not only as the continuance of their every blessing depends on His death and intercession, but on account of their coming short of the law of love.  For every man living does so." – John Wesley (G+ 08.06.14)
"When Jesus speaks of the final coming of the kingdom in his parables, he stresses readiness and faithfulness in the present.  One is to respond to the message of the kingdom and live a life centered in Jesus until the last day." – Craig Bartholomew & Michael Goheen on a proper last days perspective (G+ 08.31.14)
2015
"Christians trying to be more like Jesus are familiar with the letters WWJD: What Would Jesus Do?  This is a good question to ask, but what may be more crucial and biblical is to realize that WWJD means Walking With Jesus Daily – in Spirit-filled or Spirit-controlled surrender!  That way we will unselfconsciously become more and more like Jesus as the Holy Spirit transforms us into greater conformity to Christ." – Siang-Yang Tan (from Rest: Experiencing God's Peace in a Restless World) (G+ 06.02.15)
The thief will try anything to keep you from becoming everything God wants you to become.  John 10.10: "A thief is only there to steal and kill and destroy.  I came so they can have real and eternal life, more and better life than they ever dreamed of." (The Message) (G+ 09.28.15)
Joseph Castleberry​ on the Gift of Faith: "The Holy Spirit reveals an alternative reality that is God's will and empowers the believer to miraculously change a given situation." (1 Corinthians 12.9) (G+ 10.05.15)
"The will of the soul is something intermediate between the flesh and the spirit, undoubtedly obeying and serving that one of the two which it has elected to obey.  And if it yield itself up to the pleasures of the flesh, it renders men carnal; but when it unites itself with the spirit, it produces men of the Spirit, and who on that account are termed spiritual." – Origen on the Fruit of the Spirit, Galatians 5 (G+ 10.06.15)
2016
"Since there were only a handful of Pentecostals in 1900, and several hundred million today, is it not reasonable to identify this as perhaps the most successful social movement of the past century?" – Phillip Jenkins (G+ 05.18.16)
"The Spirit had created in them a stronger consciousness of membership in the group than of individual identity, and so they viewed their possessions not as 'mine' and 'yours,' but as 'ours.'" – Millard Erikson on the common life of the Primitive Church (G+ 06.28.16)
2017
"The closer we make him the object of our study, the more we become aware that he is examining us." – Thomas C. Oden (G+ 01.19.17)
"Pentecostals are arguably the most effective evangelists in the entire history of Christianity." – Timothy Tennent, President of Asbury Theological Seminary (G+ 01.23.17)
"I confess the Cross, because I know of the Resurrection." – Cyril of Jerusalem (see Romans 4.25) (G+ 01.27.17)
"It is evident from the Scripture, that there is yet remaining a great advancement of the interest of religion and the kingdom of Christ in this world, by an abundant outpouring of the Spirit of God, far greater and more extensive than ever yet has been." – Jonathan Edwards, circa 150 years before the revivals in Galena, KS and Azusa Street. What was he anticipating in prayer and vision? (G+ 01.27.17)
"In His inherent ability, there is no limit to what God can do in and through the saint. But the saint limits the working of God in and through him by the degree of his yieldedness to the Spirit." – Kenneth Wuest on Ephesians 3.20-21 (G+ 02.21.17)
2018
The next time someone tries to explain the situation by jumping to conclusions, remind them they're in good company.  His disciples asked him, "Rabbi, who sinned, this man or his parents, that he was born blind?" . . . Turn away from all-too-easy explanations and look to Christ to shed some "Light" on the subject! (John 9) (G+ 01.24.18)
This is an excellent word from my philosophy professor and author who preaches on the incarnation. He has also published on miracles. (G+ 02.06.18)
"The Incarnation of Christ" – Dr. Joseph Okello from B.L. Fisher Library on Vimeo.
"The challenge, then, is not so much to bring Christ with us into our work, but to discover his presence already there, precisely through the natural order that he created in the first instance, because, of course, God is no stranger to the world he made." – Robert Sirico (G+ 02.10.18)
This is recommended from a Catholic acquaintance. It's written in an inviting way for Catholics, Evangelicals, and Hebrews with theories about Good Friday. If you want an in-depth academic masterpiece, look for Dom Gregory Dix "The Shape of the Liturgy." Altogether, I think the symbolism of the Passover is often overlooked among us all.  Article: Hunt for the Fourth Cup (G+ 03.30.18)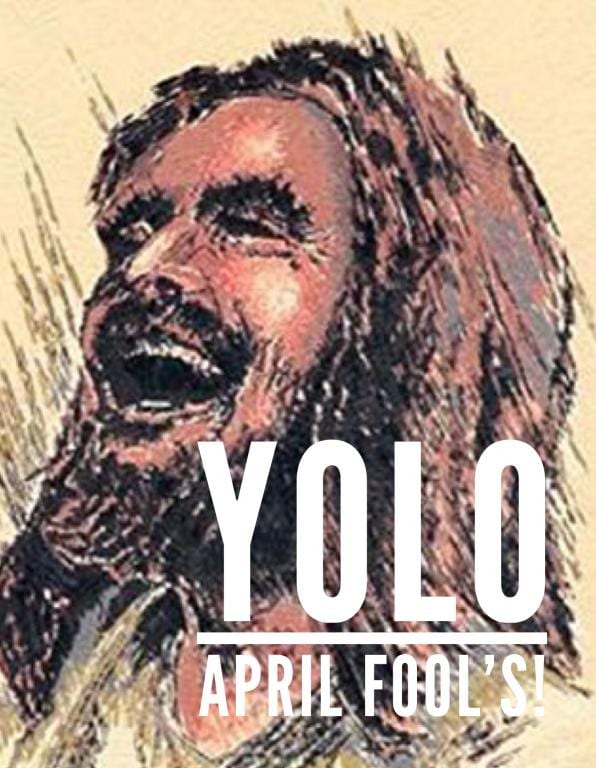 Pres. Timothy Tennent on Pentecost Sunday (G+ 05.20.18) Article: The Joy of Unity: Psalm 133
This is fairly interesting research by UNC. (G+ 06.15.18) Article: Psychologists Asked Americans "What Does God Look Like?"
---
Enjoy your Sunday!
Rev. Jared
Some ways to connect: