When I was a young girl I was surrounded by family.  I had a cousin who lived one door down from me.  We were a year apart.  We were amazing friends, but I also had another friend in that time . . . an unlikely friend . . . an amazing friend . . .
i. Mr. Gardner
Mr. Gardner was a kind, caring, wise elderly man.  He looked like Mickey Rooney.  He was fun and wiry.  Behind those thick glasses he had, little beady eyes shone with lots of love, character, and mischievousness.

Death, Be Not Proud
Mr. Gardner lived across the street.  He loved to play Chinese Checkers and give out hard pieces of candy.  I was always invited in to play checkers, but my brother wasn't.  Neither was Mike from down the street.  I think Mr. Gardner had a 'no boys allowed' policy.  He had been one himself, but at this stage in life he could only handle playing checkers with those who could sit for the entire game.  
Mr. Gardner could play the harmonica beautifully.  He played it on his small front concrete porch for everyone in the neighborhood to enjoy.  I think that is why I came to love Stevie Wonder on his harmonica so much. 
Mr. Gardner moved to Kansas
When I was about 9 years old, Mr. Gardner's adult children moved him to Kansas to be with them.  He was aging and none of his children lived in Virginia any longer.
That next summer my Nannie and Papa, my dad's parents, took my older brother and I out to Kansas for a visit.  It was so wonderful to see Mr. Gardner again.  However, when I stepped into the home where he was living it looked very different from his home from Virginia.  All the old items were missing: the comfy fat chair, the clock, the Chinese Checkers game and the colorful candy jar.
While I was there I saw him laugh and smile.  We played Chinese Checkers and I heard him play the harmonica.  It was a great visit, and over the years I have been thankful for that visit.
That next school year Mr. Gardner passed
For some reason, his passing made such an impression on me.  I don't have many memories from my childhood, like Pastor Jared.  He has memories dating back to when he was a toddler.  Our brains work very differently, but one distinct memory I do have was when I was about ten years old, I was getting ready for school.  I was looking out the bay window across the street to the house that used to be Mr. Gardner's.  I was putting a sweater on over my head when my mom shared the news that he had passed.
I cried for many days as a child over his death.  When I think of him, tears still smart my eyes.  Mr. Gardner has been gone for more than thirty years, but his life and death impact me until this day.  
I don't know that I had ever really thought about it, that he would pass or move on to eternity without us, or even that soon.  We had just lived and enjoyed one another's company.
Isn't that what's important . . . being together . . . in the moments we have together?
Our church plaque
Growing up in my home church in Virginia, there was a water fountain in the vestibule.  Right beside it was a large plaque that read:
O Death, where is your sting?  O Grave, where is your victory?"– 1 Corinthians 15.55
There was something powerful to me as a child about those words.  I looked at it every week.  I could never pin-point why these words seemed so powerful.
On the plaque were names of men and women in our church that had passed over the years.  I knew some of them like Mr. Hodges, my friend Allen's dad, but others others I didn't.  Some years later the name of a young cousin of mine was added to the plaque, as well as Bro. and Sis. Eddy who loved me well.  They sat on the back row.  Every week she would eyeball me until I came over to give them a big hug before service, another couple who took time out to invest in me and show kindness.  The moments these people took were impactful.  They helped to shape the way I see and think of others.  They helped to shape who I am and my own identity in Christ.
ii. Impact on Eternity
Jared and I have been ministers together for over 25 years.  In that time we have seen many life events for others: births, weddings, and funeral services.  I have been at the side of individuals as they have taken their last breath with their earthly body.  Some I knew well, and others I did not.  Either way, each time I am in awe and hushed by this sacred and beautiful moment.  
But death does not always seem beautiful.  In most cases it is not easy or something we simply move forward from . . . we still must deal with the loss.  
Created for eternity
Author Lisa Bevere says, "Death will never feel right or correct because we were created for a perfect garden where there was no death.  We were created for eternity."[1]
She is right.  And knowing we are created for eternity gives us a different mindset while we are here.  We should live in such a way so that when someone we love passes from this earth we have no regrets.  We are able to say, "I loved fully.  I said what I needed.  I forgave when I should have."  
Are we dutiful individuals or gracious when dealing with a difficult person?  Are we kind or only tolerant?  Do we share God's amazing love or just His rules?  Are we forgiving, patient, forbearing . . . or impatient and irritated with others?
Keeping eternity in mind continues to ignite the hope within us that one day all will be redeemed and made perfect.  
Our time with others
Pastor Jared has taught on two forms of time, maybe he will do that here soon.  They are kairos and chronos.  In a nutshell, chronos is the order of time (seconds, minutes, hours, years) and kairos are the moments you are in.  I like to think of it as the feelings, the experiences and opportunities.  Strong's Concordance defines it as: the opportune time, an appointed time.  
Look carefully then how you walk, not as unwise but as wise, making the best use of the time, because the days are evil. – Ephesians 5.15-16, English Standard Version
Look at these verses again in the New Living Translation:
So be careful how you live.  Don't live like fools, but like those who are wise.  Make the most of every opportunity in these evil days.
The time we have with others are those kairos moments.  
Living with eternity in mind causes us to take advantage of those kairos moments.  To be kind, patient, gracious, and loving so that when the pull of eternity exceeds the bonds of earth for ourselves or others we love, we will have no regrets.
iii. Death, Where is Your Sting?
In John 16.33, Jesus says:
I have told you all this so that you may have peace in me.  Here on earth you will have many trials and sorrows.  But take heart, because I have overcome the world.
I do not dare dismiss or wave a hand at affliction, grief or the sorrow of losing someone we love.  But for the Christian, there is beauty in the sorrow, a light in the darkness, and hope beyond our despair.
Our loss is not an eternal loss
We at Long Lake have experienced many deaths this past year and very recently: loss within our own congregation, loss of connected family members, and loss of individuals in our community.
Russ Ramsey, a pastor and author, says:
Nobody gets out clean in this life.  We all suffer.  We all lose people we love.  We all wrestle with questions about the meaning of this life and the possibilities of the next . . .
But Christians regard suffering as the result of a deep brokenness Christ has come to restore . . . And we believe our chief end is to glorify and enjoy him forever . . . These beliefs put suffering in the light of its eventual and permanent end.  So we look upon our suffering, question it, and experience it as people whose hope is fixed on the finished work of Jesus Christ.[2]
What is that finished work?
Isaiah says:
He will swallow up death forever! (25.8)
In 1 Corinthians 15.54, Paul repeats that there is a day for all of us when:
the saying will be true, 'death has been swallowed up in victory.'
Christ is Victor!
Augustine, the chief orator of the Roman Empire, became a Christian as an adult.  He is the author of Confessions.
Where is death?  Seek it in Christ, for it exists no longer.  It did exist, and now death is dead . . . Be of good heart, death will die in us also.  What has taken place in our Head [Christ] will also take place in his members [us].  Death will die in us also.[3]
Death does not have the last say.  Death does not have the last word.  
Death is swallowed up in victory.
Be of good cheer.  Christ Himself has overcome the world.
He is Victor.
In 1 Corinthians 15.57, God: gives us the victory through our Lord Jesus Christ.
iv. Closing
The following is "Death Be Not Proud" by 17th Century English poet John Donne, used and added to by Audrey Assad.[4]
Death, be not proud, though the whole world fear you:
Mighty and dreadful you may seem,
But death, be not proud, for your pride has failed you
You will not kill me.
Though you may dwell in plague and poison,
You're a slave to fate and desperate men,
So death, if your sleep be the gates to Heaven,
Why your confidence?
When you will be no more,
You will be no more
You will be no more
Even death will die.
Death, be not proud,
Death, be not proud,
Death, be not proud,
Cause even death will die.
O Death, where is your sting?
O Grave, where is your victory?
1 Corinthians 15.55
---
Crystal P. Ingle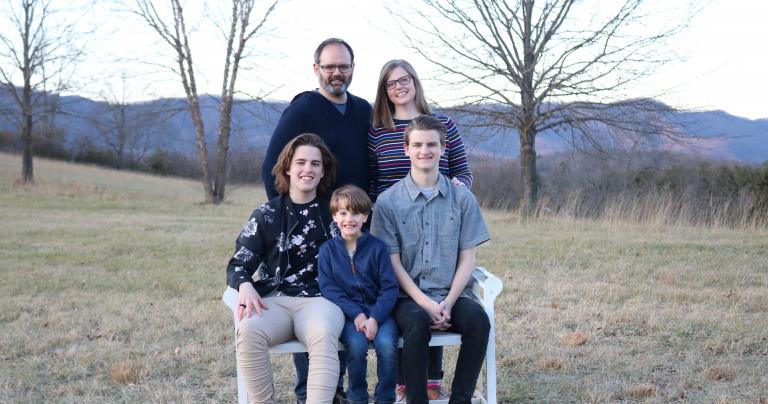 Connecting with Crystal:
ESL Teacher at VIPKID
For more of Crystal's articles CLICK HERE
notes:
[1] John & Lisa Bevere, "2016 Dealing with Death,"
Revival Ministries
, August 11, 2016, https://youtu.be/sPpgYSCCb24 [2] Russ Ramsey, "Revisiting 'A Severe Mercy' – 40 Years Later,"
The Gospel Coalition, Inc.
, May 19, 2017, https://www.thegospelcoalition.org/reviews/severe-mercy-40th-anniversary/ [3] Augustine,
Sermon 233.4
. [4] Audrey Assad, "Death, Be Not Proud," May 20, 2014, Track 1 on
Death, Be Not Proud
, Fortunate Fall Records, EP.