Kingdom Joy
First Facebook Live
Key Text | Romans 14.17: For the kingdom of God is not food and drink but righteousness and peace and joy in the Holy Spirit.
FREE sermon notes CLICK HERE
There are some unique aspects of this particular sermon. The first is obvious. It is not a slide show, but a "live action" sermon. I discuss that more in the Mevo section below.
The second is that this is a part of Romans that I consider to be crucial to a theme that Paul is chasing. He seldom uses the phrase Kingdom of God in his writings, so verse 17 actually stands out in my opinion.
A third aspect is that I seldom take time to directly apply Scripture as I'm doing with one Passage in this sermon. In this particular case, what I mean by directly applying Scripture has to do with the nature of the prophetic. Although I truly believe that any sermon preached to a particular congregation in a particular place and time is prophetic by nature, there are also times when I feel like I'm operating a little more in the nature of the prophetic. This is difficult to explain, but it is a key characteristic of preaching in my particular faith tribe.
A fourth unique aspect is that at times I have attempted to preach verse 17 in one sermon, but there is so much to it that I feel like I am not doing it justice. So this is the third in a brief series on the Kingdom of God in Romans 14.17. You can find the other sermons on Patheos, along with their vlogs.
What the Kingdom of God is NOT
Establish Shalom in the Kingdom
FREE sermon notes for Kingdom Joy CLICK HERE
Mevo
For those who are interested, we have purchased a Mevo camera at the recommendation of another congregation that has a fully developed audio/video ministry. Our Mevo recorded our Sunday service.
One of the major benefits of the Mevo is that it streams directly to Facebook, YouTube, LinkedIn, etc. from the device using your login credentials. For our sermon, I connected a cable from our soundboard directly to the camera, so it would isolate and capture the audio from my lapel mic.
The picture itself is a little grainy, but there are a couple reasons for that. First, I have the camera in the back of the sanctuary for the time being simply because there is an audio cable running to it from the soundboard, which is located in the back. I hope to find another solution soon. The second issue is that our lighting is not conducive for video, another problem we hope to resolve before long. So I do not believe the grainy aspect of the video really has anything to do with the Mevo, but with our current setup.
Finally, I can't say how happy I am that the video is automatically streamed. All I have to do is go to Facebook, download the video, trim it, and upload it to other outlets. You're seeing the YouTube video in this post.
It is also available at Facebook:
You can also find it on Instagram IGTV CLICK HERE
We're testing the Mevo out so that we can be ready for our 140th Anniversary this weekend. Yes, you read that right. Long Lake Friends Church is now 140 years old, one of the oldest congregations in our entire region. We will be videoing what we can on another Facebook Live. To drop by our FB page for details CLICK HERE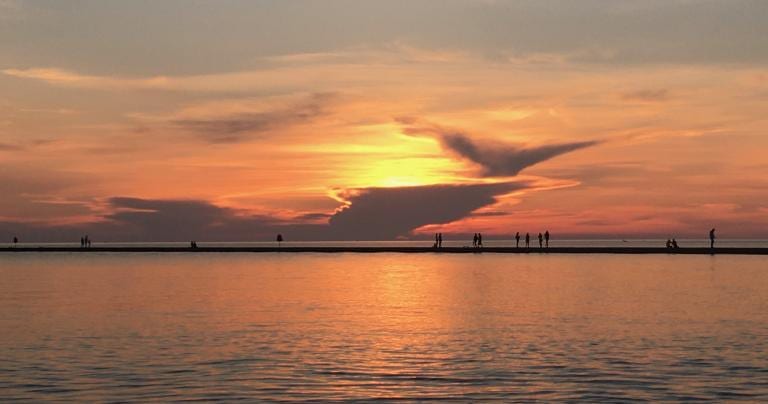 yet more links:
FREE sermon notes for Kingdom Joy CLICK HERE
JCIngle | YouTube
Long Lake Friends Church
4172 Church Rd.
Traverse City, Michigan 49685
Facebook @longlakefriends
Email | longlakefriendschurch@gmail.com
JC Ingle, Inc.
Michigan nonprofit for ministry, supervised counseling, and conferences
231.714.4154