Five out of six of our extended family households were able to gather this year on Thanksgiving day. The other household was represented at some of our family events as well. We haven't seen each other for almost three years!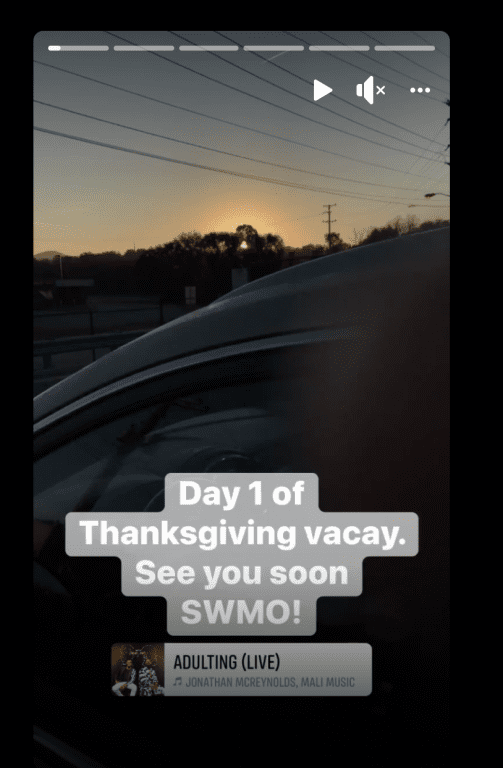 Family Vacay
beginning November 17, 2021
On Wednesday, November 17, 2021 we set out for Southwest Missouri, driving straight through at over fifteen hours. A beautiful sunrise and clear skies started us out.
I made a few posts on social media, and shared a few stories, which I'll share here. Hopefully my family will enjoy this article, and you'll be inspired a little to enjoy your family fun, and all that, this holiday season.
Our second son has his permit, so he drove for about an hour leading up to East St. Louis. The only rain storm we had, either going or coming, was on his shift. He basically found a truck driving the speed he liked, and stayed behind it because trucks displace a lot of water.

November 18th
I reposted this from 8 years ago on social media.
"If you look for truth, you may find comfort in the end: If you look for comfort you will not get either comfort or truth." – C.S. Lewis
Not only a splendid storyteller and master of English literature, Lewis was also a phenomenal philosopher.
During the Thanksgiving week, it is good for me to re-examine my needs and wants. What comforts do I want/need? How will the pursuit of truth be fulfilling in and of itself, and possibly guide me as I seek after needs/wants?
These two have been a pair from the very beginning. I won't share any stories they haven't authorized. Their birthday is November 20th, so it often falls during Thanksgiving break.
November 22nd
My wife loves to cook…
Among many of her delicacies were her homemade pumpkin rolls prepared for the Thanksgiving feast, with enough for everyone.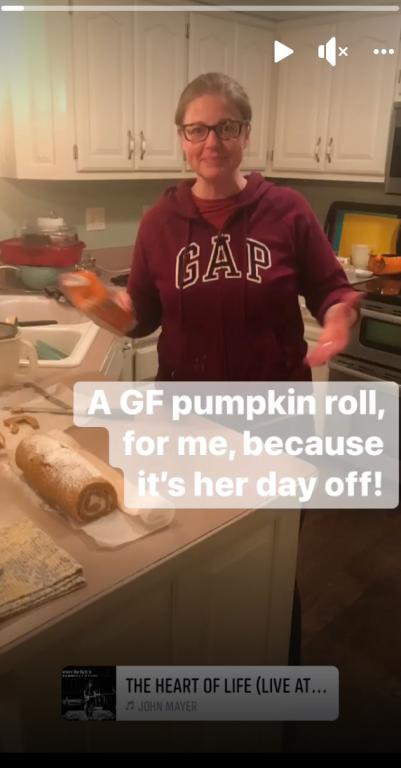 Mine was gluten free, but with a few kinds of sugars I don't always have. I could sure taste the difference though. I needed a little extra attention. The holidays seem to always be about the kids, but I was grateful for a roll from my wife.
November 23rd
I read a great article from the main news source for the San Francisco Giants.
Tim Lincecum makes first appearance on Hall of Fame ballot that includes 8 former Giants
To read the article CLICK HERE
3 World Series titles from this generation of Giants. What they accomplished was far greater than the sum of their individual skill sets… synergy
Applying the thought to churches, for instance, I've always been impressed when church staff talk about how much they love their job and the people they work with. There has to be an esprit de corps, to say the least, for any team to accomplish unbelievable feats together, as the Giants did.
If you enjoy work and those you work with, there certainly is cause for giving thanks.
Sometimes being a good family man means:
Cooking dinner for your kid because your wife is busy
Setting up the rides to your brother's home
Meeting your niece's new boyfriend and asking, "Are you treating her right? Because I'm her uncle who just got out after 10 years."
Cleaning the floor after your kid and a cousin both tracked in some smelly sticky dog stuff from the back yard
golden rings
Cleaning shoes while helping everyone avoid the spots yet to be cleaned on the floor
All while simultaneously cooking some Amy's soup for myself without losing my appetite
I'd like to thank Crystal Ingle for her assistance with the lightning fast parental responsibilities
We got this!
Thanksgiving, November 25th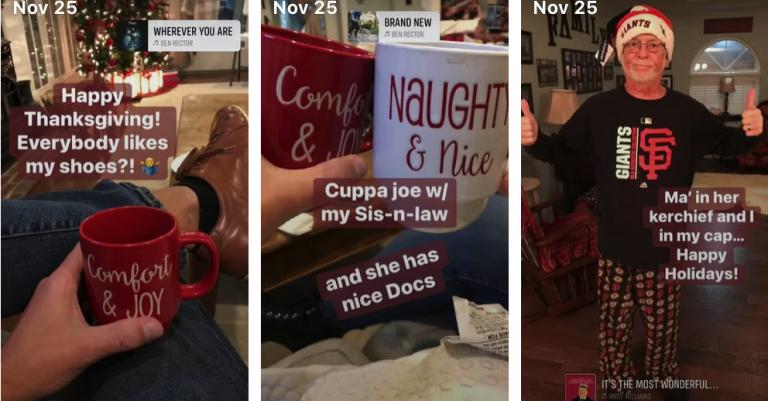 Five out of six of our extended family households were able to gather this year on Thanksgiving day. The other household was represented at some of our family events as well. We haven't seen each other for almost three years!
The meal was fabulous, including a couple smoked turkeys and grilled lambchops (with a phenomenal rub simply made of Rosemary, Thyme, and Garlic).
We're looking at next Christmas to regather like this!
Dad got a new Giants Santa cap to add to his broad Giants collection…
including his Giants pj's.
November 27th

No one really likes the ride home. We crossed a time zone, losing an hour. For those of you who have traveled 15-16 hours in a day, losing an hour is a little difficult. You can be punch drunk for a couple days afterwards.
I hadn't been on this route for many years, so it was actually great to revisit the countryside. It's certainly different from the other route. At the Mississippi and Ohio River junction, the river can be up to a mile wide.
In Knoxville, I began to wish I had planned to stay for a night, not only because we were all a little tired by this time. I have some friends to the south at Lee University, Pentecostal Theological Seminary, and from the surrounding areas of Tennessee.
November 28th

rambling about family
or thoughtful thankfulness?
---
I don't write like this often, but if you'd like to read other informal posts about me, visit Archives / Category / Narrative