Worship | Spirit Filled Community, pt. 8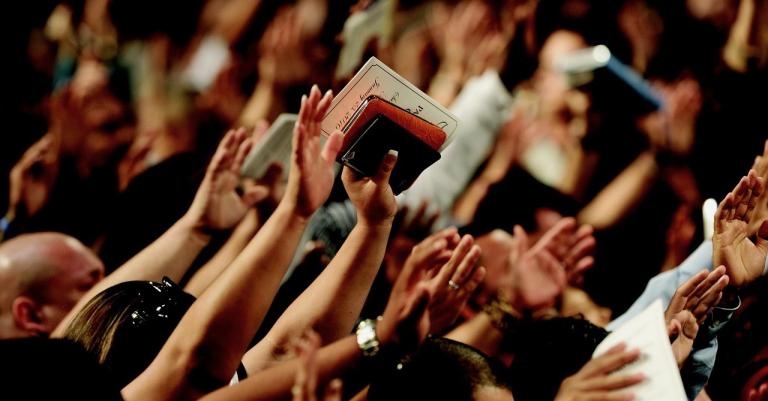 Think about the history of worship in the last couple generations
You may have heard about the hippie movement that started in the 1960's. American music went through the Big Band Era in the 1930's and 40's [love it]. Rock and roll started in the 50's as bands scaled down and guitars were used more. Then the 60's came along and we're still trying to figure out what happened. Music was changed radically, everything was.
Have you heard about the Jesus Movement starting in the 70's? Churches historically had worshipped with hymns or with a liturgical service. Worship was lyrics-based, hymns and liturgy.
"The Jesus Movement, influenced by the music revolution and the hippie revolution, introduced music-driven casual worship, and the church has been in an uproar ever since."[1]
The Jesus movement became driven by passionate music more than deep lyrics. Choruses were introduced.
Now we are experiencing another wave of worship. Since the early 2000's, maybe '90's, worship has become more Biblically based. Worship has become driven by authentic experience with God. Worship has become missional, reminding us of the harvest, i.e. many Christian bands also produce worship music.
There is a call to return to the roots of worship.
This brings us to this generation
The late Robert E. Webber, a professor at Wheaton College, studied similarities between the Church in the Roman Empire – Early Church . . . and the Church in this post-modern world. He concluded Rome and our post-modern world are a lot alike. Therefore the Early Church and the post-modern Church look alike as well.
He calls this new generation of Christians the Younger Evangelicals. They are committed to the community of Church and the Message . . . but they may have new methods. Because our times are like Rome . . . the way younger evangelicals are operating is like the Early Church.
As we look at worship then and now, we will come back to this term Younger Evangelical.
We're going to look at how the Early Church worships God together.  Remember they are a community, worshipping in unity, with a Kingdom Mentality.  They are Pentecostal, worshipping and flowing in the Spirit.  The Early Church is marked by worship.
We will look at various passages from the Gospels highlighting post-resurrection worship experiences.
I. WORSHIP HUMBLES US
Jesus saith unto her, Mary. She turned herself, and saith unto him, Rabboni; which is to say, Master.
Jesus saith unto her, Touch me not; for I am not yet ascended to my Father: but go to my brethren, and say unto them, I ascend unto my Father, and your Father; and to my God, and your God.
John 20.16-17
Mary worships in humility
Mary cries out "Master" and falls at our Lord's feet. She is the first to see and worship Him, but even she can't approach His glory.
The mystery of worship is that we draw close to God and realize how separate He is
Mary knew Christ, traveled with Him, and was discipled by Him. They were close.
Jesus establishes a precedent for women in ministry that the Church continues. Women are actively celebrated in the Early Church (E.C.) from the start. They are the first evangelists. The active role of women is still a hallmark of the Pentecostal Church today.
"Charismatic worship, after all, places great weight on individual inspiration and prophetic gifts, and experience has shown that the Spirit alights where it wills, on women and men, young and old.  And if that leads to women's taking a direct and active role in ministry, so be it."[2]
Despite how close Mary and Jesus are, in a moment of worship, there is a distance.
There is a fine line between knowing God and becoming too familiar with God
True worshippers are in awe of God.
No matter how intimate, the awe of God puts us in our place.
"The younger evangelical is certainly characterized by 'passion' and by a willingness to be humbled before the majesty of God who is mystery."[3]
II. WORSHIP GLORIFIES CHRIST
And when they saw him, they worshipped him: but some doubted. Matthew 28.17
When we choose to recognize Jesus for who He is . . .
. . . we can worship Him. The word "worship" is literally "to kiss towards" – i.e. kissing the feet of a superior.
This is where we get the idea of falling down at His feet.
When we choose to recognize Jesus for who He is . . .
. . . we can hear His commission.
Worship changes our lives. Worship brings us to a place where we can hear God
The Disciples hear Him together. We hear Him together.
When we worship, we recognize Christ for all He is
In an act of supreme worship, we worship Him for who He is, God Almighty.
"True worshippers, genuine worshippers, are not those who go to the right places and say the right prayers.  They are those who recognize the nature of God."[4]
III. WORSHIP BLESSES US
And they worshipped him, and returned to Jerusalem with great joy:
And were continually in the temple, praising and blessing God. Amen.
Luke 24.52-53

They worship and it produces a reaction: "joy . . . praising"
The word "worshipped" is the same word used in Matthew 28
Here they are in awe and worship of Christ, and Jesus "blessed them" (verse 51). We are strengthened and blessed when we worship Him. The Disciples continue to worship and praise.
Do we worship Him for the blessings He gives?
They "returned to Jerusalem with great joy" (verse 52)
The word "joy" is the Greek term chara. It's almost always used in the NT as a shared joy.
The Disciples are grieving because of His death. They are sad that He was alive and now departing. They are filled with joy as He blesses them.
The word "praising" in Greek is aineo: to praise, lift up, sing praises.
The word "blessing" is eulogeo: to praise, bless, speak well of, celebrate.
The Disciples finally get it, Jesus has overcome. The Kingdom of God is being established.
As Luke recounts the story, words just aren't enough: "worshipped . . . great joy . . . praising and blessing God."
Why are the Disciples overwhelmed?
And ye are witnesses of these things. Luke 24.48
They were witnessing the Hope of the Ages.
Being part of the redemption of all Creation blesses us.
"Worship as an art form signifies the reality of otherness, the purpose and meaning of human history, and God's saving involvement within history.  It evokes mystery and brings us into wonder and awe."[5]
---
pic credit: jaefrench | 01.03.17 | pixabay
For more writings on the Kingdom of God CLICK
notes:
Robert E. Webber,

The Younger Evangelicals: Facing the Challenges of the New World

(Grand Rapids, MI: Baker, 2002), 187.

Philip Jenkins,

The New Faces of Christianity: Believing the Bible in the Global South

(New York: Oxford University Press, 2006), 166.

Webber, 191.

Stanley M. Horton,

What the Bible Says About the Holy Spirit

, Rev. ed. (Springfield, MO: Gospel Publishing House, 2005), 117-118.

Webber, 199.