Here's a picture from the newly opened Goat Mountain Pizza in Bellingham. The place is tasty and has decent beer, though it's a little odd.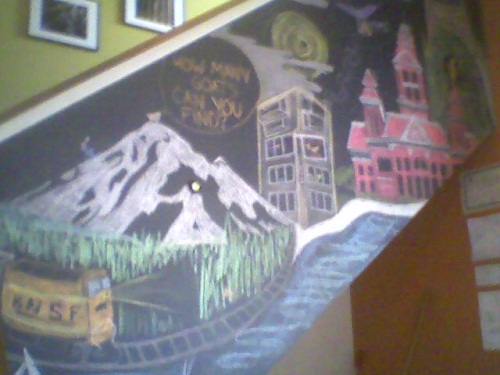 The weirdest bit is, during the day they sell pizza by weight. There are three blocks of uncooked pizza of different types. You pick the kind you want and the guy behind the counter scissors off a square and weighs it and then cooks it.
Goat Mountain is right by the Dem campaign headquarters and also a local liberal interest. By chance, I noticed Lauren, the campaign campaign manager of Matt Krogh, who is running against my landlord, Republican state rep Vince Buys, and waved to her.
This was the second of two new restaurants your diarist visited today — so far. The first was Cassoulet near Lynden, which was way too Portland to be that far north county. Yours truly and guest didn't have to experience the "community seating" policy owing to the fact that we were the only customers in there.
Both trips were part of my goal to eat at all the restaurants in Whatcom County that I had not yet visited by year's end. Progress never tasted so good.