If there's one thing I'm sure of, it's that God has placed deep inside of each of us a longing for communion with the Holy Spirit. We may not recognize it for what it is, but it's there — this strong desire for shalom, for that strange kind of peace, for the way things are supposed to be.
Right next to that burning fire of longing is another one: that desire to do work that is meaningful and fulfilling. It's almost as powerful as the first one, and sometimes, because we don't recognize the first one right away, this second one can become all-consuming. Especially when it's being ignored.
For moms of young children, not only can the chance to satisfy that longing be elusive, it can also be, well, sticky. Like, literally.
As much as I really hate the way Proverbs 31 has been used to bash women over the head for not measuring up, the poem describes (and celebrates, by the way) a pretty bad-ass businesswoman, who knows how to get stuff done. She takes care of her family and knows how to pitch a good business deal while the kids are at pre-k. She sells her wares and utilizes both her business acumen and her creativity.
Scripture doesn't mention it, but my guess is she has her share of Cheerios under her dining room table, too. Because no mother could be that freaking successful and not have Cheerios under her table. It's like a rite of passage or something.
But my favorite line in this poem is this one: She senses the worth of her work.
She knows the value of the work she does. All of it. That means she knows the value of the snuggles as much as the business deal, and she recognizes the heavenly pay off of both wiping snotty noses and easing client fears. She knows it's ALL valuable, even though wiping snotty noses doesn't feel very glamorous, and sometimes we feel ill-equipped to help our clients.
My co-founder at The Whole Woman Summit, Lisa, and I are both moms, and we're both entrepreneurs. So we knew we wanted to include support for mompreneurs in our lineup, and I can think of no better woman that the amazing Kate Schell. Kate is the founder of Write Authentically and MomRedo. She's also a wife and mom to four amazing kids (2 of whom are twins!).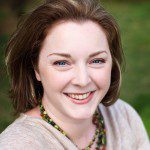 In her talk at the Summit, Kate is going to help you learn the value of your work while she shares hacks, tips, and tricks on how to survive everything from managing conference calls with a kid on your lap to celebrating successes small and large. Kate is a mom you can learn from if you're even thinking about starting a business to satisfy that second longing. (Only God can fill the first one.)
I hope you'll join us at the Summit!
---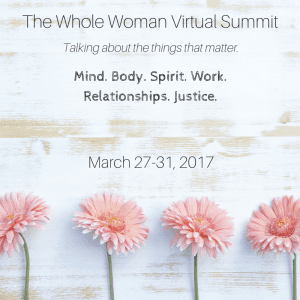 Each Friday for the next few months, I'll be writing about one of the amazing women who are speaking at The Whole Woman Summit in March. These are women who are movers and shakers, Christian and not, who are doing very cool things in the world. The summit is all about the things that matter — MIND. BODY. SPIRIT. WORK. RELATIONSHIPS. JUSTICE. The summit is entirely online, and all registrants will receive video recordings of all sessions, so no worries if you miss any.
See you at the summit!
JERSEYGIRL, JESUS READERS CAN SAVE $20 OFF THE TICKET PRICE!
USE COUPON CODE:
JERSEYGIRLWWS17
Valk'ng about the rtüngs 'ha,' matter
Mind. Body. Spirit. Work.
Relationships. Justice.
March 27-31, 2017 " width="300″ height="300″ />