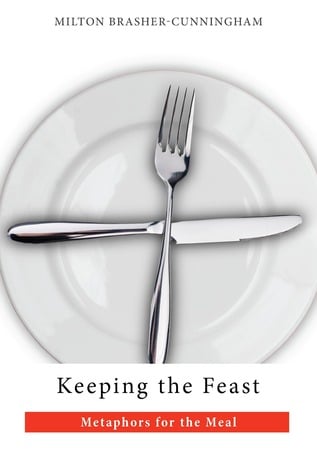 Keeping the Feast by Milton Brasher-Cunningham
Keeping the Feast by Milton Brasher-Cunningham is a Christian book review for the Speakeasy book review network.
Keeping the Feast is an excellent short book made up of chapters which talk about the importance of Communion (The Lord's Supper). In a light-hearted fashion, Brasher-Cunningham shares his experiences as a cook, along with other stories. He alternates these stories with poems and recipes. He divides his chapters into culinary themes such as signature dish, daily bread, cooking line, soup kitchen, comfort food and defining moment.
I found the book a delightful read. I would suggest reading one chapter at a time. Slowly read the poem and meditate on its significance. The recipes give a delightful tactile experience to reading the book. I think this is the point of the book. Brasher-Cunningham wants the reader to understand that we experience God in a daily lives, and our daily lives involve eating together. This communion experience is an essential part to learning more about God and it is essential to church unity. We learn about God not just in the Bible, but in the experience and community of a simple meal. Life happens. We share stories, and we enjoy one another.
Brasher-Cunningham blogs at
Don't Eat Alone
. Like his blog, the book of full of delightful stories of faith. He also keeps a
recipe blog
. I would recommend this book as a short devotional for anyone who loves food and who loves Jesus.
Twitter: #SpeakeasyFeast
This book review was made for SpeakEasy.
Disclosure of Material Connection: I received this book free from the author and/or publisher through the Speakeasy blogging book review network. I was not required to write a positive review. The opinions I have expressed are my own. I am disclosing this in accordance with the Federal Trade Commission's 16 CFR,Part 255.