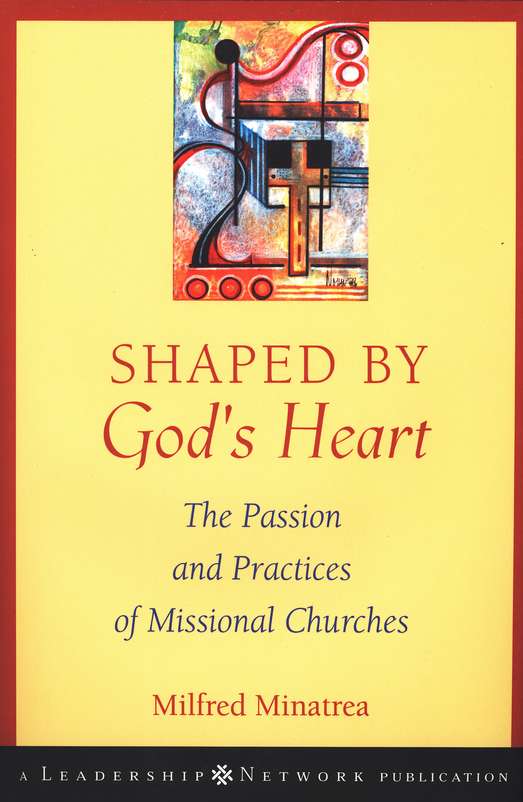 The book Shaped by God's Heart, written by Milfred Minatrea is a book which reveals an approach to church planting called the missional approach. The subtitle of the book reveals the true summary of the book – the passion and practices of missional churches.
Unlike many other books about church planting, this book defines a new paradigm entitled "the missional church." In the mind of Minatrea, a multiplying church is by definition a missional church (xvi), or in his words: "a reproducing community of authentic disciples." At first glance, this seems to be a completely new approach to church planting and multiplying churches. This reviewer will share insights learned throughout the book. However, one caveat is in order. The paradigm is not entirely new. Minatrea may state that the missional church is a new way at planting churches. Yet, when one looks closely, one can clearly see the influence of the church growth movement – more specifically the Purpose Driven Church model repackaged for the postmodern generation. The four reasons for membership (32), evaluating ministries against the purposes or core values (104-106), the concentric circles by Oscar Cullman (127-128), and celebrating releasing capacity versus building capacity (145) all reflect the Purpose Driven Church model. However, the comparisons with Rick Warren's model end there.
Minatrea makes a clear case for the missional church. He states that when a church focuses inward, the church exchanges mission for maintenance. Mission comes from the nature of God and as such, the church serves the mission and not the other way around. Minatrea emphasizes that to be missional, the formula must be spirituality, then strategy, then structure (xviii).
Minatrea defines missional churches as founded in the imago dei (Image of God), the missio dei (Mission of God), and the gloria dei (Glory of God). He provides an excellent review of the relevant Scriptures for further study (12-14). Minatrea explains that there is a difference between mission-minded churches and missional churches. One can infer than the primary difference is that mission-minded churches have their minds set on having other people fulfill the mission. Missional churches have their hearts set to do the mission (11).
Missional churches believe that there are four dimensions: (1) love God, (2) live His mission, (3) love people, (4) lead them to follow. This reviewer sees the balanced approach, but also notices a shift from "believing" in Christ to "following" Christ. A Christian no longer shares the gospel so that a person believes in Christ. A Christian as well as the church loves the people so that they can be lead to follow Christ. While Mineatrea illustrates these dimensions in a coordinate axis (17), this reviewer can also see it applied as a journey. A Christian loves God and lives His mission which will involve loving people. As a Christian continues to love people, the words and actions lead an unbeliever to follow Christ.
These dimensions followed by eight passion actions which put the four dimensions into a cycle (20). These eight passion actions help the Christian live in these four dimensions. Worship and obedience help a Christian love God. Service and sharing Christ help a Christian to live Christ's misson. When a Christian embraces and invites people, they show that they love them. Finally, when a Christian empowers and equips others, the new unbeliever is led to follow Christ.  Minetrea states that in missional communities, "a response to an invitation is the beginning, not the end." He also states that the church has the assignment of equipping disciples as authentic "followers of Christ." Again, he shifts to a Christian as being a follower and not just a believer (24). Minatrea even rejects the use of "plans of salvation" (83) and states that leading persons to faith is a process, not a single event (85). The author advocates a more natural approach to sharing Christ. The church should do more than share information. The church should "incarnate" into the culture. Therefore, the most significant insight in this book is the shift from leading people to believe in Christ to helping them follow Christ.
Related to this "following" Christ model is the idea that the process in which unbelievers enter into the church has changed. Taking his cue from Mosaic pastor
Erwin McManus
, the author states that young adults will first belong, become, and then believe (40). On the surface, this seems like a reversal of what the church has been taught. However, since the postmodern generations value community above all else, the fact they want to belong first makes sense. Belonging gives them a place and thus an identity. This identity allows them to become (which is the process of discipleship) and as they have learned the consequences of the Christian life, they finally choose to believe in Christ. While this looks dangerous and backwards, the process is more effective than previous way of "forcing" someone to make an on-the-spot decision to follow Christ at an event. An unbeliever has now taken time to see the consequences of such an importance decision. The experience of this reviewer has shown that this process was effective in Europe.
While this was a difficult book to follow, the final chapters revealed some practical applications to this missional approach. Minatrea addresses such issues as multiplication versus addition (Chapter 10), simple structures (Chapter 12), leadership (Chapter 13), and becoming missional churches (Chapter 14).
This reviewer found this book to be intriguing because there were very few other churches that dealt with this subject in depth. Some books dealt with the desires of the postmodern generations the church is trying to reach (Post-Modern Pilgrims by Leonard Sweet and Planting New Churches in a Post-Modern Age by Ed Stetzer). However, no other book showed in better detail the major difference between missional churches as opposed to other churches. One similar book would be Breaking the Missional Code by Ed Stetzer and David Putman where the belonging-becoming-believing idea is set to a diagram (page 129). Therefore, if one wants to know more about how a church can infiltrate the culture, Breaking the Missional Code would compliment Shaped by God's Heart. Stetzer and Putnum address the need for missonal churches. Minatrea shares how this can be done.
The case for missional churches is biblical and thus the hermeneutical foundation is strong. This reviewer may find no major disagreements. This book should be given to any church planter who wishes to apply a new model to a church that wants to reach the postmodern generation.