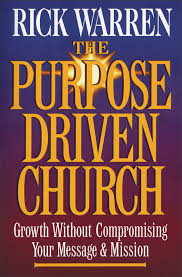 The Purpose-Driven Church by Rick Warren is a book which describes the history and the development of a process for his church's growth. It is also a handbook for pastors who wish to implement that process in their churches as well. Warren describes the Purpose-Driven Process as essential for church health, not church growth.
Warren shares the history of Saddleback Church, the church he started in California in 1980, followed by the myths of growing churches. The most important principle is that churches grow when they are healthy, and churches are healthy when they balance all five purposes of the church. He defines the purposes of the church from Matthew 28:18-20 (The Great Commission) and Matthew 22:37-40 (The Great Commandment). The purpose-driven church is committed to fulfilling all five tasks that Christ gave His church to accomplish:
Purpose #1: Love the Lord with all your heart (worship)
Purpose #2: Love your neighbor as yourself (ministry)
Purpose #3: Go and make disciples (evangelism)
Purpose #4: Baptizing them (fellowship)
Purpose #5: Teaching them to obey (discipleship)
The best thing about this book is the way Warren communicates his ideas. He communicates his vision of the purpose-driven church visually. For example, he uses two diagrams to illustrate the purposes and how these purposes are kept in balance. The first diagram is a baseball diamond. Using the image of a baseball diamond, he shares the idea that people move through the purposes. A Christian gets to first base in the church through fellowship (baptism). Then that person moves to second base through discipleship (small groups). Next, the person moves to third base through ministry (service). Finally, a person gets to home base and makes home run when they are involved in making disciples through missions (evangelism). All of this is done while we "pitch" our voices to God through worship. While this is a great image, I have personally struggled with how one can truly measure the growth of someone just by "doing these things." It measures movement in a church well, and also the level of commitment. Yet, it is hard to also measure the "love" of a person using this process.
The second diagram is the concentric circles. Warren uses concentric circles to measure the commitment level of a person as they go forward in their journey with Jesus Christ. Again, these concentric circles match the purposes and they can be aligned with the CLASS structure he uses to move people from one commitment to another. The plan is to move people from the community (the lowest level of commitment to Christ and His church) to the core (the highest level of commitment to Christ and His church.)
Warren spends time in his book helping churches identify their target audience and then developing a strategy to reach the people whom God wants them to reach. He takes to share how a church can work on moving people from community to core. He shares all kinds of ideas to get people moving. Warren shares how a church can do big events to attract the community. He talks about developing a "seeker-sensitive" worship service to draw a crowd. This includes making the music more upbeat, and less traditional. He shares how to plan sermons that gets the attention of the un-churched audience. To move people from attenders to members (congregation), he suggests a having a membership class (CLASS 101 – Discovering Church Membership) and a membership covenant. For members to mature, to become more committed, he suggests developing a class where everyone learns spiritual maturity (CLASS 201 – Discovering Maturity). This includes growing spiritual habits and learning to raise the commitment level. He also includes what he calls a Life Development Process. This life development process includes a series of classes which are taught. To take the congregation and move them to be committed, Warren suggests having everyone going through a SHAPE class (CLASS 301 – Discovering My SHAPE). SHAPE stands for the five ways God shapes a person for ministry (Spiritual gifts, Heart, Abilities, Personality, Experiences). The purpose of finding a person's SHAPE is to help them become equipped to do ministry in the church. The final commitment level is the core. Warren encourages that churches teach their members about their mission (CLASS 401 – Discovering My Mission).
This book was groundbreaking when it was written. It is still a very relevant textbook for church management. The book has a strong biblical basis, even if some of the methods have since been criticized. This book should be on the bookshelf of every pastor. This should also be the first book read when a pastor wants to consider revitalizing a church. There are books which have been written that may teach a different approach. Yet, the paradigm-shifting idea started with this book. I would recommend the book for that reason alone.
I have also reviewed Warren's books The Purpose Driven Life here and The Daniel Plan here.