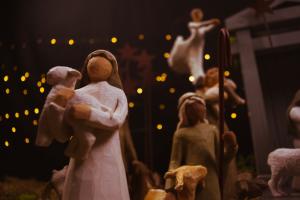 Share a Christmas Blessing of Hope
Luke 1:39-45
As we read and think about great Christmas passages of the Bible, one of the things we need to do is to resist the influence of our culture to trivialize Christmas and its powerful meaning for our lives. The true message of Christmas is about hope. Hope is one of the greatest needs of the human heart and one of the greatest messages of the Christmas story. Sometimes in English, the word "hope" describes a wish. In the Bible hope is a kind of confidence. Let's look together at the hope that Christmas brings:1
"Blessed is she who has believed that the Lord would fulfill what he has spoken to her!"" (Luke 1:45, CSB)
I was waiting to see my doctor in June when an older couple arrived. "Merry Christmas! Merry Christmas!" the gentleman said to everyone in the waiting room. His enthusiasm was infectious.
Most of the patients ignored the outburst, but I decided to respond, "Merry Christmas to you too!"
Sensing a sympathetic ear, the wife quietly said, "It started this past year. For no reason, my husband would get the Christmas spirit. At first we dismissed it, but then we realized how much joy it brought him. So we started decorating the house, singing carols, having a spur-of-the-moment celebration.
"You know, after doing this a number of times, we look forward to it. Christmas can come anytime, anyplace. It's always a pleasant surprise."2
Mary visits her cousin Elizabeth. Elizabeth's baby, still in the womb was happy to sense Mary (Luke 1:41).
"When Elizabeth heard Mary's greeting, the baby leaped inside her, and Elizabeth was filled with the Holy Spirit." (Luke 1:41, CSB)
Just as the baby in the womb, a living being could show joy at the meeting of Jesus' mother, Elizabeth was just as happy for Mary (Luke 1:42-43).
"Then she exclaimed with a loud cry: "Blessed are you among women, and your child will be blessed! How could this happen to me, that the mother of my Lord should come to me?" (Luke 1:42–43, CSB)
The most important detail from this exchange is that Elizabeth prophesies that a blessing will happen because of the birth of Jesus (Luke 1:45).
"Blessed is she who has believed that the Lord would fulfill what he has spoken to her!"" (Luke 1:45, CSB)
That's the language of hope. Hope is believing that what the Lord has said to you will be accomplished. We need the confident expectation that God can be relied on to fulfill the hopes He has awakened in our hearts through the promises of His Word.3
As Christians, we are blessed, happy because we have a Savior Who was born. Jesus came into this world as a fact of history. This fact should inspire us as we share the story of Jesus, a message of hope to other people.
Christmas is a happy time:
Not because we get presents
Not because we can visit and spend time with family
Not because of the parties and celebrations
Christmas is a happy time because we are blessed with a Savior who came, lived, died, and came back to reassure us. Christmas can be stressful. However, Christmas should be a blissful event. Sharing a blessing during Christmas should be something that we do. We do it not to get something, but to reveal the hope of Someone.
Theologian Henri Nouwen once said:
Songs, good feelings, beautiful liturgies, nice presents, big dinners, and sweet words do not make Christmas. Christmas is saying yes to something beyond all emotions and feelings. Christmas is saying yes to a hope based on God's initiative, which has nothing to do with what I think or feel. Christmas is believing that the salvation of the world is God's work and not mine.4
Let's remember to share a Christmas blessing of hope to others this season. Merry Christmas!
Other Posts:
Three Gifts We Can Give Others for Christmas
Learning to Rejoice This Christmas
Remembering the Voice of God's Goodness This Christmas
The Danger of Christmas Complacency