How the Holy Spirit Develops My Character
Galatians 5:16-26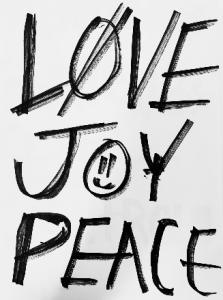 Many airports have moving sidewalks. They allow travelers to get around the airports a little faster than they would walking around on their own power. The travelers can still walk but now are able to do so with ease because of the force underneath them propelling them forward. Walking in the Spirit implies that the Christian is still on the move. They are not sitting down or being passive. They walk but with the Spirit's help guiding them, governing them, and getting them to their destination.1
That is what the Holy Spirit does. He is like that moving sidewalk. He makes following Christ easier. Yet, it will require developing my character for Him to make me follow Jesus Christ.
The problem is that when I accepted Jesus Christ and decided to follow Him, that decision immediately put me in conflict. Understanding that there is a spiritual conflict in my own life – that my life is fought on a battle of cosmic proportions is important. There is more at stake than what I think is important. The Holy Spirit helps me develop my character to become more like Jesus Christ when I understand that this spiritual life is more than just about me. It is a war going on in my life.
The Holy Spirit develops my character which is constant conflict. (Galatians 5:16-18)
"I say then, walk by the Spirit and you will certainly not carry out the desire of the flesh. For the flesh desires what is against the Spirit, and the Spirit desires what is against the flesh; these are opposed to each other, so that you don't do what you want. But if you are led by the Spirit, you are not under the law." (Galatians 5:16–18, CSB)
Barbara, five, had disobeyed me and was sent to her room. After a few minutes, I went in to talk with her about what she had done. Teary-eyed, she asked, "Why do we do wrong things, Mommy?"
"Sometimes the Devil tells us to do something wrong, and we listen to him," I said. "We need to listen to God instead."
"But God doesn't talk loud enough!" she wailed.2
Have you every felt like this? Do you ever sense that God doesn't talk loud enough? One of the reasons is because you are in a spiritual battle. You are in a conflict of appetites and desires.
The desire of your sinful nature, which Paul calls here your flesh, is because it is a universal state of being. You have sinned and are separated from God.
"For all have sinned and fall short of the glory of God." (Romans 3:23, CSB)
The great conflict wages in your personality. You are in conflict sometimes. You don't do what you should do because sin is fighting against you. The reason why Satan is fighting against you is because you are under the control of God. You are God's possession. You are His child. You belong to God and not Satan. As a result, Satan is not going to want you to have a fulfilling family. He will bring conflict into your inner being. He will try to implant desires to stop you from following how God wants you to live.
Paul said the same thing in his letter to the community of Christians in Rome:
"Now if I do what I do not want, I am no longer the one that does it, but it is the sin that lives in me. So I discover this law: When I want to do what is good, evil is present with me. For in my inner self I delight in God's law, but I see a different law in the parts of my body, waging war against the law of my mind and taking me prisoner to the law of sin in the parts of my body. What a wretched man I am! Who will rescue me from this body of death? Thanks be to God through Jesus Christ our Lord! So then, with my mind I myself am serving the law of God, but with my flesh, the law of sin." (Romans 7:20–25, CSB)
You have to learn to overcome this battle, and the only way to do it is to follow the leadership of the Holy Spirit.
The way to overcome the desires of the sinful nature is to submit to the will of the Holy Spirit. I cannot overcome sin by sheer willpower. I simply can't do that. Being led by the Spirit and walking by the Spirit are in opposition to sin. But what is that sin? How do I identify it? The Holy Spirit helps me identify sin in my life.
The Holy Spirit develops my character by helping me overcome the desires of my sinful nature. (Galatians 5:19-21)
"Now the works of the flesh are obvious: sexual immorality, moral impurity, promiscuity, idolatry, sorcery, hatreds, strife, jealousy, outbursts of anger, selfish ambitions, dissensions, factions, envy, drunkenness, carousing, and anything similar. I am warning you about these things—as I warned you before—that those who practice such things will not inherit the kingdom of God." (Galatians 5:19–21, CSB)
THREE CATEGORIES OF SINS THAT I ENGAGE IN
Sensual sins
Adultery is illicit sex between married people, while fornication generally refers to the same sin among unmarried people. Uncleanness means just that: a filthiness of heart and mind that makes the person defiled. The unclean person sees dirt in everything. Lasciviousness is close to our word debauchery. It speaks of a wanton appetite that knows no shame. This is a veracious appetite for sexual activity. It goes without saying that all of these sins were rampant in the Roman Empire. Drunkenness and revelings are related in that alcohol is usually connected to sex parties.
Superstitious sins
Idolatry, like the sins named above, is with us today. Idolatry is simply putting things ahead of God and people. We are to worship God, love people, and use things, but too often we use people, love self, and worship things, leaving God out of the picture completely. Jesus tells us that whatever we worship, we serve. The Christian who devotes more of himself to his car, house, or boat than he does to serving Christ may be in danger of idolatry.
The word witchcraft is from the Greek word pharmakeia, which means "the use of drugs." Our English word pharmacy is derived from this word. Magicians in Paul's day often used drugs to bring about their evil effects.
Social sins
Hatred means "enmity," the attitude of mind that defies and challenges others. This attitude leads to variance, which is strife, the outworking of enmity. Emulations means jealousies or rivalries. How tragic when Christians compete with one another and try to make one another look bad in the eyes of others. Wrath means outbursts of anger, and strife carries with it the idea of "self-seeking, selfish ambition," that creates divisions in the church.
Seditions and heresies are kindred terms. The first suggests division, and the second cliques caused by a party spirit. Divisions and factions would be a fair translation. These are the result of church leaders promoting themselves and insisting that the people follow them, not the Lord. Envyings suggests the carrying of grudges, the deep desire for what another has. Murders and drunkenness need no elucidation.
THREE WAYS THE HOLY SPIRIT HELPS ME OVERCOME SINFUL DESIRE
The Holy Spirit warns me of potential sin.
Paul says here that the sins are obvious. The sins are listed in categories. He warns believers that we have the potential to sin. The key is not to "practice" these sins. Paul is not talking about an act of sin, but a habit of sin. Just because I am free from the Law and am under the grace of God, it does not mean that I am free to continually sin. The Holy Spirit will warn me when that happens.
THE SPIRITUAL RED ALERT SYSTEM
We have a red alert system installed in our spirit that was not there before. You know that ships have a red alert signal when they encounter danger. When you hear the red alert, than you know that you are in potential danger. The captain says to raise shields and brace yourself. You guard yourself against a potential attack.
The Holy Spirit acts as a red alert in our lives when we run into attacks of potential sinful activity. Satan is at war with the Christian. He is trying to prevent every Christian bearing fruit in their lives of being successful for God. So Satan attacks our appetites and makes sinful appealing.
That is how we engage in sin. We don't engage in sin because we hate it (although we should hate sin.) We engage in sin because it seems right and good in our lives. The Holy Spirit sends out a spiritual red alert to remind us that we are in potential danger.
The Holy Spirit convicts me of committed sin.
Yet sometimes, we don't listen to the Holy Spirit. If we commit a sin, the Holy Spirit reminds us of it. This is called the conviction of the Holy Spirit. This conviction deals not lead me to feel guilty. Because there is no condemnation in the Spirit.
"Therefore, there is now no condemnation for those in Christ Jesus," (Romans 8:1, CSB)
Instead, the Holy Spirit reminds me of the wrongness of what I have done. This happens when a Christian doesn't listen to the leadership of the Holy Spirit. I disobey and the Holy Spirit reminds me of it. Why does He do that? To lead me to righteousness.
"When he comes, he will convict the world about sin, righteousness, and judgment: About sin, because they do not believe in me; about righteousness, because I am going to the Father and you will no longer see me; and about judgment, because the ruler of this world has been judged. "I still have many things to tell you, but you can't bear them now." (John 16:8–12, CSB)
The Holy Spirit convicts the world of sin. He also leads me on the right path. Why? Because the ruler of this world – Satan has already been tried, convicted, and sentenced.
Satan is like a prisoner awaiting the death penalty. But he is still trying to make you do things for him from behind the prison walls. Before Jesus saved you, you were in prison. Jesus freed you from the prison and placed Satan there. The problem with Christians who don't listen to the Holy Spirit is that they are listening to a leader who leads from behind prison bars. The Holy Spirit is there to remind you that you don't have to keep committing these sins. You don't have to listen to Satan because He is behind bars. You can bear good fruit of God, not the bad fruit of Satan.
The Holy Spirit detours me around future sin.
The Holy Spirit provides a detour around future sin. If I am willing to follow the leading of the Spirit, He will lead me around future sin. It is called being obedient. The more I follow the leadership of the Holy Spirit is my life, the less sin I will engage in the future.
"But if you are led by the Spirit, you are not under the law." (Galatians 5:18, CSB)
The Holy Spirit develops my character by producing in me the fruit of the Spirit. (Galatians 5:22-26)
"But the fruit of the Spirit is love, joy, peace, patience, kindness, goodness, faithfulness, gentleness, and self-control. The law is not against such things. Now those who belong to Christ Jesus have crucified the flesh with its passions and desires. If we live by the Spirit, let us also keep in step with the Spirit. Let us not become conceited, provoking one another, envying one another." (Galatians 5:22–26, CSB)
We will explore the fruit that the Holy Spirit produces in me over the next nine weeks in the summer. What you need to see is that the design of the fruit of the Holy Spirit is to develop Christian character.
Jesus called Christians to be in unity. One of the ways He accomplish that is through the fruit of the Spirit. The gifts of the Spirit which are listed in 1 Corinthians 12-14 are for individuals. The Holy Spirit chooses which gifts I get. There are many different gifts and different people have separate gifts. So I may not have the same gifts as you may have.
Yet the fruit of the Spirit (and nine main broad categories of fruit are listed) has one purpose – to build up unity in the church. Everyone is expected to produce these nine fruit of the Spirit. The word fruit can be singular or plural. Yet, we should all be producing this fruit.
When Jesus said that if you connect and stay connected to Him, you will bear fruit, He was talking about your character. This grouping is actually a list of the character and nature of Jesus Christ. Jesus embodied this fruit. We are all called as Christians to bear this fruit because we are called to bear Him image and to become like Him more everyday. Jesus will use the Holy Spirit to mold you to be more like Himself everyday, if you are willing to submit to the leadership of the Holy Sprit.
Dr. Bill Bright of Campus Crusade for Christ tells this story of a famous oil field called Yates Pool:
During the depression this field was a sheep ranch owned by a man named Yates. Mr. Yates wasn't able to make enough on his ranching operation to pay the principal and interest on the mortgage, so he was in danger of losing his ranch. With little money for clothes or food, his family (like many others) had to live on government subsidy.
Day after day, as he grazed his sheep over those rolling West Texas hills, he was no doubt greatly troubled about how he would pay his bills. Then a seismographic crew from an oil company came into the area and told him there might be oil on his land. They asked permission to drill a wildcat well, and he signed a lease contract.
At 1,115 feet they struck a huge oil reserve. The first well came in at 80,000 barrels a day. Many subsequent wells were more than twice as large. In fact, 30 years after the discovery, a government test of one of the wells showed it still had the potential flow of 125,000 barrels of oil a day.
And Mr. Yates owned it all. The day he purchased the land he had received the oil and mineral rights. Yet, he'd been living on relief. A multimillionaire living in poverty. The problem? He didn't know the oil was there even though he owned it.
Many Christians live in spiritual poverty. They are entitled to the gifts of the Holy Spirit and his energizing power, but they are not aware of their birthright.3
1 Tony Evans, Tony Evans' Book of Illustrations: Stories, Quotes, and Anecdotes from More than 30 Years of Preaching and Public Speaking (Chicago, IL: Moody Publishers, 2009), 295.
2 Craig Brian Larson and Phyllis Ten Elshof, 1001 Illustrations That Connect (Grand Rapids, MI: Zondervan Publishing House, 2008), 453. Jo M. Guerrero, Christian Reader (September–October 1996)
3 PreachingToday.com, Perfect Illustrations: For Every Topic and Occasion (Wheaton, IL: Tyndale House Publishers, Inc., 2002), 260–261. Greg Asimakoupoulos, author and speaker, Naperville, Illinois; source: Bill Bright, "How to Be Filled with the Spirit" (Campus Crusade publication).
Other Posts: