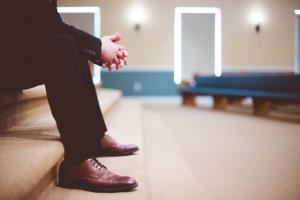 How to PREP for Revival and Spiritual Awakening
Revelation 2:4-5
"But I have this against you: You have abandoned the love you had at first. Remember then how far you have fallen; repent, and do the works you did at first. Otherwise, I will come to you and remove your lampstand from its place, unless you repent." (Revelation 2:4–5, CSB)
In cooking, you have four steps. The first step is to prep the food. The second step is to cook the food. The third step is to serve the food. The fourth step is for other people to consume the food, but that is a goal of the cooking process. You want other people to consume what you cook.
We can compare the steps of revival and spiritual awakening to these four steps. In the first step, the people of God prepare for revival and spiritual awakening. In the second step, God uses the Holy Spirit to "bake" a message in the life of the evangelist for the people to consume. In the third step, God sets the table and allows the Spirit to convict the hearts of people while the message is presented. In the fourth step, people will listen to the message. In this way, they are consuming what God has prepared. The consuming of the message should satisfy the hearts and minds by helping them place their trust in Jesus.
If the food is the message of Jesus, then we have a role in preparation. In a restaurant, the person who preps the food is not the same person who cooks the food. The cook is the not the same person as the one who serves the food. In the church, God uses all of us to prep the message. God uses the Spirit to "bake" the message. God uses the evangelist to serve the message and God uses people who invite others to come and take part in revival.
I want us to consider the steps of preparation for revival. I want to use the word PREP to help us see how God places the church is the role of preparing for revival and spiritual awakening.
P – Pay attention
"But I have this against you: You have abandoned the love you had at first." (Revelation 2:4, CSB)
The 19th century evangelist Charles G. Finney said, "Revival is the renewal of the first love of Christians resulting in the conversion of sinners to God. It presupposes that the church is backslidden, and revival means conviction of sin and searching of hearts among God's people. Revival is nothing less than a new beginning of obedience to God." 1
A renewal of can only happen when the church realizes that they have abandoned the love that they had at first. Love is the first ingredient that must be used in prepping for revival. Without the desire for God's love, a Christian will never see revival. For a Christian to love again, they must go back to God. That happens when the Christian pays attention. It's a renewal of love.
PRAYER: Let's pray and recognize that we have lost our first love.
R – Remember
"Remember then how far you have fallen…" (Revelation 2:5, CSB)
Recalling their former state of zeal, ardor, and love would fill them with happiness. Few things can cure a backsliding church than to remember its former condition—the happier days of piety.2
In the spring of 1995, revival broke out on many college campuses across America. One characteristic of this visitation from God was students dealing with sinful habits that they had previously let linger in their lives. Bonne Steffen interviewed several of the students for the Christian Reader; one student named Brian at Asbury College said:
I was a leader on campus. We had invited Wheaton students to come and share. At first, I was praying for other people, but then I began to think about my own struggles. I stood in line for three hours with one of my best friends all the time thinking, How can I get up here and admit I'm less than perfect? But I also realized that being on a Christian campus isn't protection from the world. I have really struggled with lust. I found I wasn't alone. It was an issue for a lot of others. Personally, I wanted the chain to be broken; I wanted that stuff out of my life. If it meant no magazines, no television, I was willing to eliminate them. A number of us signed a paper stating our desire for purity, which we put in a box and placed on the altar. I'm still accountable to other people. My deepest desire is to be pure in my heart and thoughts.3
Some people have hit such a spiritual bottom that they begin to realize how far they have fallen. You can only recognize that if you are paying attention.
PRAYER: Let me remember in prayer how far I have fallen. Ask God to help me pay attention.
E – Express sorrow (repent)
"…repent…Otherwise, I will come to you and remove your lampstand from its place, unless you repent." (Revelation 2:5, CSB)
Mordecai Ham, an evangelist under whose preaching Billy Graham came to Christ said of revivals: "One of our troubles is we are not willing to humble ourselves. We are not willing to give up our opinions as to how things should be done."4
Once you pay attention, and you remember how far away you have gone from God, a true Christian will repent. They will express sorrow. They will weep and mourn. Revivals will only happen when they decide to show their sadness for what they have done. You can't repent without sorrow. You won't change if you don't feel it.
Here, Jesus warns the Christian that He will remove the lampstand from its place if they don't repent. This shows us that revival is something that requires the congregation to make the change necessary.
As a church, we need to realize that we don't show the love of Jesus like we should. As a church, we need to express sorrow for not loving other people. As a church, we need to grieve for the lost people we have never tried to reach out. This church is called to be a light to the community.
Jesus is not saying that a Christian will lose their salvation. Instead, He is saying that as individuals, and as a church, we will lose influence in the community. As a church, we are called to shine the light of Jesus to others. My salvation is secure. My ability to help others see Jesus may be seriously damaged. Jesus will take my influence away.
F. B. Meyer told of a revival meeting that was dragging along without signs of success until one evening an elder arose and said, "Pastor, I don't believe there is going to be a revival as long as Brother Jones and I don't speak to each other." He went to Jones and said: "Brother Jones, we have not spoken for five years, let's bury the hatchet. Here's my hand." A sob broke from the audience.
Soon another elder arose and said: "Pastor, I've been saying mean things about you behind your back and nice things to your face. I want you to forgive me." Many arose and confessed their wrongs and God began to visit them. A revival swept over the community for three years.5
PRAYER: Let me ask God to help me as I turn to Him and express my sorrow for my sins.
P – Profess (repeat)
"…and do the works you did at first…" (Revelation 2:5, CSB)
A lady asked Billy Sunday: "Why do you keep having revivals when it doesn't last?" He asked her, "Why do you keep taking baths?" Vance Havner once said: "Revival is the church falling in love with Jesus all over again."6
Billy Graham once made the distinction between evangelism and revival. Evangelism, fine as it is, is not revival. After a signally successful meeting, Billy Graham was asked, "Is this revival?" Graham replied, "No. When revival comes, I expect to see two things which we have not seen yet. First, a new sense of the holiness of God on the part of Christians; and second, a new sense of the sinfulness of sin on the part of Christians."7
I am part of the prep for revival. I need to profess my allegiance to Jesus again. I need to affirm that I belong to Jesus. I need to "do the works" that I did at first. If I take the warning to express sorrow seriously, Jesus will not take my influence away. The joy of my salvation will return and I will show that to others.
A man once came to Gipsy Smith, the celebrated English evangelist of an earlier time, and asked him how to have revival. Asked Gipsy, "Do you have a place where you can pray?"
"Yes," was the reply.
"Tell you what to do, you go to that place, and take a piece of chalk along. Kneel down there, and with the chalk draw a complete circle all around you—and pray for God to send revival on everything inside of the circle. Stay there until He answers—and you will have revival."8
PRAYER: Let's pray that we may pray for God to send for revival, and let it start with me.
1 Galaxie Software, 10,000 Sermon Illustrations (Biblical Studies Press, 2002).
2 Robert J. Morgan, Nelson's Annual Preacher's Sourcebook, 2006 Edition. (Nashville, TN: Thomas Nelson Publishers, 2006), 71.
3 Craig Brian Larson, 750 Engaging Illustrations for Preachers, Teachers & Writers (Grand Rapids, MI: Baker Books, 2002), 436–437.
5 Paul Lee Tan, Encyclopedia of 7700 Illustrations: Signs of the Times (Garland, TX: Bible Communications, Inc., 1996), 1154.
6 Galaxie Software, 10,000 Sermon Illustrations (Biblical Studies Press, 2002).
7 Paul Lee Tan, Encyclopedia of 7700 Illustrations: Signs of the Times (Garland, TX: Bible Communications, Inc., 1996), 1152.
8 Michael P. Green, ed., Illustrations for Biblical Preaching: Over 1500 Sermon Illustrations Arranged by Topic and Indexed Exhaustively, Revised edition of: The expositor's illustration file. (Grand Rapids: Baker Book House, 1989).
Other Posts: