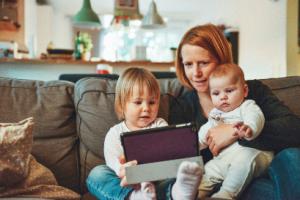 What a MOM Stands For
Luke 1:30-35
After dinner one Mother's Day a mother was washing the dishes when her teenage daughter walked into the kitchen. Horrified to see her mother at the sink, she exclaimed, "Oh, mother, you shouldn't have to do dishes on Mother's Day." The mother was touched by this seeming thoughtfulness and was about to take off her apron and give it to her daughter, when the daughter added, "They'll keep till tomorrow."1 As we celebrate Mother's Day, we take time to honor mothers on this special day.
According to a survey by Ladies Home Journal, 85 percent of women say that motherhood is the best thing that ever happened to them. What's the greatest part? Twenty-one percent say it's watching their kids grow. A category called "Everything" came in second (18 percent), followed by kids' "unconditional love" (14 percent). But 70 percent of all mothers consider motherhood incredibly stressful.
It was certainly stressful for Mary. As we shall see, Mary was the mother of no ordinary boy, but she was a mother still, with all of the concerns, hopes and dreams of any mother for her children. She had found favor with God, was a recipient of His grace, and therefore could say:
"and my spirit rejoices in God my Savior," (Luke 1:47, CSB)
Yet at times a sword pierced her soul. The calling of motherhood is not an easy one, but Mary demonstrated how to be an effective parent, living a life in God's favor and grace. From three scenes in her life we can see three attributes every godly mother needs.
THREE ATTRIBUTES EVERY GODLY MOTHER NEEDS
1. Models
A godly mother is a model to follow. The first scene comes from the time when the angel to mention the birth of her Son Jesus. This scene reveals the divine dialogue of God's plan for this young "mother-to-be."
"Then the angel told her: "Do not be afraid, Mary, for you have found favor with God. Now listen: You will conceive and give birth to a son, and you will name him Jesus. He will be great and will be called the Son of the Most High, and the Lord God will give him the throne of his father David. He will reign over the house of Jacob forever, and his kingdom will have no end."" (Luke 1:30–33, CSB)
This must have been a stressful shock to Mary. She wanted to know more about this, so she asked:
"Mary asked the angel, "How can this be, since I have not had sexual relations with a man?" The angel replied to her: "The Holy Spirit will come upon you, and the power of the Most High will overshadow you. Therefore, the holy one to be born will be called the Son of God." (Luke 1:34–35, CSB)
At first it must have been hard for Mary to understand God's plan for her life, as this angel described it, but Mary was faithful. Though she struggled to understand, she depended on God moment by moment. This is exactly what God wants mothers to do today.
Moms are still the significant caregivers. They have an awesome responsibility to nurture these gifts from God we call kids. Martin Luther makes an interesting observation about Mary and how she modeled parenting in the home:
Quite possibly Mary was doing the housework when the Angel Gabriel came to her. Angels prefer to come to people as they are fulfilling their calling and discharging their office. The angel appeared to the shepherds as they were watching their flocks, to Gideon as he was threshing the grain, to Samson's mother as she sat in the field.2 3
Although overwhelming at times, parenthood was never meant by God to be undertaken alone. He is our strong ally.
Ruth Bell Graham, wife to the evangelist Billy Graham, once said, "As a mother, my job is to take care of the possible and trust God with the impossible." Godly mothers are models who trust and who can be trusted.
2. Optimists
A godly mother hangs on to an optimistic attitude. In John 2:1–11, a wonderful scene unfolds between a mother and a son.
"When the wine ran out, Jesus's mother told him, "They don't have any wine." "What does that have to do with you and me, woman?" Jesus asked. "My hour has not yet come." "Do whatever he tells you," his mother told the servants." (John 2:3–5, CSB)
Moms believe their kids can do anything. How true this was of Mary's son, Jesus! The wine had run out at the wedding feast. Mary apparently had some responsibility at the wedding, so she asked her firstborn for help. She didn't know what Jesus would do, but she knew he would do the right thing, and she told the servants to follow His directions. She believed in Him, and this is an attribute children desperately need from their parents today.
Psychologist Martin Seligman of the University of Pennsylvania has demonstrated that children's attitudes are more shaped by their mothers than by those of anyone else. "The mother's level of optimism and the child's level were very similar," he wrote in his book Learned Optimism. "This was true of both sons and daughters…. If a child has an optimistic mother, this is great, but it can be a disaster for the child if the child has a pessimistic mother."
3. Mainstays
A godly mother is the mainstay of the family. In John 19:25–27 and Acts 1:12–14, Mary demonstrates one outstanding attribute—she was a mainstay of the faith. A mainstay is the supporting line extending from the mainmast of a ship. It is the chief support of the mast and crucial to the ship's ability to set sail. This is a beautiful description of Mary. She was a mainstay of faith for her son, His followers and the early church. This is also a beautiful picture of all godly mothers. Every mother is a mainstay of the family, they are the chief supporter and cheerleader for the family.
"Standing by the cross of Jesus were his mother, his mother's sister, Mary the wife of Clopas, and Mary Magdalene. When Jesus saw his mother and the disciple he loved standing there, he said to his mother, "Woman, here is your son." Then he said to the disciple, "Here is your mother." And from that hour the disciple took her into his home." (John 19:25–27, CSB)
Mary stood at the foot of the cross while her Son suffered and died. Jesus took time to recognize the chief role she played in His own life. As children get older, they have the responsibility to take care of their parents. Here, Jesus takes the effort, while He is dying on the cross, to make sure His mother is taken care of. The reason He does this is because He knows that His mother is the mainstay of the family.
"Then they returned to Jerusalem from the Mount of Olives, which is near Jerusalem—a Sabbath day's journey away. When they arrived, they went to the room upstairs where they were staying: Peter, John, James, Andrew, Philip, Thomas, Bartholomew, Matthew, James the son of Alphaeus, Simon the Zealot, and Judas the son of James. They all were continually united in prayer, along with the women, including Mary the mother of Jesus, and his brothers." (Acts 1:12–14, CSB)
At the foot of the cross when the world had turned its back on Jesus and in the Upper Room when the world thought Jesus was dead, Mary was firm in her reliance on God. Mothers are the ones in the family who show the strong faith in God for others. Their faith in God makes mothers a source of continual strength for their children.
The greatest and most unselfish substance in the world is the love of a mother for her child. Mary was a model to follow, an optimist at all times, and a mainstay of faith. Mary was a Godly MOM, and every mother who partners with God can be a light of inspiration to her children as well.4
1 Robert J. Morgan, Nelson's Annual Preacher's Sourcebook, 2002 Edition. (Nashville: Thomas Nelson Publishers, 2001), 134.
2 Martin Luther's Christmas Book, ed. Roland Bainton (Minneapolis: Augsburg, 1997), 13.
3 R. T. France, Luke, ed. Mark L. Strauss and John H. Walton, Teach the Text Commentary Series (Grand Rapids, MI: Baker Books, 2013), 18–19.
4 Robert J. Morgan, Nelson's Annual Preacher's Sourcebook, 2002 Edition. (Nashville: Thomas Nelson Publishers, 2001), 129–131.
Other Posts: