Why is it; that when we speak to God we are said to be praying but when God speaks to us we are said to be schizophrenic?" – comedian Lily Tomlin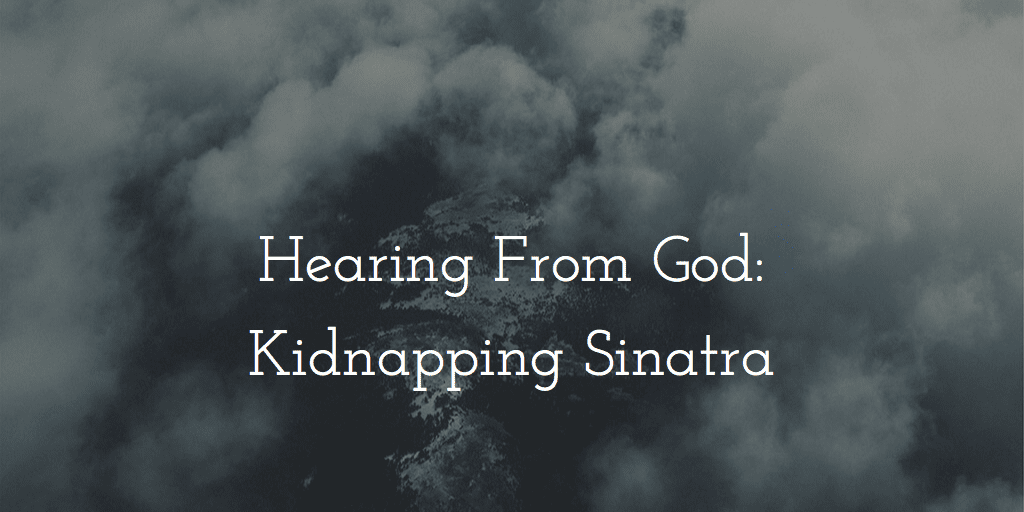 This is a true story.
At 22 years old, Barry Keenan was the youngest Los Angeles stock exchange investor making tens of thousands of dollars a month back in the 60's, but he got hooked on pain killers and alcohol and lost everything. His world was unraveling quickly and he knew that he had to do something drastic. He drew up a business plan, choosing the best stocks for investment, but he needed to raise some capital.
So he decided to kidnap Frank Sinatra Jr.
As a dedicated Christian, Keenan never really thought of it as kidnapping, he thought of it as more of a "borrowing" He was only wanting to get ransom money, and because he was a devout but admittedly unorthodox Catholic, he was planning on paying all the money back within 5 years.
He had a detailed 3-ring binder describing how his plan was going to improve both his life and the Sinatra's. It would bring the father and his estranged son closer together, It would help Sinatra's PR problems (everyone saw the famous singer as being closely associated with the Mafia), and it would get Keenan the money he needed.
You know, your classic win-win scenario.
Comedy of Errors
Unfortunately, the kidnapping worked, but their exit strategy didn't. They forgot their gun, Keenan's partner accidentally knocked himself out during the kidnapping by running into a tree branch, when they reached Frank Sinatra Sr. and told him they had his son, Sinatra offered them a million dollar ransom, and Barry Keenan tried talking him down to $240,000 because that was all he needed for his business plan to work.
When he called Frank Sinatra Sr., Keenan told him that if he wanted his son back he needed to go to a gas station in Carson City (30 min away) to get further instructions. Unfortunately it took Sinatra and the FBI longer to get there than 30 minutes. Keenan called the gas stations at the agreed time, and asked the mechanic if Frank Sinatra was there. The mechanic was sure that this was a joke, and so he hung up.
A few minutes later, Keenan called again, same response. Then he called again, and finally the bartender yelled, "It's 3 in the afternoon, why in the world would the most famous entertainer in the world be at the Texaco station?!! Now stop calling!"
A few minutes later, Frank Sinatra and a swarm of federal agents bust into the bar saying to the mechanic, "I'm Frank Sinatra, has anyone called for me?!!"
After receiving the ransom, the FBI captured Keenan and his partner, he was sentenced to life in prison, and a few years later was declared legally insane at the time. And then forty years later he told the story on This American Glass with Ira Glass. Here's why he said he did it:
Keenan: I had God's approval, this thing was being divinely blessed. God talked to me, particularly when I would go to Church, and light a candle, and be silent. God would talk to me, and He was very definite on that nobody could be hurt, and that I had to pay the money back"

Ira Glass: As you've gotten older and wiser, and sobered up, does God still talk to you?

Keenan: Oh no, that went away when I got sober, and also when I got psychiatric help.
This is a Test
I'd like to start a blog series for the next few weeks on Hearing God. As a minister, this is a question I get more than almost any other, in a variety of ways. Most often it comes out like, "What is God's Will for my life?"
I wanted to tell that Sinatra story up front to maybe to pump the brakes on those of us who don't have a lot of discernment in our lives helping to pick out which voices in our head are coming from God.
Because God never, ever, wants you to kidnap Frank Sinatra's son, but don't think that means God is silent.
It's worth noting that up until recently, one of the litmus tests for whether someone was to be considered sane or not was the question, "Do you hear from God?" This was a standardized test, that medical psychiatric professionals used right alongside, "Do you enjoy setting things on fire?" and "Are you cohabiting your own body?"
I'm and aware of the legitimate challenges for people who are mentally handicapped and all for modern psychological help, but this is a test that some of history's greatest people would've failed. From Mother Theresa to Moses to Augustine including the much more average examples like the Christians I grew up with, the God of the Bible is a God who promised to keep talking to us.
On the night before he was crucified, Jesus promised his small band of followers that, while He was going away, He would still, in some mysterious way be present to them.
One of the twelve disciples, was a guy named "Judas who was also known as Thaddeus" (I think for the rest of his life he introduced himself with "just call me Thad") asked Jesus how he was going to be both gone and present with them. And Jesus told them "The Father and I will come to you and make our home with you."
Jesus goes on to say that not only will He be present, but that through his mysterious presence He will teach us and give us peace in proportion to our ability to bear and obey it.
If you're reading this and part of you is cringing, trust me, I get it. I've seen the abuses, I know the dangers, I read the newspapers and watch the same documentaries we all do, but I still believe God still speaks, and I even believe that, despite all the risks, it's good for us to be aware of Him speaking.
In the Beginning, God speaks into the original chaos and His word creates good things, it brings order, and life and beauty to the void.
I believe it still does.