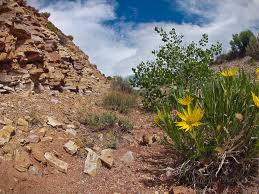 In the desert south of Tucson, Arizona, just north of the U.S.-Mexico border, paved roads turn into dirt paths that wind through dried up river beds called "washes." When I was traveling those borderlands several years ago with a group of Christian peacemakers, our guide assured us that crossing the washes would be a little bumpy, but no problem. The rivulets that wound their way over that dry ground were no challenge to our four-wheel drive vehicle.
But then it started raining.
When it rains in the desert, it pours. In a matter of minutes that late summer evening, I watched tiny rivulets rise into streams that merged into one mighty river. Parched land that had been cracked before was overcome by rushing waters. In a moment, the whole landscape changed. Those of us who had witnessed it stood in awe—then quickly ran for higher ground.
Last week, I shared about the awakening of hope that I see saving Christianity in America, even as the reports continue to come in about the demise of Christendom. Diana Butler Bass, whom I engaged in that piece, likens the conventional liberal/conservative division in American Christianity to two thin streams that "wind alongside each other between the boulders and pebbles of a great river bed, following separate ways." Since 1945, Bass contends in her People's History of Christianity, the river has been rising. In the latter half of the 20th century, as the vestiges of Christendom slipped away, many Christians found themselves caught up in a current that defies conventional wisdom.
Just as I did that evening in the desert several years ago, I stand in awe of what's happening on America's religious landscape. We live in a fascinating time when there are thousands of stories to tell about how people are crossing traditional borders and forming new movements that join a deeply personal faith with action for social change. Yet, at the same time, the main religion story last week was a fight among Christians about whether we should eat chicken sandwiches. We are living, it seems, in the best of times, even as we endure the worst of times.
The "issue" before us, of course, is not chicken sandwiches but homosexuality–or, more specifically, how faith shapes Christians' relationships with neighbors who are GLBT, whether they share our faith or not. This is, notably, the most recent in a long series of issues that have fueled the Culture Wars since Roe v. Wade. For many who fear a future without cultural power, this has become a hill to die on. Those who are willing to die (and, I fear, kill) will always make the news. "If it bleeds, it leads," they say in journalism.
But we have better stories to tell.
I have a friend who almost gave up not only on Christianity, but on life. On precisely the "issue" at the heart of the Chick-fil-A Wars, my friend reached a dead end in the conventional streams of fragmented modern Christianity. Because he was raised by conservative missionaries in Africa, my friend knew something was wrong when he felt himself attracted to other boys. As an undergraduate at an evangelical school, he went through programs and asked for prayer to be delivered from his homosexuality. But nothing worked. He was gay, and he knew that meant he was not welcome in the church that raised him.
Like so many people who are marginalized by the church, my friend found a sense of belonging with others who were like him. He left the church behind and set out to make a life for himself in the gay community. This was comforting for a while. He met gay Christians who were members of affirming churches. But my friend says he couldn't find anyone who was able to explain to him why his life still felt meaningless. Even when he got what he wanted, something was still missing. With no other options on the horizon, my friend despaired. Outside a bar in the middle of the night, he lay down on a sidewalk and hoped to die.
But he didn't. Almost by accident, he stumbled into a little Christian community where he met people whose faith seemed different. They were trying to live their whole lives by the Sermon on the Mount. They served alongside the poor and tried to love one another. They worshiped God with enthusiasm, but their worship wasn't just a service on Sunday morning. It was their life together, day in and day out.
Maybe this was the answer, my friend thought to himself. Maybe this kind of life together, living the way Jesus taught, was what he was made for. He was experiencing a personal awakening of hope, but he was cautious: what would they think about his homosexuality? Asking for a private meeting, he put the question to a leader in the community. The response: "I don't know what all that will mean for our journey together. But I will say this: you are a gift, and we want to welcome you as one."
Twenty years later, my friend is a leader in that same little community. He says God and the people there have saved his life. Of course, his is only one life in the context of one small community. His story does not present an "answer" to the debate that will no doubt continue in these confusing times. But his life and the community that surrounds it is a sign of hope, pointing us toward a new kind of Christianity for our time. While so many of us were trying to figure out the right position on an issue, a community of imperfect people had the grace to welcome another imperfect brother as a gift. In doing so, they not only saved his life. They saved their own, becoming a people that shines with the life that is really life.
After a wash floods, they tell me, its banks will often explode with the blooms of flowers. Their vivid colors remain as a reminder that, however dry it may seem, the rain will come again.
Jonathan's new book, The Awakening of Hope, releases this month. You can join the conversation about it at the Patheos Book Club.