Buddha's Brain
The Practical Neuroscience of Happiness, Love, and Wisdom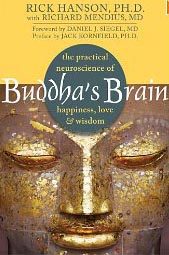 by Rick Hanson
Copyright: 2009
Publisher: New Harbinger Publications
Summary:
Jesus, Moses, the Buddha, and other great teachers were born with brains built essentially like anyone else's. Then they used their minds to change their brains in ways that changed history.With the new breakthroughs in neuroscience, combined with the insights from thousands of years of contemplative practice, you, too, can shape your own brain for greater happiness, love, and wisdom.Buddha's Brain joins the forces of modern science with ancient teachings to show readers how to have greater emotional balance in turbulent times, as well as healthier relationships, more effective actions, and a deeper religious or spiritual practice.
Well-referenced and grounded in science, the book is full of practical tools and skills readers can use in daily life to tap the unused potential of the brain and rewire it over time for greater peace and well-being.If you can change your brain, you can change your life.
Just One Thing
Developing a Buddha Brain One Simple Practice at a Time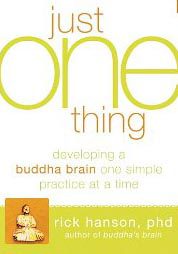 by Rick Hanson
Copyright: 2011
Publisher: New Harbinger Publisher
Summary:
You've heard the expression, "It's the little things that count." Research has shown that little daily practices can change the way your brain works, too. This book offers simple brain-training practices you can do every day to protect against stress, lift your mood, and find greater emotional resilience. Just One Thing is a treasure chest of over fifty practices created specifically to deepen your sense of well-being and unconditional happiness.
Just one practice each day can help you:
Be good to yourself
Enjoy life as it is
Build on your strengths
Be more effective at home and work
Make peace with your emotions