I have a tan bag that I take to the coffee shop when I write, slung over my shoulder, full of books and a giant laptop.
Travis got it at an Evangelicals for Peace conference at Georgetown a few years ago, and he brought it home to me.
On the front is printed:
Look Deeply.

Act Justly.

Love Radically.
A few weeks ago, a big hole appeared in the bottom of it. My pens would fall out as I walked outside, my earbuds slipped through when I got up to leave my table.
It was time.
Today I slipped my things out of that bag and retired it to the closet, with an odd mourning burning in my chest.
And today my last words fill this big, black journal, and I mourn again.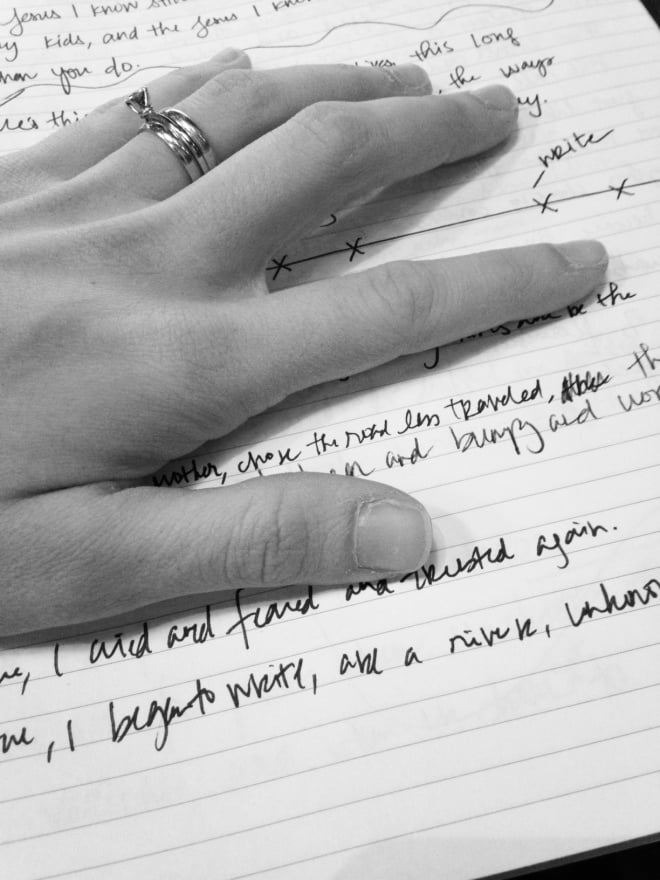 These are little things, little helps that guide me along to myself and to God.
These are little things that bring me to the Kingdom, that give me something holy.
On Sunday at church, I looked at the faces of the people whose legs brought them up the aisle, close friends and barely acquaintances who were coming for their Kingdom sustenance, to take hold of the promise of Jesus for themselves.
I looked and saw the little things, every conversation we could have with one another– every tear, every whoop and holler.
I kissed my boys on the head and reminded them that I love them.
I drove in the rain and noticed shimmering ground.
Don't you see, friends?
All things can be holy, all things can point to the Kingdom.
The question is what to do with the broken.
Sarah Bessey laments what's taken place in Nigeria, lamenting as the media and world majority grieve for what's taken place in France.
While we see the little, the holy things, we look out and about, and we also remember the broken masses of people and plans, too, all things gone wrong.
But the hope is this: what holy and broken have in common is Kingdom.
And I light my candle with Sarah, and it burns through me and asks me to talk to God, to beg Him for His presence and His glory right in our darknesses.
And I look at the gray bag that sits beside me, that is my new companion for writing time, that carries the big laptop and all the thoughts that pour out of me within this two hour span of time.
But what's printed on that tan bag will be burned into me, too.
I've got to look deeply for the Kingdom.
I've got to act justly because of the Kingdom.
And I'm begging the Kingdom to come, to teach me how to love radically, in all things—
Broken, holy, Kingdom come.