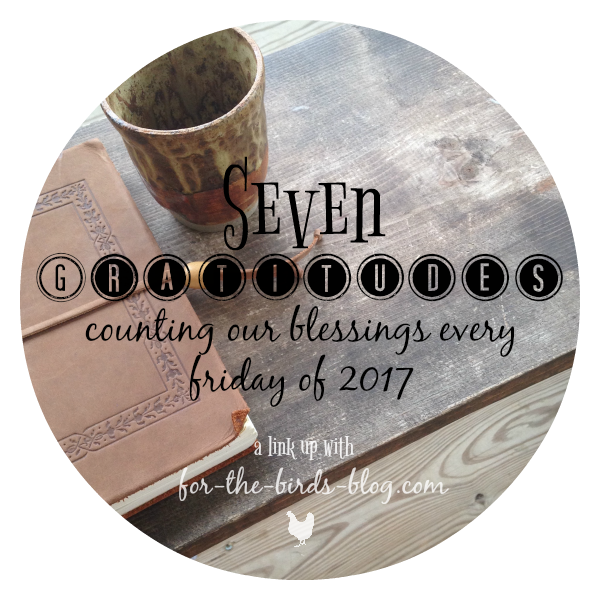 My upcoming book is about finding glory in every season of life. One of those seasons for me was a particularly difficult one, when I was abandoned by a family member. You can read about it when my book comes out this fall, and if you read that story you'll hear that thin place, where I was lonely and afraid, but I was held by the grace of God and the people who loved me.
As we search for glory in our every day lives, we search for gratefulness, too. It is hidden sometimes, and we have to dig to get there. It is difficult to place it, to name it, and yet we try, because we need it to survive.
This week, I'm grateful for seven things, seven things that keep me tethered to the good, to the holy, to the sacred, even in the midst of a mad world.
But before we get to my gratefulness, watch this video of my favorite lullaby to help you get in the mood:
I'm grateful to be indigenous. Today is the Natives March on Washington, and I am with my brothers and sisters in spirit. I pray that their peaceful voices rise, high across the tallest buildings of Washington. Peace cannot be ignored, and I'm so grateful for that.
I'm grateful for the endorsements I've received for my book this week and a more official release date in October. Endorsements include this one from Brian McLaren:"Kaitlin writes with a gentle voice that leads us on a journey. In this book, she walks with us into the heart of glory, asking what it means to find sacred spaces in everything. Her young, indigenous voice brings a fresh perspective of lyrical prayer and storytelling to the world. If you love the wisdom and poetry of Kathleen Norris, Barbara Brown Taylor, Annie Dillard, Mary Oliver, and Richard Rohr, you'll love Kaitlin Curtice."

I'm grateful for that moment, lying on the couch with my five year old, when I told him stories about my childhood, stories even I'd forgotten. Now I'm trying to trace my memories back, to recall more moments that I can relay to him about the beautiful childhood I had with my siblings, so we can laugh and remember together. Those moments are sacred, indeed.
I'm grateful for a husband that gardens and knows his days are meant for holy things. He bought pansies for our yard and fashioned them in a pattern around our bird feeder because our five year old thinks in patterns. It is a difficult and hard-working season to pass through to get a PhD, but he persists. He works and he plays and he asks questions of himself along the way. He loves us and shows it and I'm grateful I get to be his partner, to watch him grow, even when it feels long and slow.
I'm grateful for the whispered prayer of "Thy will be done." It may be subconscious that I tilt my voice a little heavenward when I do something that I am unsure about, when I'm looking for an answer to a question or starting a new leg of the journey. Thy will be done invites me into adventure, but tethers me to the sacred love of God inside that journey, and I'm eternally grateful for it.
I'm grateful to be a woman this week. As we celebrated International Women's Day, I also celebrated my Grandmother's birthday, a woman who doesn't journey with her body on this earth anymore but speaks to me every day with her spirit. I carry her with me, as does my mother every day that she learns about her own roots. Women– we are never alone, and our bonds are not easily broken.
I'm grateful for #letterstotrump Tuesday at a local coffee shop where I sit with my boys to write a weekly letter to President Trump, and I'm grateful that whether or not he ever answers or reads those letters, they work something out in me, a slow and steady crawl toward dealing graciously with someone I don't agree with. I'm grateful that shalom covers us and restores what is broken, and that the work of our hands is sacred when we use it for good. You can read more about my letters and the work of my hands as resistance at Sojourners. Grateful they are willing to publish the things I write every now and then.
And of course, I'm grateful for the group of women who pour out their seven gratitudes weekly, including my dear friend Leanna, who began this link-up in the first place. If you haven't checked out her blog yet, I encourage you to!