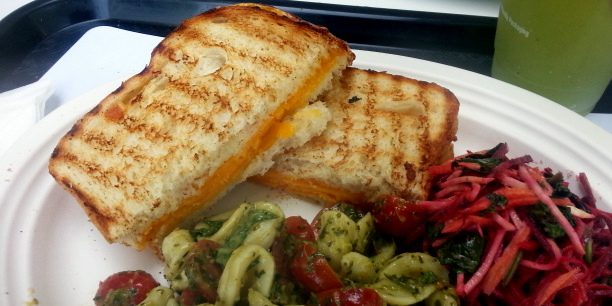 I can't help you with your fasts — being hungry is the point, so you're on your own there — but I sure can help with abstinence during Lent.
As a closed door leads to an open window, the (temporary, for me) absence of meat (mmmmm … meat) means the presence of other things. And one of those things is the grilled-cheese sandwich (or GCS, for short). Of course, you can have it with meat — and I heartily endorse that notion, except on Fridays — but it's just as good without, even if you don't want to be creative.
See above: a simple GCS for yesterday's lunch from Lemonade in Los Angeles, with slices of cheddar on cheese bread. Outstanding. Or today's Ash Wednesday big meal from Westside Tavern in L.A. — three cheeses on Texas toast, with tomato bisque. Perfection.
To me, the GCS is one irrefutable proof of the existence of a merciful God. As one who doesn't like almost all fish, having a GCS available shows that even in the midst of deprivation, He still loves me.
And, under GCS, I absolutely include the tuna melt, provided it has plenty of cheese (I put it on seedy multigrain bread, but your results may vary).
I went to the Internet, including food-related TV sites, and also consulted some of my social-media pals, to compile 10 mouth-watering GCS recipes. Here's what I found, divided into vegetarian and meat-lovers' categories, paired with a variety of soups (because, for reasons known only to God, not everybody loves tomato soup).
Prepare to become hungry! First up, no meat, good for any day in Lent, and in fact, for any day at all …
* French Onion Grilled Cheese, from Food Network's Jeff Mauro, which starts with carmelized onions and ends with melty goodness. Ditch imagination, and just go with French Onion Soup, from Tyler Florence, also of Food Network.
* Grilled Cheese Squares, from an actual Lenten recipe site. Begin with packaged crescent rolls, add cheese of choice (with crescent rolls, I might try a softer cheese, like Havarti). Lots of buttery yum here, so how about gazpacho? Food's Alton Brown has a good one.
* Homemade American Cheese Sandwich, from America's Test Kitchen, in which you sorta make your own cheese, starting with Colby. You gotta pair this with homemade tomato soup, like this one from Food's Michael Chiarello.
* Fajita Grilled Cheese from Eclectic Recipes, with peppers, salsa jack and a crusty baguette. How about Mexican corn soup with that (from Cooking Channel's Ingrid Hoffmann)?
* Crispy Zucchini Grilled Cheese with Dijon Horseradish Aioli, from those crazy kids at HowSweetItIs.com. The pictures themselves might be cause for penance. This one's got to go with something fresh, so let's try Light and Creamy Zucchini Soup, from AllRecipes.com.
Now for the meat:
* Rachael Ray's Ultimate Ham and Cheese Sandwich, an egg-dipped confection that's nearly a Monte Cristo, from the famed TV chef and talk-show host (who's got a house in my dad's Adirondack hometown). Oh, yeah, and there's some raspberry jam in there, so let's go for a fruity soup, like this one from Ray.
* Cuban sandwiches, from businessman, translator (and my partner in crime in correcting wobbly Vatican translations), foodie and Catholic blogger Joe Garcia (with step-by-step pictures). On the side, a bowl of Cuban Ajiaco, from Tony A. Piedra (as featured on Food's "FoodNation With Bobby Flay").
* Apple, Bacon and Cheddar Grilled-Cheese Sandwich With Carmelized Onions, from the Project Domestication blog (honey, you had me at bacon). And back to Cooking's Michael Chiarello for Butternut Squash and Apple Soup.
* Hawaiian Grilled Cheese, from House of Yumm, with, yum, pineapple. Let's keep the aloha going with Pineapple, Lime and Ginger Soup, from AllRecipes.com.
* And for perhaps the ultimate meaty grilled cheese, Steak & Potato Barbecued Grilled Cheese, from the BS' in the Kitchen blog. Pretty sure I couldn't manage this one, but if I did, I'd just serve it with chips from the town of their origin (and my old 'hood), Saratoga Springs, New York. Or, you can make your own, and here's a recipe for that from supper-club founder Julia Ziegler-Haynes.
And for dessert? The choices are limitless — and after all this cheese, there's nothing wrong with fresh berries with a dollop of whipped cream or a sprinkle of confectioner's sugar — but I am a Gordon Ramsay fan, so how about this?