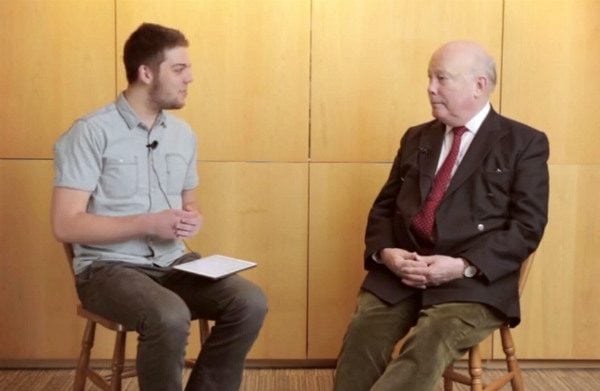 In this charming new interview with British student Oscar Pearson — half, with Philip Chidell, of ChatLife and ChatPolitics — "Downton Abbey" creator Julian Fellowes talks about a number of subjects, from writing to "Downton" to theater (he's not a fan) to conservative politics (he's in the House of Lords).
Fellowes is a Catholic — though perhaps not a perfectly orthodox one, as I outlined previously over at CatholicVote (and he says in this interview he voted for same-sex "marriage") — but that doesn't actually come up, more's the pity.
But, Pearson does ask him about the relative accuracy of historical dramas. Of particular interest to Catholics is the six-hour "Wolf Hall," premiering April 5 — Easter Sunday — on PBS' "Masterpiece Classic."
Adapted from two novels by British author Hilary Mantel, "Wolf Hall" and "Bringing Up the Bodies," it stars Mark Rylance as Thomas Cromwell, a blacksmith's son who raised to become the right-hand man of Henry VIII (Damian Lewis).
Cromwell also presided over the seizure, looting and sometimes destruction of Britain's Catholic monasteries, the wealth of which wound up in Henry's pockets. For this, he was well-rewarded, first with the Order of the Garter and later with a title.
I haven't yet seen advance screeners of "Wolf Hall," but former Catholic Mantel told the U.K. Telegraph in 2012, "I'm one of nature's Protestants. I should never have been brought up a Catholic. I think that nowadays the Catholic Church is not an institution for respectable people."
She's also been called on a number of historical inaccuracies in "Wolf Hall" — the least of which is probably that she insisted on straight, white teeth and clean clothes for Henry's courtiers — but when Fellowes was asked about her, he paused for a very long time, and then said:
I don't really want to answer that, because I don't want to be critical of Hilary Mantel.
I hope he was sticking up for the Catholic cause there, but who knows? Here's the whole thing:
Image: ChatLife Screenshot (YouTube)