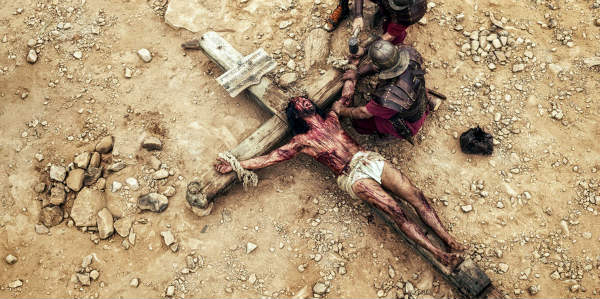 In part one of this interview — click here for that — conducted in a quiet corner of a party at a press event in January in Pasadena, California, Argentinean actor Juan Pablo Di Pace discussed the inner process of playing Jesus in the 12-episode series "A.D.: The Bible Continues" (premiering Easter Sunday, April 5 on NBC at 9 p.m. ET/PT), and the role his mother played in that … including attending the shooting of the Crucifixion.
Here, Di Pace discusses the scene itself, which he said was the most difficult part.
"It's something that you can never prepare for, and you can never expect to do. I certainly never dreamed that I would even be close to playing this part, let alone do a Crucifixion. You have to dive headfirst, because it's what it is, and it takes a lot out of you.
"Emotionally, it's very hard. It's very tough, because you're faced with being nailed to a piece of wood and hanging from it. I did research on what people felt during a Crucifixion, from a medical point of view. They would suffocate. They would get this really quick breathing … they would breathe like a bird.
"Obviously, historically, the nail wasn't here" — he points to his palm — "it was in the bones in the wrist. You have to navigate around which pain was better. It tightened myself up a little bit, 'Is this better than this?' It all hurts so much, that  it was actually eventually sweat and blood.
"You're nailed to the Cross, and everything hurts. What's going through your mind at this point is this is a horrible way to die."
As to what you'll see in the first episode, Di Pace said, "What's beautiful about it, is it's told from the point of view of those people there, their doubts, their questions, like, 'Should we follow Him? Should we not? Should we run away? What do we do.'
"He is being crucified, and Peter is like, 'I don't want to go there, because they are going to crucify me.' You actually get the real idea of what those people were thinking and feeling at the time. That's what's different about 'A.D.'"
There were times on set in Morocco that Di Pace found himself as a man set apart.
"You realize," he said, "that as much as you want to socialize with the people on the set, or you want to, after a day shooting, joke around or whatever. Somehow, with playing Jesus, this doesn't happen. You actually need to decompress and be on your own and prepare on your own. It never happened to me before. It certainly has been a new thing for me. I actually needed to be on my own when I went to the desert.
"I would wake up, and I would sit for 15 minutes quietly, envision the day and just ask myself, I want to do this justice. In a way, it was allowing myself to be a channel. It's something my mother said to me before I started shooting. She said, 'Promise me one thing. Before every day, ask Him to work through you.'"
Image: Courtesy LightWorkers Media/NBC