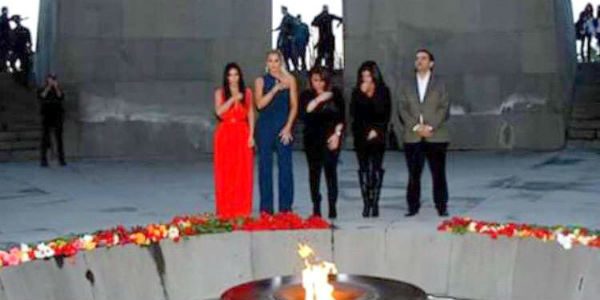 As recounted at her Twitter account, Kim Kardashian (who often adds in her married name, West), her sister Khloe, daughter North and husband Kanye West visited her ancestral homeland of Armenia, where she marked the 100th anniversary of the Armenian genocide and met with Prime Minister Hovik Abrahamyan.
In an essay for TIME Magazine, she wrote:
My great-great-grandparents came from Armenia to Los Angeles in 1914, right before the genocide happened. We have no existing family left in Armenia. Had they not escaped, we wouldn't be here. There are so many people who lost their families, and the stories of how they were killed are so heartbreaking—they should never be forgotten. The whole point of remembering the genocide is to make sure it doesn't happen again. A million-and-a-half people were brutally massacred, and a country can just pretend like it never happened? I don't think that's right.
After the visit, Kardashian and West headed to Jerusalem to have their daughter, North, baptized into the Armenian Apostolic Church, at the 12th-century St. James Cathedral within the walls of the Old City.
The U.K. Daily Mail has a remarkable and extensive photo catalog of the event, during which the normally exhibitionist Kardashian wore a modest long dress and a veil.
It's hard not to be cynical about both these things — we are talking about Kardashians after all (not to mention the exploitative and pathetic "transgender" spectacle going on today between Kardashian's former stepfather Bruce Jenner and Diane Sawyer).
But, one of the best uses of celebrity is to shine a spotlight on things that are more important, like President Obama's continued refusal to use the word "genocide" to refer to the slaughter of Armenian Christians by Ottoman Turks in Constantinople, traditionally dated as beginning on April 24, 1915.
Turkey has been consistent in vigorously denying that there was a genocide.
From a BBC report:
Turkey accepts that atrocities were committed but argues there was no systematic attempt to destroy the Christian Armenian people. It says many innocent Muslim Turks also died in the turmoil of war.

A memorial service was held in Turkey on Friday and its prime minister, Ahmet Davutoglu, said the country would "share the pain" of Armenians. But he reiterated Turkey's stance that the killings were not genocide.
In her essay, Kardashian wrote:
I would like President Obama to use the word "genocide." It's very disappointing he hasn't used it as President. We thought it was going to happen this year. I feel like we're close—but we're definitely moving in the right direction.
Also, looking at the photos of the baptism, it's difficult to think the the beauty and solemnity of the ceremony, held in such an historic and sacred space, didn't have some sort of effect on the celebrity couple.
The family also visited the Church of the Holy Sepulchre, sitting next to the marble slab there which is believed to mark the location of Christ's Crucifixion and tomb.
On Instagram, Kardashian wrote:
Good morning Jerusalem! We woke up really early to see the site where the crucifixion of Jesus Christ took place.
The Holy Spirit can work on even the worldliest of people, so let's hope this marks a new beginning for Kardashian and West, whose public personas have a large impact on many fans.
Image: Kim and Khloe Kardashian, and cousins, visit the genocide memorial in the Armenian capital of Yerevan, from Instagram/Twitter