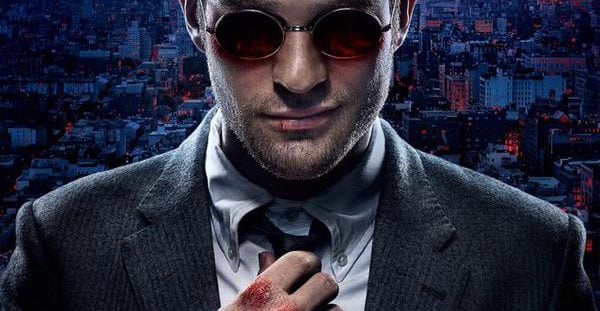 In the course of a week, I powered through all 13 episodes of the Netflix Original series "Marvel's Daredevil," based on the Marvel Comics character.
I seriously enjoyed it, but I do have a few bones to pick about the Catholic content. But first, some background.
After seeing the five hours made available for press preview, I wrote a post called "How Catholic IS 'Marvel's Daredevil' on Netflix?"
At that point, the answer was, " only slightly more overtly Catholic than anything else on TV."
After seeing all 13, I can report that things changed.
If you haven't seen it at all yet — all the episodes are available here — it centers on New York City lawyer Matt Murdock, blinded by radioactive waste as a child, who uses his heightened senses and his martial-arts skills to battle non-super bad guys in his beloved Hell's Kitchen neighborhood (which, in reality, has been transformed into trendy Chelsea).
Raised by his boxer father and then consigned to a Catholic orphanage after his father's early death, Murdock isn't exactly a practicing Catholic, but he's definitely a believer.
In that way, he's rather like the actor who plays him, Brit Charlie Cox. Here's a quote from Cox in The Hollywood Reporter:
I grew up Catholic, and when you've grown up and these belief systems have been presented to you at a young, impressionable age, I don't know that you can shake them. Even if your rational mind tells you something else, sometimes they're so deeply ingrained that they are with you for the rest of your life. Maybe that's not true for everyone. Matt's faith is quite strong and he has come to rely on it — although at times it puts him in a difficult position because of who he is and what he does and what he's capable of. Part of his journey as a Catholic is to find harmony around his religion and faith, as well as who he is as Daredevil. It's a wonderful dichotomy for an actor to play because it produces so much conflict and inner turmoil.
Cox also played Josemaria Escriva, the 20th Century Spanish saint and founder of Opus Dei, in a 2011 movie called "There Be Dragons," directed by Roland Joffe. That required him to go on a retreat with the movie's on-set consultant, Father John Wauck, an Opus Dei priest
CatholicDigest.com posted a terrific interview with Cox at the time, and you should read the whole thing, but here's a taste:
I looked forward to spending that time listening to the priest talk about Jesus, or about his life, or read from the Bible, and I enjoyed that time of sitting down and turning your phone off for an hour, which we never do. I've always loved being in churches. I find them extraordinary. And so I remember saying to Father John, I felt like part of this job was kind of a gift, you know, in many ways, and I wanted to approach it with as open a mind as possible and re-establish some sort of faith that I hadn't perhaps lost but wasn't really doing anything about.

Having a relationship with God wasn't something that I really could relate to, I don't think. I told people I believe (in God) because I grew up (that way) and I had taken my Holy Communion and been Confirmed, but again, you do it at a relatively young age, often you don't really know what you're doing.
To a Website called hosokinema.com, Cox said:
I was raised Catholic, and I spent the best part of my school years trying to find ways and means of getting out of going to services, as all of us did. I've had kind of a funny journey since then. I've always been curious. I have a lot of friends who kind of finished school and then never went to church ever again, and that wasn't quite my experience. I always kind of went back.
Getting back to "Daredevil," Murdock's priest, Father Lantom, appears in the pilot, but really starts popping up in episode nine, in which he and Murdock have a heart-t0-heart about the devil (Lantom's views on the subject are, shall we say, idiosyncratic).
Murdock doesn't carry a gun or want to kill anyone, but he's not averse to using his fists and feet and, even torturing the the living beejebus out of his foes to get what he wants. He's conflicted about it, and that's why he keeps going back to his priest. Murdock doesn't exactly ask for absolution (except, in the pilot, in advance, only to be told that's not how it works), which is good, because he doesn't seem inclined to stop what he's doing.
Said Cox to Variety:
It's one of my favorite things. It's another aspect of the Daredevil comics that makes him unique. It's like a goldmine for an actor that you get to play with this Catholic guilt. As an actor I get to go out and beat the crap out of people and have all the fun that that entails from an acting point of view, and then I get to go home and sit quietly with myself and be tortured by what I'm doing, and question everything, and have all the doubt and the loneliness and the shame around it all. So I thought that the Catholicism just offers a wonderful conflict to play with.
Marvel and Netflix have announced that "Marvel's Daredevil" is going to get a second season, with new showrunners. Steven DeKnight ("Spartacus," "Dollhouse," "Smallville") has left, to be replaced by Doug Petrie and Marco Ramirez.
So, there could be changes afoot, and I have a wish list.
Don't refer to morning Mass as "morning services," especially when it's a priest talking to a fellow Catholic. Hire more Catholic writers or an adviser. I have a list if you're interested (or there's always me). The devil, as it were, is in the details.
Rather than Murdock just talking about being Catholic and chatting with the priest, maybe he could DO some Catholic things, like, oh, cross himself, say a rosary or a prayer, or show up for Mass. Doing yoga meditation doesn't cut it.
While it's commendable that Murdock doesn't want to be a murderer, being a torturer doesn't work for Catholics either, so some serious conflict about that would be authentic.
Throwing in a small references to Marian devotion might bring out Murdock's softer side. Give it a try!
Beef up the priest. If he's going to be the voice of Murdock's conscience, he also needs to kick his spiritual butt once in a while.
Oh, yeah, and get Charlie a better haircut, for Pete's sake!