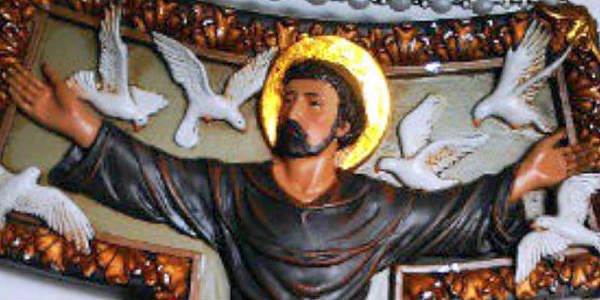 I haven't yet read through all of Pope Francis' new encyclical Laudato Si (and I may wait until my partner in unmasking bad Vatican English translations, Joe Garcia, gets a gander at it), but since a lot of people will undoubtedly lose their collective minds over this … again … here are a few things to remember.
First, this has happened before, and it will happen again. The Left will say he's the patron saint of climate change (whatever that nebulous phrase means; find me a time in the Earth's history when the climate didn't change — gotta love Leftist word games), while ignoring his injunctions against abortion and artificial contraception (which a lot of pewsitting Catholics feel perfectly justified in doing as well). Everybody will cherrypick what they like, and then the yelling will start. You could set your watch by it.
And yet, the world — and the Church — are still here, and Pope Francis remains … Catholic.
In September 2013, I wrote a piece for Breitbart.com called "Pope Francis and the Interview the Media Thought Would Bring Down the House," about the reaction to a lengthy chat the pontiff had with Father Antonio Spadaro, the editor in chief of La Civilta Cattolica, the Italian Jesuit journal. It's not a short piece — when you're explaining the pope to that site's core constituencies of non-religious libertarians and Southern Evangelicals, brevity is impossible — and I took a swing at describing what I thought Francis trying to do:
All analogies are imperfect, but here goes.

Say you have a huge, beautiful, ancient mansion full of food, wine, books, music, laughter,great conversation, and glorious works of art, and you would like people to come by to visit and perhaps choose to stay in one of its many rooms.

But, while you've been busy working on the inside of the house–which is ever in need of cleaning and repair–you've sadly neglected the front yard. The rosebushes have more thorns than blooms; the scraggly grass badly needs mowing; the stone footpath is overgrown with moss and weeds; and everybody thinks the neighbors' barking dogs are yours.

Say you've just been given the keys to that house and the responsibility of maintaining it and someday filling all its rooms. What do you do? You could throw yourself into a thorough spring cleaning, rearrange some furniture to improve traffic flow, all while continuing to lay out meals for the current residents.

That's great and absolutely necessary, but maybe it's time to also restore the yard and perhaps even put a new, big welcome sign on the unlocked front gate.

Even there, you could just do some cosmetic work, trim the roses, clear the path, or you could get out the rototiller and attempt a complete transformation. It'll be a messy, dirty process, as any gardener or landscaper knows, but the final result could not only attract people nearby but even those who have to come a long way to visit.

For the Roman Catholic Church, Sept. 19, 2013, was the day the rototiller hit the dirt.

….

Pope Francis is not revising articles of the Faith, but he has called for a change in emphasis. He wants to put mercy first, letting people know that they are welcome to enter the mansion, no matter their inclinations or situations. Once they've had a look around, experienced the amenities therein, and learned the house rules, they may or may not decide to stay permanently. But even if they leave, he wants them to know the door remains open.

And he always emphasizes that the energy that binds together the very molecules of the mansion's walls and floors comes from the Gospels.
Second, I've always held that, even though Pope Francis is a Jesuit, he's the most Franciscan Jesuit I've ever seen. In all things not related to procedure, it's best to read him in the light of St. Francis of Assisi. Unfortunately, St. Francis has been dumbed down and sentimentalized to make him a pop-culture icon. As a result, this complicated, fascinating, sometimes contradictory, mystical, yet practical, evangelist and preacher — click here for an extensive piece I wrote on him — has been reduced to a garden statue. I can't even find a holy card that has a prayer he actually wrote on the back of it.
Just so you know, Francis didn't write the "Peace Prayer"; it can't be dated any earlier than a French magazine in the early 20th Century. And no, he never said, "Preach the Gospel always; when necessary use words." He formed his order for the purpose of preaching, with words. But he did walk the talk of humility and faith.
To learn more about Francis, read this excellent 2012 biography — NOT hagiography — of him called "St. Francis: A New Biography," by Augustine Thompson.
From a review in Crisis magazine:
"In his final words to his followers, the issue he found most pressing was not poverty, not obedience, but proper reverence for the Eucharist." Imagine summing up Saint Francis of Assisi by pointing to his devotion to the Blessed Sacrament. Yet this is not all we learn from Father Thompson, O.P. In the course of putting to rest various myths about his subject, he tells us surprising truths: for instance, Francis expected his followers to work with their hands rather than to impose upon others by their begging. Francis was more incensed by dirty altar linens and chalices than mistreatment of the poor or breaches of the peace. And Francis, far from being a Deep Ecologist, "was emphatically not a vegetarian."
Thankfully, Pope Francis actually used a prayer St. Francis wrote to inspire Laudato Si. In reading The Canticle of the Creatures, also known as The Canticle of Brother Sun — written during Francis' illness before his death in 1226 the age of 45 — note that at no place does Francis equate Nature with God. He loved God's creation, but he worshiped only God, and he valued humans above all living creatures.
Most High, all powerful, good Lord,
Yours are the praises, the glory, the honor,
and all blessing.

To You alone, Most High, do they belong,
and no man is worthy to mention Your name.

Be praised, my Lord, through all your creatures,
especially through my lord Brother Sun,
who brings the day; and you give light through him.
And he is beautiful and radiant in all his splendor!
Of you, Most High, he bears the likeness.

Praise be You, my Lord, through Sister Moon
and the stars, in heaven you formed them
clear and precious and beautiful.

Praised be You, my Lord, through Brother Wind,
and through the air, cloudy and serene,
and every kind of weather through which
You give sustenance to Your creatures.

Praised be You, my Lord, through Sister Water,
which is very useful and humble and precious and chaste.

Praised be You, my Lord, through Brother Fire,
through whom you light the night and he is beautiful
and playful and robust and strong.

Praised be You, my Lord, through Sister Mother Earth,
who sustains us and governs us and who produces
varied fruits with colored flowers and herbs.

Praised be You, my Lord,
through those who give pardon for Your love,
and bear infirmity and tribulation.

Blessed are those who endure in peace
for by You, Most High, they shall be crowned.

Praised be You, my Lord,
through our Sister Bodily Death,
from whom no living man can escape.

Woe to those who die in mortal sin.
Blessed are those whom death will
find in Your most holy willl,
for the second death shall do them no harm.

Praise and bless my Lord,
and give Him thanks
and serve Him with great humility.

AMEN
Image: Kate O'Hare (ornament by Joseph's Studio)
Don't miss a thing: head over to my other home at CatholicVote and like my Facebook page.