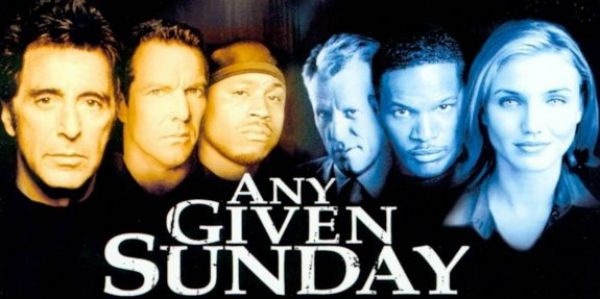 … like, 20 times over the years, and never noticed these things?
I've always been a big fan of the 1999 Oliver Stone film (he's kind of a loon, but I do like some of his movies — and we share the same birthday, so he can't be all bad) about a professional football team, and I watch it about every time it comes on TV.
But it was not until today that realized a few things:
When Miami Sharks coach Tony D'Amato (Al Pacino) invites new quarterback Willie Beamen (Jamie Foxx) over to his house for conversation and bad jambalaya, the Bible-era drama"Ben-Hur" is playing on the TV — in particular, the very famous chariot-race scene. (The picture below shows Charlton Heston, as Judah Ben-Hur, morphing into Pacino.)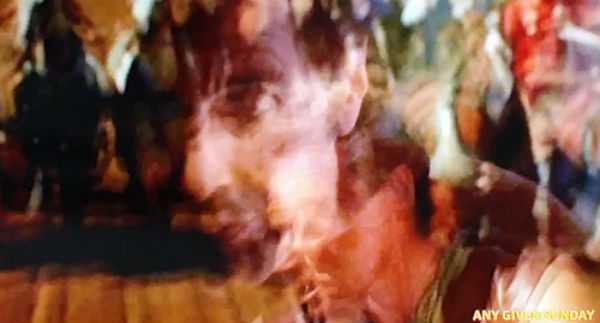 Then later in the movie, Heston comes back in the flesh, this time playing the football commissioner — which I guess is the next closest thing to Moses in the sport.
(Heston wasn't a Catholic, but he was an Episcopalian back when that actually meant something.)
Also, in the climactic game of the movie, the Sharks go up against the Dallas Knights, whose uniforms have a vaguely Crusader flair (and, confusingly, there's another team actually called the California Crusaders).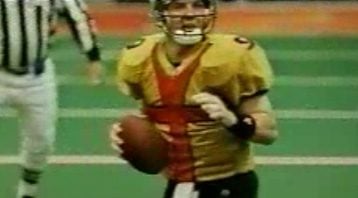 As you see below, the Knights' chaplain is dressed like a Catholic priest. But there's more to the story. Bruce Hardy, the former general manager of Texas Stadium — former home of the Dallas Cowboys — played the part, his only movie role.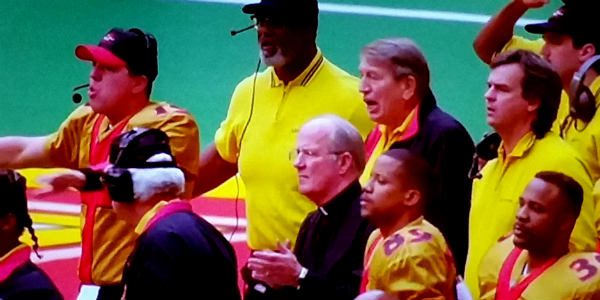 From a 2014 post at The Dallas Morning News:
When the Oliver Stone-directed Any Given Sunday was filming at Texas Stadium, Hardy said he was giving a boy and his family a tour. On a couple of occasions, he received hostile reactions from the production staff who didn't want them around. After they yelled at him and the family, Hardy said he gave a movie staffer an ultimatum.

"You got 10 minutes to get Oliver Stone, you and [producer] Clayton Townsend in my office," he said. "I said, 'Oliver, I don't know where in the hell you come from, but in this area, we say 'thank you' and 'please.' "

Hardy told them that the next people who yelled at the staff or a visitor would get thrown off the property.

"I guess they thought I was serious, because we had six weeks of the greatest filming ever," Hardy said.

Hardy even got a small (very small) role in the movie as one of the team chaplains. But he said his speaking part was cut because of professional football Hall of Famer Johnny Unitas.

Unitas was supposed to cuss out some people, but Hardy said the staff couldn't get him to swear. That meant part of that scene was cut, and Hardy lost his speaking role.

Hardy says he still gets about $20 or $30 a year, after taxes, in residuals for appearing in that movie.
Oh, and Catholic actor Jim Caviezel, who played the title role in "The Passion of the Christ," played Coach D'Amato's estranged son, but he wound up on the cutting-room floor (but he can be seen in DVD extras from "The Oliver Stone Collection").
Here's a look:
As for Stone (whose son Sean may or may not be Muslim), his mother was a non-practicing French Catholic, and he once taught at a Catholic high school in Saigon — but one could never mistake him for a friend of the Faith.
James Woods, who plays the Sharks' team physician Dr. Harvey Mandrake, is a Catholic and former altar boy who apparently once lectured Stone on the ins and outs of Confession on the set of another of his movies, "Salvador."
From Adherents.com:
James Woods (a Catholic actor who was born in Vernal, Utah) demonstrates his familiarity with Catholicism in this story he recalls from when he was starring in Oliver Stone's film Salvador. From: James Riordan, Stone: The Controversies, Excesses, and Exploits of a Radical Filmmaker, Hyperion: New York, NY (1995), pages 164-165:One of the greatest scenes in the movie, and the one most referred to when [James] Woods's Oscar-nominated performance is discussed, is where Boyle [the character played by Woods] goes to confessoin for the first time in thirty-two years. "I remember the day we were shootin the Romero assassination scene at the church and Oliver said maybe you should do a confession," Woods recalls. "And I said, 'Oh really? First of all, let me tell you something, Oliver. You don't go to confession on the morning before the Mass. And he says, 'Well, they won't know the difference.' Right. There's like eighty million Catholics in the United States but they won't notice. Sure. And the irony is, they didn't. He was right. That's what's so aggravating about him!
On a side note, I did a 2004 interview with Foxx — who had been a QB in high school — in which he talked about being at the bottom of the end-zone pile after his character scored a game-winning touchdown by leaping over the goal line. Foxx said it was the hardest part of the role, since breathing got very difficult with several NFL-sized men playing defenders stacked on his back. He said it seemed like an eternity until the last guy was pulled away.
Or, as it's also known, just another day in the NFL … where there's always a Catholic influence not far away.
Images: Courtesy Warner Bros (poster); screenshots
Don't miss a thing: head over to my other home at CatholicVote and like my Facebook page.