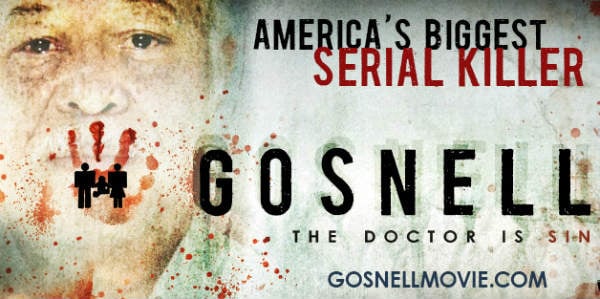 "Superman is going to take down America's biggest serial killer."
Actually, this headline in a press release that landed in my email today is referring to Dean Cain, the star of the 1990s ABC series "Lois & Clark: The New Adventures of Superman" (he also appears in the pilot for CBS' "Supergirl," premiering Oct. 26).
Here's the rest of it:
Superman Dean Cain has joined the Gosnell movie to play the detective who uncovered the doctor's 'House of Horrors' clinic.

The filmmakers have also announced that veteran actor Earl Billings has been cast as Dr Gosnell.

Nick Searcy, best known as an actor for his role in Justified on FX, is directing.

Gosnell is based on a true story of the doctor who killed hundreds perhaps thousands of infants by stabbing them with scissors after they were born alive in his abortion clinic – which prosecutors described as a "charnel house".

ABC's News correspondent Terry Moran described Gosnell as "America's most prolific serial killer".

Sarah Jane Morris of Brothers and Sisters and NCIS has been cast as the assistant DA – who successfully prosecuted the doctor in an atmosphere of political interference around the hot button issue of abortion.

Gosnell is currently serving life without parole in a Pennsylvania prison for the murder of several babies and killing a female patient.

The investigation also found how the African-American doctor gave white women nicer waiting rooms and cleaner medical equipment than the minority women he treated.

He also charged different prices for anesthesia depending on how much pain a patient wanted and would pay for and he only employed semi-literate, untrained staff to administer drugs.

Gosnell is being made with $2.3 million raised on the crowdfunding site Indiegogo during – at the time – the most successful film campaign ever on the platform. The filmmakers continue taking donations for the film.

Dean Cain, also known for the movies Out of Time and Vendetta, will play Detective James Wood, who investigated Gosnell in a case that led to him being convicted on three counts of murder and one of manslaughter.

Billings has been a character actor for more than three decades, appearing in films such as Antwone Fisher, American Splendor and Thank You For Smoking. He was a regular on the TV series Miss Guided in 2008.

Gosnell has begun filming in Oklahoma City.

Other cast members include Michael Beach, of Sons of Anarchy and The 100, as the district attorney.

Ann McElhinney, Phelim McAleer and Magdalena Segieda are producing, and executive producing is John Sullivan, who co-directed Dinesh D'Souza's 2016: Obama's America.

McAleer said they have been moved to see the story finally be told.

"We are just so happy to have all these skilled actors. We have just started filming and it is incredible watching them bring these characters to life. We have been very careful to keep the script close to actual events so its amazing to hear and see these talented actors bring to life this incredible story. Even us who know the case so well have wept when we hear and see the story being told."
Previously, I interviewed Searcy about taking on this project. Here's an excerpt:
"The fact of this case," sais Searcy, "should not drive anyone away, pro-choice or pro-life, because Gosnell was operating outside even the realm of legal abortion."

But, I reminded him, the Pennsylvania authorities turned a blind eye to how clinics functioned, including Gosnell's.

"Right," Searcy said, "that's true. And that's one of the things about the case that needs to be told, and it needs to be public.

"The interesting thing about what happened in the case is that the prosecuting attorney, in his opening statement, said this is not a case about abortion, this is a case about a doctor exceeding legal abortions and ending the lives of live infants. Then the defense attorney got up and said, 'This is absolutely a case about abortion,' that what Gosnell was doing was serving a community that these elitist, racist, establishment types didn't want to serve, and they wanted to judge him, blah, blah, blah.

"The trick with this film really is to tell the truth and not preach. I don't think you ever change anybody's mind by telling them how they should think about something.

"The only way that you can really change a person's mind is by showing them something they haven't seen before. That's what I'm going to try to do."
Earlier this week, McAleer put out a call for volunteers to be extras in a wedding scene, which apparently didn't set well with everyone.
Said a story in The Hollywood Reporter:
McAleer, though, said the criticism that announcement received was motivated by those who aren't anxious for Gosnell to be made and who didn't like FrackNation, a film he made in an attempt to debunk claims made in Josh Fox's documentary GasLand.

McAleer joked that he'd like to buy journalists looking to "crack down on the practice of volunteering" a one-way ticket to the Sundance Film Festival, where they "can continue to investigate the thousands of other films that have also allowed their friends, family and fans to volunteer their efforts."
Image: "Gosnell" key art, courtesy Phelim McAleer, Ann McElhinney, Magdalena Segieda; Dean Cain official Facebook page
Don't miss a thing: head over to my other home at CatholicVote and like my Facebook page.