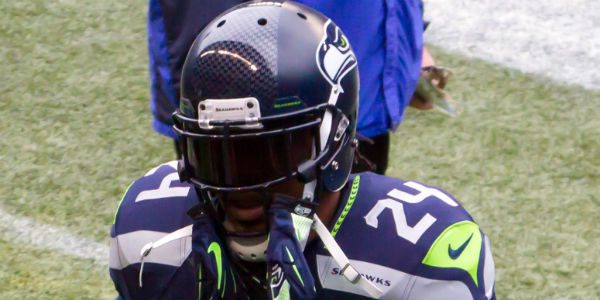 In a world full of appointed ambassadors and official representatives, sometimes the most interesting international interactions happen in the least likely way — and feature the least likely folks.
Seattle Seahawks running back Marshawn Lynch — a k a "Beast Mode" — is one of most intimidating players in the NFL. He's not the largest, but he may be one of the fiercest and most determined. Rather than me describing Lynch in action, just take a look:
Born in 1986 in Oakland, California, Lynch was raised with three siblings by a single mother who'd been a high-school athlete herself — and don't mess with Delisa Lynch. Her son was also a standout schoolboy athlete and went on to major in social welfare (and play football) at the University of California Berkeley, leaving a year early to join the NFL.
Lynch has had some legal troubles, and he's seldom inclined to trust the media or talk much to them if he can avoid it (he's famously been fined for refusing to answer media questions). But when a DUI accusation caused him to miss a football camp with young people, Lynch was mortified. Said an ESPN story:
Lynch knew all too well what it was like to be disappointed by an adult. He grew up in a rough area of Oakland where drugs, gangs and violence lingered right outside the gate of the home he shared with his single mother, Delisa, and his three siblings. Lynch's father, Maurice Sapp, was around until Lynch was 11, then disappeared shortly thereafter. Suddenly, Lynch went from having a father who would take him to church and sing with him in the choir to having someone who was in and out of jail and, as Delisa said, "decided he just didn't want to be there."

Whatever Lynch was before that point, something changed in him after it. He became more guarded and more suspicious of people's intentions.

….

Once Lynch explained that he was jailed for an alleged DUI on that fateful morning, he realized that those kids had no idea what that charge was. One boy said his father was facing a life sentence for murder. Another told Lynch how his uncle was in jail for selling crack. The stories kept coming so quickly that Lynch took a step back and thought: I'm letting them down, but they're facing rougher things than I ever imagined.
So perhaps it's not entirely surprising that Lynch would be one of the players who traveled with American Football Without Barriers to Istanbul in March to instruct college-age Turkish youngsters in the game — including women.
From a Sept. 22 story in The Wall Street Journal:
The trip to Turkey was the latest in a series on international treks for the organization, which is spearheaded by Jets offensive tackle Breno Giacomini, Cleveland Browns tight end Gary Barnidge and their childhood friend, Ahmed Awadallah, who is now a businessman in Istanbul. When they announced details of the trip to Istanbul in 2015, they were flooded with requests from Turkish women who were eager to play with the NFLers. Typically, women playing something like American football "is very rare in [Turkey]," said Deniz Somersan, who helps coach football in Istanbul. But the group quickly discovered that there were flag-football teams associated with universities in Istanbul, and that the women didn't want to miss a chance to learn from the NFL players.
"We didn't do one thing differently with the girls and the guys," said Giacomini. "The [players] are hitting with the pads just as hard."
As for Lynch:
Lynch's performance in Istanbul is now the stuff of legend. When one boy was distraught and nearly in tears about his performance on the field, Lynch took him off to the side for 20 minutes. Later, the boy ended up with a "Beast Mode" sweatshirt—Lynch's nickname—and returned to field, playing at full-speed. When an attendee asked the boy's father what Lynch told him, the father relayed that Lynch had given a 20-minute pep talk on how there are no losers on the practice field and that it is about learning lessons. Lynch has now flown to Brazil and Turkey with the group—on one leg of the flight, a fellow player said, Lynch refused to let the charity pay for his accommodations.
He may be a "beast" on the field and a trial for journalists, but Lynch has shown a softer, humorous side, especially through his love of rainbow-colored candy Skittles. And, as a commenter on the Journal story says, back at Berkeley, he answered a question about his favorite book with "The Cat in the Hat."
So, it appears that "Beast Mode" also has a "Seuss Mode."
Speaking of Skittles …
Image: Wikimedia Commons
Don't miss a thing: head over to my other home at CatholicVote and like my Facebook page.