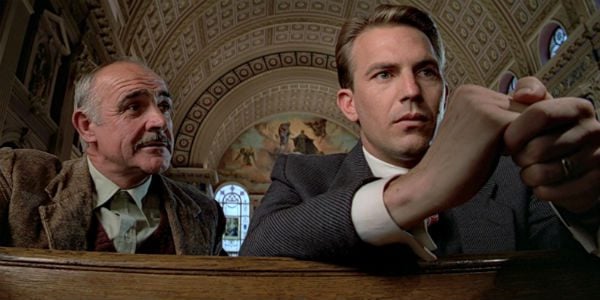 Director Brian DePalma's 1987 version of "The Untouchables" is one of my all-time favorite movies, and it features Sean Connery playing one of my all-time favorite Catholic characters, Irish-American Chicago cop Jimmy Malone.
Here's a scene between Malone and Eliot Ness (Kevin Costner), in which Ness sees Malone fiddling with a medallion attached to a keyring. Also there is cop recruit George Stone, a k a Giuseppe Petri, played by Andy Garcia.
Ness: What is that?

Malone: [surprised] "What is that?"

Ness: Yes, what is it?

Malone: God, I'm with the heathen. (holds up the medallion and keychain) That is my call box key, and that is St. Jude.

Stone: Santo Jude. He's the patron saint of the lost causes.

Malone: And policemen.

Ness: Patron saint of policemen?

Malone: Everybody needs a friend.
Written by David Mamet, "The Untouchables" is chock-full of great, quotable lines, one of which I frequently return to in times of turmoil. In fact, I was sitting with some Catholic friends the other night, asking how they were feeling about the recently completed Synod of the Family in Rome, and one of them repeated it back to me.
In the movie, Ness and the Untouchables are awaiting the arrival of some bad guys from over the Canadian border. They're all nervous and edgy. Finally, Malone imparts this bit of wisdom to Ness (emphasis mine).
Take it easy…take it easy! It'll all happen in time. This is the job. Don't wait for it to happen. Don't even want it to happen. Just watch what does happen.
So, what did happen at the Synod?
Pope Francis created a safe space in which as some of our more loosely wound cardinals and bishops finally felt comfortable enough to let their freak flags fly (and yeah, guys, now we know who you are). Liberal Catholics were declaring preemptive victory, while orthodox Catholics were wailing and gnashing their teeth, fearing that a Great Apostasy was at hand.
They were both wrong.
Wrote historian and Catholic convert Timothy Stanley at the U.K. Telegraph:
The Synod has concluded. Nothing of substance has changed. Catholic teaching remains the same. And that is as it should be. The terms of salvation do not alter according to present circumstance. This is the Catholic Church we're talking about: not a political party.
And:
Third, the Church remains wedded to its orthodoxy because it has nowhere else to go. And outsider might see that in negative terms: it implies that Catholics are Catholics because they are straightjacketed by doctrine. But rather it's that Catholic teaching is so beautifully coherent, clear and logical that its conclusions are inescapable. It compels even the vainest bishop, or politician, to humble themselves before it.
Dr. Thomas D. Williams, writing at Breitbart, wrote about the disappointment of heterodox (as in, the opposite of orthodox) clerics like Jesuit Father Thomas Reese:
As other Christian communions have little by little caved under the pressures of modern society–abandoning age-old Christian teaching on marriage and sexuality and adapting their standards to a secular morality–the Catholic Church alone has stood firm, they asserted.

But Father Reese and other liberal reformers do not like the Church the way it is. They want to remake it to be like the Anglican Church, a body that modifies its teaching every few years to keep up with the times and mirror the secular world around it. Yet none of these reformers takes the logical step of actually becoming Anglicans, because then they would cease to be relevant.
Of course, they won't leave and go to the Anglicans and the Lutherans, etc. There they couldn't be brave little soldiers standing alone in the howling wind against the fury of the Big Bad Magisterium. They'd be just another pewsitter.
Or, as Pope Francis said in his final address to the Synod fathers (emphasis mine):
In the course of this Synod, the different opinions which were freely expressed – and at times, unfortunately, not in entirely well-meaning ways – certainly led to a rich and lively dialogue; they offered a vivid image of a Church which does not simply "rubberstamp", but draws from the sources of her faith living waters to refresh parched hearts.
At the end of his own wrap-up of the process at Patheos, former Anglican priest turned Catholic priest Father Dwight Longenecker wrote:
I have not followed the synod closely because I suspected most of the ink being spilled was based on gossip, negativities, false assumptions and bad spirit. I personally felt confident for the most part that the synod fathers would uphold the faith while still looking for ways to assist those whose heart and homes and families are broken.
Lastly, and I do mean that, here's the final footnote from the pope's address:
An acrostic look at the word "family" [Italian: "famiglia"] can help us summarize the Church's mission as the task of: Forming new generations to experience love seriously, not as an individualistic search for a pleasure then to be discarded, and to believe once again in true, fruitful and lasting love as the sole way of emerging from ourselves and being open to others, leaving loneliness behind, living according to God's will, finding fulfillment, realizing that marriage is "an experience which reveals God's love, defending the sacredness of life, every life, defending the unity and indissolubility of the conjugal bond as a sign of God's grace and of the human person's ability to love seriously" (Homily for the Opening Mass of the Synod, 4 October 2015: L'Osservatore Romano, 5-6 October 2015, p. 7) and, furthermore, enhancing marriage preparation as a means of providing a deeper understanding of the Christian meaning of the sacrament of Matrimony; Approaching others, since a Church closed in on herself is a dead Church, while a Church which does leave her own precincts behind in order to seek, embrace and lead others to Christ is a Church which betrays her very mission and calling; Manifesting and bringing God's mercy to families in need; to the abandoned, to the neglected elderly, to children pained by the separation of their parents, to poor families struggling to survive, to sinners knocking on our doors and those who are far away, to the differently able, to all those hurting in soul and body, and to couples torn by grief, sickness, death or persecution; Illuminating consciences often assailed by harmful and subtle dynamics which even attempt to replace God the Creator, dynamics which must be unmasked and resisted in full respect for the dignity of each person; Gaining and humbly rebuilding trust in the Church, which has been gravely weakened as a result of the conduct and sins of her children – sadly, the counter-witness of scandals committed in the Church by some clerics have damaged her credibility and obscured the brightness of her saving message; Labouring intensely to sustain and encourage those many strong and faithful families which, in the midst of their daily struggles, continue to give a great witness of fidelity to the Church's teachings and the Lord's commandments; Inventing renewed programmes of pastoral care for the family based on the Gospel and respectful of cultural differences, pastoral care which is capable of communicating the Good News in an attractive and positive manner and helping banish from young hearts the fear of making definitive commitments, pastoral care which is particularly attentive to children, who are the real victims of broken families, pastoral care which is innovative and provides a suitable preparation for the sacrament of Matrimony, rather than so many programmes which seem more of a formality than training for a lifelong commitment; Aiming to love unconditionally all families, particularly those experiencing difficulties, since no family should feel alone or excluded from the Church's loving embrace, and the real scandal is a fear of love and of showing that love concretely.
So, while not everything everybody does is welcomed or accepted in the Church, and not every situation one might find oneself in is welcomed and accepted, every person is welcomed and accepted — and most important, loved — in his or her identity and dignity as a human person and a child of God.
It's a lot easier to call for change than to change, but Christ and His Church, within their unchanging doctrine, call all of us to mighty change within our hearts, minds and lives.
Now, take a breath. It's all good.
Images: Paramount Pictures/screenshot
Don't miss a thing: head over to my other home at CatholicVote and like my Facebook page.