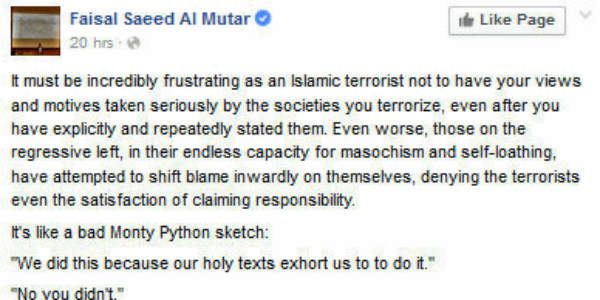 Pity the poor Islamic radical/terrorist. Nobody will believe a word he says. If it wasn't so real and raw and pathetic and terrifying, it would indeed make a great Monty Python sketch.
I don't use Facebook, but this is arguably one of the greatest Facebook posts ever written: https://t.co/fwXVBganf2pic.twitter.com/Qe6uSomozu

— Jeff B@AoSHQDD (@EsotericCD) November 16, 2015
Perhaps we could take them at their word, especially on the secular left, which simultaneously attacks Christianity but refuses to criticize Islam. That might be the first step to truly understanding what's going on here.
Here's how Al Mutar describes himself on his Facebook page:
…is an Iraqi born writer, public speaker, community manager, computer geek and a Human rights activist living currently in the United States.

He is an advocate for freedom of thought, science, reason and the free market of ideas and economy.

Al-Mutar is the founder of the Global Secular Humanist Movement and Secular Post.

Writer/Blogger at the The Huffington Post

Columnist for Free Inquiry Magazine

Middle East Community Manager at Movements.org 
Image: Facebook
Don't miss a thing: head over to my other home at CatholicVote and like my Facebook page.