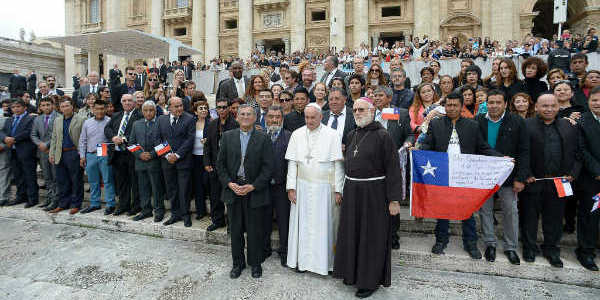 On Nov. 13, Warner Bros. releases Alcon Entertainment's "The 33," a fast-based story about the miraculous rescue of 33 Chilean miners trapped in a mine collapse in 2010.
As family, friends and the world watched via television and the Internet, all 33 men imprisoned who had been 2.300 feet underground for 69 days were rescued one by one, raised up a long narrow shaft in a capsule, using international drilling teams and even NASA technology.
Despite their ordeal, which included the real threat of starvation, the men were in relatively good physical condition when they reached the surface. They attributed their ability to survive the ordeal mentally and emotionally on their strong Christian faith (most, but not all, were Catholic).
While the Christian element is probably less central to the movie plot than it was in the real-life incident, "The 33" does indeed address the power of faith — both in God and in fellow humans — to sustain life and keep hope alive against seemingly impossible odds.
It's hard for any movie to match the real emotional impact of the moment the miners finally breathed free air, but "The 33" comes pretty close.
The miners weren't unscathed by their ordeal, and many enduring lingering psychological, emotional and financial issues, but seeing their real faces at the end of the movie is a revelation.
Said Mexican-American director Patricia Riggen to the U.K. Catholic Herald:
"The faith of the miners is very present from the first moment they go in the mine. There's a little Virgin (statue), they cross themselves. They honk at it, and they say a prayer as they drive in. They do that every day of their lives," she said. "They ask God for their protection because they know they're driving into a very dangerous place."

Riggen continued: "As the story develops and they find themselves trapped in this dark hole, their belief in God starts playing a very, very big part in helping them stay alive. They think together. There's a moment of redemption down there. One of the characters who has an addiction, and he is a lost soul, embraces God. For me, all of these things happened. It's true and it's wonderful to be able to show that. … He's still living a good and healthy life right now."
Antonio Banderas plays Mario "Super Mario" Sepulveda, the miners' spokesman; Lou Diamond Phillips plays Luis "Don Lucho" Urzua, the shift forman; Juliette Binoche plays Maria Segovia, the sister of one of the miners; Gabriel Byrne plays engineer Andrew Sougarret; and former "NCIS" star — and Chilean native — Cote de Pablo, plays Jessica Vega, the pregnant wife of a miner.
James Brolin, Bob Gunton and Rodrigo Santoro also appear.
Also, according to a BBC report:
The 33 miners are hoping that the film will improve their financial situation because they are getting a cut from the ticket sales.

Life has been difficult for them in the last five years with health issues plaguing the vast majority and many also encountering problems with finding work.
Recently, nine of the 33 filed suit against attorneys who represented them in the past. From a Nov. 3 piece at Latino FoxNews.com:
The miners say their former attorneys Remberto Valdes and Fernando Garcia, who represented "the 33," cheated them out of money, including royalties for the upcoming Hollywood motion picture of their 69-day saga, a book deal and their televised rescue that mesmerized millions worldwide.
But one day after fifth anniversary of the rescue, this past Oct. 14, a group of the miners took out time from promoting the film in Italy to drop by the Vatican to meet Pope Francis, pose for pictures and present gifts. During the visit, the pontiff blessed five-year-old Esperanza Ticona, who was born while her father was still in the mine. Her name is the Spanish word for "hope."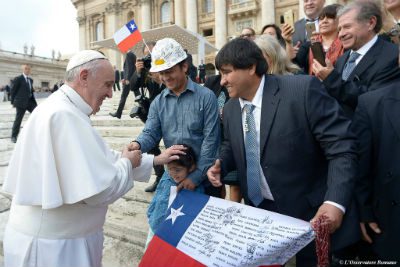 And here's how it looked:
And here's a peek at "The 33":
Photos: Courtesy Grace Hill Media
Don't miss a thing: head over to my other home at CatholicVote and like my Facebook page.