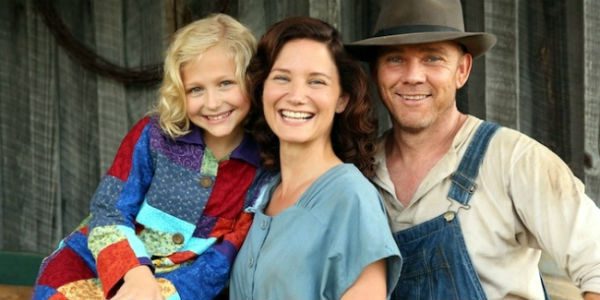 After scoring big with the initial airing of "Dolly Parton's Coat of Many Colors" in its initial airing, NBC is bringing the musical TV-movie back for an airing on Christmas Day, from 9-11 p.m. Eastern.
The family- and faith-friendly film scored 13M viewers on Dec. 10. Then DVR ratings over the next three days added an additional 2.5M viewers. And more importantly, the numbers in the key 18-49 demo went from 1.8 to 2.3 (meaning a lot of those advertiser-approved folks DVRed the show instead of watching it live).
Reported Deadline.com:
Overall, it was the most-watched movie on broadcast television since Jesse Stone: Innocence Lost on CBS back in 2011, and bested the ratings of previous week's success The Wiz! Live.
And, "Dolly Parton's Coat of Many Colors" is only the first of a series of TV movies inspired by Parton songs, with Parton as a producer. Next up is "Jolene."
My hope is that the success of this movie will drive home to broadcast networks just how much audience they are ignoring — and thereby how much money they are leaving on the table — by producing so little family and/or faith-friendly scripted fare.
I can understand why they don't — everybody wants to sit at the cool kids' table; everybody wants the Hollywood community to think well of them (and hire them); and everybody wants awards, critical acclaim and press attention (which also helps one to get hired).
If you're producing something like "Coat" — and you do it well — you probably won't get rave reviews from the top entertainment writers, win an Emmy or a Golden Globe, or get your face on magazine covers.
You'll just make a pile of cash and win the goodwill of "Middle America" (which, truth be told, lives everywhere in America, not just in the Midwest).
Perhaps it's time for the original three broadcast networks to go back to being broadcasters and stop trying to play in the same envelope-pushing, niche sandbox as HBO, Showtime, Netflix and Amazon Prime. There's a huge swath of America that has access to ABC, NBC and CBS without even having cable, and from what I hear, it's "starving" for scripted programming that reflects — or at least doesn't directly insult — its lifestyle and values.
"Coat" told a story from when Parton was a little girl, so perhaps, as the Good Book says, "a child will lead them" to a strategy that could keep their coffers full and futures bright.
Image: Courtesy NBC
Don't miss a thing: head over to my other home at CatholicVote and like my Facebook page.