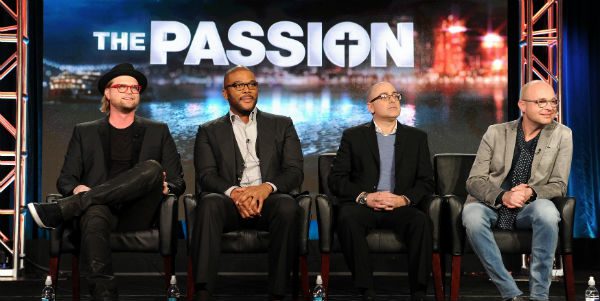 On Palm Sunday, March 20, Fox is doing a live musical-event version of "The Passion."
No, this is not a story at The Onion.
Yesterday, at the biannual TV Critics Association Press Tour in Pasadena, California, Fox presented a press conference for what could be either the best or worst thing Catholics see outside of Mass that day (of course, that depends a lot on your parish, as well).
Tyler Perry is the host and narrator for the two-hour special, which airs live (tape-delayed in the Pacific time zone) from his hometown of New Orleans.
From the official Website:
Set in modern day, THE PASSION will follow the dramatic and inspirational story of Jesus of Nazareth, as he presides over the Last Supper, and then is betrayed by Judas, put on trial by Pontius Pilate, convicted, crucified and resurrected. The story will unfold live at some of New Orleans' most iconic locations, while featuring a procession of hundreds of people carrying a 20-foot, illuminated cross from Champion Square outside the Superdome to the live stage at Woldenburg Park on the banks of the Mississippi River.
The production uses contemporary songs to illustrate the story, such as Mary (played by Trisha Yearwood) singing Whitney Houston's "My Love Is Your Love," or the Imagine Dragons' "Demons" used as the score to Judas' betrayal of Jesus.
"The Passion" began in Holland, and creator Jacco Doornbos was on hand for the press conference, explaining:
It was around 2007 that I learned that only 25 percent of the Dutch population was still aware of what the story of Easter was about, and that really shocked me, because I felt like whether it's from a religious standpoint, an historical standpoint or a cultural standpoint, we need to know this story because it's part of our culture in Holland, as it is part of our culture here in the U.S. That's where I felt I wanted to come up with something that brings that story back into the public space.

Then, I started thinking of how can I translate this story into the language of today? And we all know that music is a very powerful language to ‑‑ yeah, to tell emotion. So ‑‑ and in order to make this translation, I felt like if I could combine popular hit songs with this story, suddenly giving hit songs a whole new meaning placing them in this story, that could be a very powerful tool, and it turned out to be true.
Said Perry:
I got really, really excited when I found out that this was happening, because I had seen some clips of the Netherlands show, and I thought it was just amazing. And when I heard that it was going to be in New Orleans, which is my home town, a place that had endured great suffering, but also knows about triumph and overcoming, I thought no better place than there to tell this particular story, using the landmarks that I grew up with and around the people that I know so well to help tell the story of THE PASSION. So, when I got the call, I was, like, "Yes, I'm in. I'm in."

And also, being Christian, I love this story. I love the idea of it being told very modern, very updated, so that not only people who know about it and who are believers, but people who are not, are from all walks of life, can look at this story, get it, understand it, appreciate it, and have love for it, just as I do, just as it is.
It's going to be quite an undertaking, as described by executive producer Mark Bracco:
Our main stage, the main live stage where Tyler will be will be in Woldenberg Park, and then there will be scenes throughout the two hours that are shot at various locations, from the French Quarter to Jackson Square to Audubon Park.

In addition to the procession that we are doing, which is the 20‑foot illuminated cross where a procession of hundreds of people from all around the country, during the course of the two hours, will carry the cross from ‑‑ which will start outside of the Superdome and make its way through all of the iconic locations to Woldenberg Park where we will be doing interviews with people who have come and telling us the stories of why they've come. So we are really throughout the entire city over the two hours.
The actor playing Jesus hasn't been announced yet, but He will be heard (and will be wearing a contemporary orange jumpsuit during His trial). Said executive producer Adam Anders:
Jesus, yeah. He can wail, man. "Dude, like, God can sing, man." Yeah, Jesus does sing. He has a lot of songs in that. That's part of the magic of it, is how do you have Jesus sing and people not go, "What?" That's part of the challenge, but also the magic, of it. So it's very ‑‑ you have to carefully select how He sings songs, what songs those are.But as I've been doing this in the studio ‑‑ I might be a little punch‑drunk because I'm sleeping, like, two hours a night arranging the songs. But I have goosebumps when I'm doing it, because when you envision the moment of what's going on and Him singing it, it's just ‑‑ it's so powerful.
As for the question of finding Jesus, here's the exchange that followed:
TYLER PERRY: You mean finding Jesus in church or ‑‑ or ‑‑ oh, you mean the the role?

ADAM ANDERS: You mean in our hearts or ‑‑

TYLER PERRY: Yeah, in our hearts, right. Right.

MARK BRACCO: You know, we worked with a great casting director and with the great casting team at FOX and have done a search for our Jesus. I think that we've narrowed in on someone that I hope we will be announcing relatively shortly and someone that I think is going to nail it and is going to be great, someone that ‑‑

TYLER PERRY: No pun intended.

MARK BRACCO: Yes, yes, no pun intended.

ADAM ANDERS: Stepped in that one.

MARK BRACCO: But it's ‑‑ you know, it's someone who is a great actor and also a great singer. So we're excited about that. I almost made it to the end.
Will it be good? Will it be bad? It's live, so if you're in the West, keep your eye on Twitter and check the East Coasters to see if it's worth watching.
Click here to see my rundown on the other God-centric programming coming up at TCA, over at CatholicVote.
Images: Courtesy Fox
Don't miss a thing: head over to my other home at CatholicVote and like my Facebook page; also like the Patheos Catholic FB page to see what my colleagues have to say.